Donor Profile: Meet Amy Wu
August 17, 2018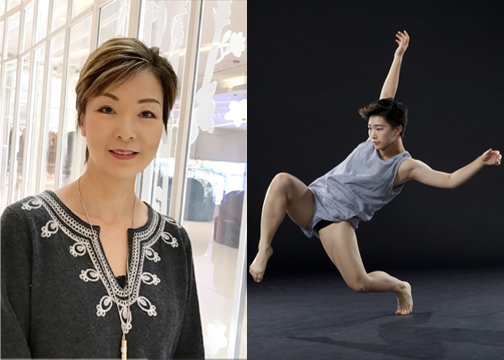 As both a USC Kaufman parent and a member of the Dean's Circle, Amy Wu has been a donor since the school opened its doors in 2015. Her daughter, Stephanie Dai, is a member of USC Kaufman's inaugural BFA class, which will graduate in the spring of 2019. Read more about Wu in the Q&A below.
When/how did you develop your interest in dance?
AW: My parents played a big role in my interest in dance. They were dancers back then in Shanghai, and always took me to see dance concerts. I danced when I was a kid and danced through high school and college. I have always loved the art form and am happy to see my children have a love for it too.
How did you first become involved with USC Kaufman?
The first time I went to USC Kaufman was the day I sent my daughter Stephanie Dai to audition. It was a privilege for Stephanie to be accepted into the inaugural class at USC Kaufman. She was actually the first student to commit to the program. I became a Trojan mom from that moment on, which started my involvement with USC Kaufman.
What is your most memorable USC Kaufman experience?
That would definitely be Stephanie's freshman year in the program. The first class of 33 talented students got to learn and dance in so many amazing master works. The transformation that I saw in my daughter and her classmates at each performance made me speechless and brought tears to my eyes.
In your opinion, what makes USC Kaufman shine in comparison to other dance conservatories/college dance programs?
The world-renowned faculty is definitely at the top of the list. Unlike other college programs, USC Kaufman is focused on producing well-rounded dancers and artists. Also, who has a more beautiful dance building and campus than USC Kaufman?
How are you connected with USC Kaufman now?
I have been present for most of my daughter's performances. I am also honored to be a part of the Dean's Circle since 2015, which has given me the opportunity to dine with Dean Cutietta, faculty and other board members.
What inspires you to support the arts and dance specifically?
The biggest part, of course, is my daughter Stephanie's involvement in The New Movement at USC Kaufman. I am grateful for the opportunities she has had through the program.
Interested in learning about membership programs at USC Kaufman? Click here.