Celeste M. Alleyne joins USC Kaufman Board of Councilors
May 7, 2022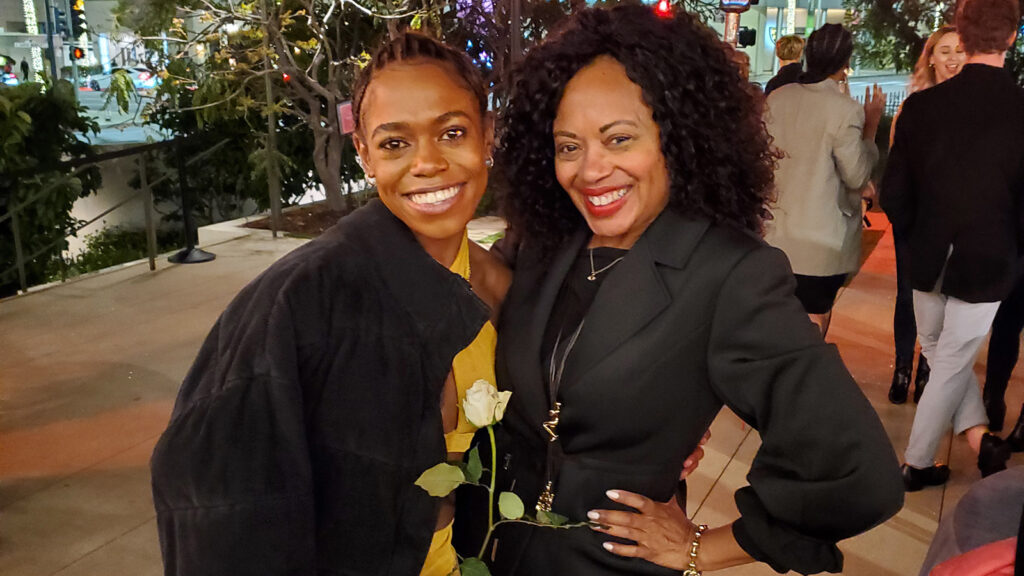 Celeste M. Alleyne, an executive at Microsoft and great admirer of the arts, recently became the newest member of the USC Glorya Kaufman School of Dance Board of Councilors. In addition to her vast work in diversity, equity and inclusion, corporate communications, local government and higher education, dance is a great passion for Alleyne who studied under Virginia Wolf at the internationally acclaimed Boston Ballet.
"I'm a former dancer with Boston Ballet School and Company and an avid follower of dance," Alleyne shared. "I'm super excited to join the USC Kaufman School of Dance Board of Councilors to mentor youth, and look forward to nurturing young, diverse dance careers."
Alleyne's college years and early career
Alleyne earned her undergraduate degree from Brown University and then studied Broadcast Communications for her Master's degree at the New York Institute of Technology. She began her career at AT&T in Los Angeles where she served as Western Region Director of Public Relations and Community Affairs. She then transitioned to Nike. Here, she worked as the Group Public Relations Director of Core Sports and then became the Western Region Community Affairs and Communications Director.
Making an impact at Microsoft
Alleyne currently serves as the Director of Executive Engagement and External Talent for Microsoft's global corporate events portfolio. In this role, she runs an internal corporate "talent agency," ensuring senior executives and external talent have positive and successful event experiences. Her team has brokered guest speakers such as Bob Iger, Earvin "Magic" Johnson, Amal Clooney, Indra Nooyi, Trevor Noah and Peloton's Robin Arzon.
Prior to this role, Alleyne was the Director of US Citizenship and Market Management for Microsoft's West Region. In this position, she led all of Microsoft's regional public affairs and community affairs programs and strategies. Alleyne was chosen to be the US Citizenship Lead for Microsoft's Retail Stores and Education. She was selected as a Cultural Transformation, Diversity & Inclusion Advisor to Microsoft's President of North America Kate Johnson and her leadership team. She was also a member of Microsoft's US Diversity & Inclusion Executive Sponsor Committee, leading the Empathy in Action "Lived Experiences" pillar under Microsoft's US Chief Development Officer Jacky Wright.
Working with her community
Alleyne worked as Cultural Affairs Commissioner under former Mayor of Los Angeles Antonio Villaraigosa for six years. Now, she serves as a board and executive committee member of the Los Angeles Area Chamber of Commerce and the Greater Los Angeles African American Chamber's Education Fund.
One of Alleyne's passions is mentoring underserved youth and adults by providing STEM and Artificial Intelligence skills and programming. She also has previous experience in higher education. Also at USC, Alleyne sits on the Marshall Corporate Advisory Board. This group acts as a crucial link between the school and the international corporate business community to provide input on the direction of the school.
"I know I speak for the entire Board when I say how excited we all are to work with Celeste," Chair of the USC Kaufman Board of Councilors Bradley Tabach-Bank said. "She brings with her not only a passion for dance, but an impressive portfolio of professional and life experiences that will undoubtedly benefit USC Kaufman and our students in significant ways."
Alleyne's other accolades
In addition, Alleyne is the author of a self-help book, A Punch in the Stomach: Taking Back Your Life After Job Loss. She has received community, social impact, and diversity and inclusion awards from Microsoft, EmpowerHer, The Help Group, Claremont Lincoln University, National Action Network and the Boys & Girls Club of America. She is a member of the distinguished Microsoft Gold Club, which recognizes extraordinary employee performance and contributions toward achieving key company objectives. She is also a member of the prestigious Aspen Institute Socrates program.