Donor Profile: Meet Christine Rhoades
September 12, 2018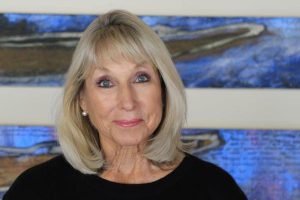 Christine Rhoades is a broker and owner of Ocean Real Estates Inc., founded in 1981. She has long been a member of the Trojan family: her sister and daughter both graduated from USC, and father William Lyon served on the Board of Trustees for several years and received an honorary doctorate degree from the university.
When/how did you develop your interest in dance?
CR: My interest in dance began as a young girl. All through school, I was involved in various performing activities in theatre, dance and music. I transferred to California State University Fullerton from San Diego and declared a theatre major, which only offered a dance emphasis at that time. I received a BA and a Master's Degree in Theater with a major emphasis in Dance, Technical Theater and Theatre for Children. I then began teaching dance at Long Beach City College and concluded my teaching career six years later at CSUF.
Although my life took a turn in a different direction, the love of dance will never leave me. I find so much reward in being a patron of an art form that is so dear to me, and I personally dance every morning on the treadmill at my gym.
How did you first become involved with USC Kaufman?
Over 13 years ago, I was introduced to Jodie Gates and shortly thereafter became a founder of the Laguna Dance Festival. I spent 10 years on the board of the festival and was privileged to work alongside Jodie and experience the tremendous talent she brought to our festival. Many of those companies have gone on to perform at The Music Center and the Segerstrom Center for the Arts as well.
What is your most memorable USC Kaufman experience?
Jodie invited me to a student preview at USC, and that was it for me. I knew I had to support this new venture that was being created to produce future dance educators, choreographers and top-notch professionals; it was the feeling that I could be a part of such tremendous excellence. One knows when they are in the presence of the best of the best!
In your opinion, what makes USC Kaufman shine in comparison to other dance conservatories/college dance programs?
The school will become the premier university for dance for one reason – Jodie Gates. For the same reason that our Laguna Dance Festival has been so successful, Jodie's talent, performance history and, most importantly, her lifelong relationships with dancers all over the world is the most unique combination, giving USC Kaufman an advantage over any other institution. It is because of her relationships that USC is able to attract the most sought-after faculty and visiting artists for these talented students.
How are you connected with USC Kaufman now?
I have been such a lover of dance and theatre my entire life. I attend all types of performances throughout the year which is why when reviewing my estate plan, I made the USC Glorya Kaufman School of Dance a recipient of a major gift from my estate.
What inspires you to support the arts and dance specifically?
All art requires the giver and the receiver of that art form. I rejoice in my participating on the other side of the stage or across a gorgeous canvas. Having art in my life is as important as the oxygen I breathe.
Art is love, art is life!
_____________________________________________________________________
Interested in learning about planned gifts to USC Kaufman? Contact USC Kaufman Director of Advancement, Patrick Morrow.