Experience USC Kaufman 11/12
November 12, 2022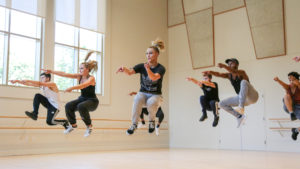 Join us for this online event featuring faculty master classes in the morning, followed by an information session and student panel in the afternoon. The schedule is as follows*:
9:00 a.m. – 10:15 a.m. PT | Ballet with Bruce McCormick
10:30 a.m. – 11:45 a.m. PT | Contemporary with Bret Easterling
12:00 p.m. – 1:15 p.m. PT | Musical Theatre Dance Technique with Grasan Kingsberry
2:00 p.m. – 3:30 p.m. PT | Information Session and Student Panel with Anne Aubert-Santelli, Associate Dean of Academic and Student Life
*Students may attend some or all parts of this event. Individuals with disabilities who need accommodations to attend this event may contact Anne Aubert-Santelli at aubertsa@usc.edu. It is requested that individuals requiring accommodations or auxiliary aids such as sign language interpreters and alternative format materials notify us at least seven days prior to the event. Every reasonable effort will be made to provide reasonable accommodations in an effective and timely manner.
View all events