Experience USC Kaufman
September 25, 2021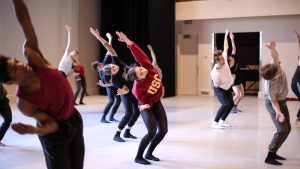 September 25, 2021 | 9:00 a.m. – 3:00 p.m. PT
Are you a prospective student interested in pursuing a BFA in Dance? Gain insight into our live auditions at this full-day online event featuring faculty master classes, an information session and a student panel. The schedule is as follows*:
9:00 a.m. – 10:15 a.m. PT | Ballet with Jackie Kopcsak
10:30 a.m. – 11:45 a.m. PT | Contemporary with Patrick Corbin
12:00 p.m. – 1:15 p.m. PT | Hip-hop with Tiffany Bong
2:00 p.m. – 3:00 p.m. PT | Information Session and Student Panel
*Students may attend some or all parts of this event. We recommend attending all three master classes to sample what our live auditions are like.
Individuals with disabilities who need accommodations to attend this event may contact Anne Aubert-Santelli at aubertsa@usc.edu. It is requested that individuals requiring accommodations or auxiliary aids such as sign language interpreters and alternative format materials notify us at least 7 days prior to the event. Every reasonable effort will be made to provide reasonable accommodations in an effective and timely manner.
View all events