Exploring your options with career services
October 25, 2019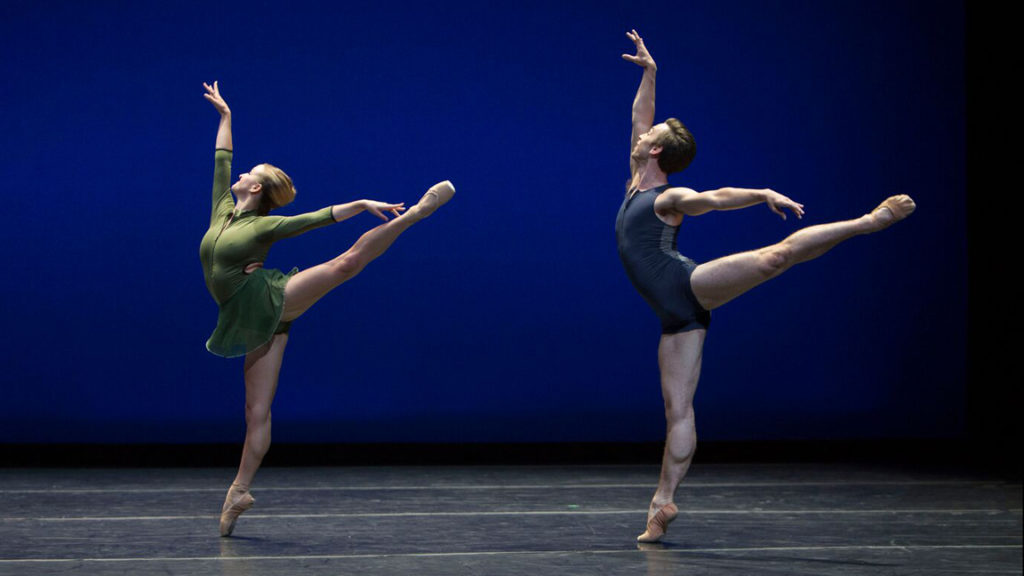 As a new program, USC Kaufman is committed to forging new pathways in the career services department. Our career services team looks constantly for ways to ease the transition into a professional career. Whether through networking opportunities or workshops, our team actively provides channels into the professional world. Even as an underclassman, I was able to attend several faculty panels that explored diverse career opportunities.
To hear more about our career services offerings, I reached out to alumnae Jackie Schiffner (BFA '19) and Lenai Wilkerson (BFA '19), and current student Brendan Evans (BFA '20). Schiffner dances with Ballet Met in Columbus, OH and Wilkerson with Ballet Hispanico in New York, NY. Evans is currently aiming for a professional career in a contemporary company, either in the United States or in Europe.
Networking and conversation
Wilkerson found the networking opportunities at USC Kaufman robust and helpful for a future in dance.
"At USC Kaufman, we were equipped with so many networking tools to better engage future supporters, and to encourage them in continued support," she said. "Sharing is key in solidifying networks and long-lasting connections. With careful attention, you can shift mentalities, raise funds and even explore future partnerships."
Wilkerson emphasized the importance of conversation with these industry connections for progression in the field.
"These valuable tools can keep an often fleeting form of art vivacious and sound. The more we can open conversation about dance, the more willing others will be in choosing to support this art form," she said.
USC Kaufman hopes to cultivate discussions just like those she describes.
Early introductions
Schiffner echoed Wilkerson, explaining that these resources and conversations advanced her career.
"I never could have imagined the way that USC Kaufman helped me kickstart my career," she said. "Beginning junior year, I shared my career intentions with faculty and staff members I felt connected with. They truly encouraged me to start putting those dreams into action. I contacted companies and directors, made my performance reel, and began to feel technically and artistically prepared. I knew that I would be as ready as I could be for auditions."
Schiffner added that USC Kaufman prepared her to take on the professional world. "Throughout [my] senior year I was connected to many directors. I ended up auditioning for several of them through events after performances and even by word of mouth."
USC Kaufman invites directors to watch and meet with our students for exactly these types of interactions. However, the support doesn't end here.
According to Evans, "the Kaufman faculty does a great job at making time to meet with students regarding their various career trajectories. To begin with, faculty members will reach out to specific companies and directors on behalf of the students, especially if they think that company is a suitable fit for the dancer."
Workshops and resources
USC Kaufman also provides a valuable resource through free career workshops and panels. They revolve around the employment climates in different sectors of the dance industry. Topics have included Los Angeles commercial work, concert dance in Europe and the New York dance scene.
Furthermore, career services provides tangible resources for upperclassmen including professional headshots, formatted resumes and reel footage.
"USC Kaufman does an incredible job at recording all the performances, so that we can make a professional-looking dance reel for auditions," said Evans.
There is also an online portal that students can check for exclusive job and audition postings, and a professional development board with intensives, festivals and more. Students receive a $300 stipend for their senior projects and a $250 career stipend, toward professional projects and development.
Professional development
Once students plan auditions, they can request to be excused from classes. Consequently, the career services office will allow absences for appropriate auditions and jobs. In addition, the career services team works to support BFA students with interests outside of performance and choreography.
"USC Kaufman really prepared me to begin life in a company," Schiffner added. "During long hours in the studio, I'm maintaining artistry from the beginning to the end of ballet class everyday, quickly switching between dancing different styles of dance throughout the day, and staying on top of choreographic details through note taking. Above all, I'm constantly trying to shift the conversation about ballet to more forward-thinking ideas. I've carried all of this into my professional career."
I know that I'm very lucky to have all of these resources at my disposal. As I close out my first semester of junior year, some of the anxiety of "what do I do next?" is eased. I know I'm in good hands at USC Kaufman, especially after seeing my peers' incredible results.
---