Faculty Q&A with Christian Vincent
August 31, 2016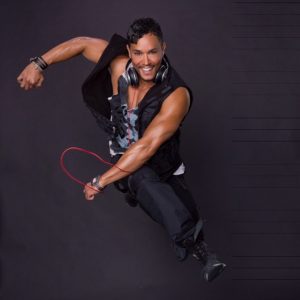 USC Kaufman faculty member Christian Vincent has shared stage with pop culture icons. From Madonna to Prince, from Shakira to Ricky Martin, Vincent has danced with some of the most well-known names in entertainment. He joined USC Kaufman this semester to teach jazz dance to USC non-dance majors.
How and when did you start dancing?
I started at age 5 when my mom put me in a tap class, but when I really began to think of dance as a career was at age 13 when I attended a dance convention called Tremaine.
I was always attracted to commercial dance and entertainment. After I graduated from high school, I had the option to either come to Los Angeles for work or attend a university. I ended up choosing to go to college and it wasn't for dance at first. It was for visual arts. When I was there, one of the professors said, "you're very good. What do you want to do?" I said, "I actually want to dance." He said, "whatever you do, inundate yourself in it." I transferred for my second year and got my bachelor's degree in dance. It was wonderful.
I moved to Los Angeles and got my first job at "Baywatch" with Carmen Electra. After that, I worked for Prince and his company "New Power Generation Dance Company."
One of my big dreams was to work for Madonna. When she opened auditions for the "Don't tell me" video, I was one of the dancers selected. I went on a promo tour with her, did the Grammy's with her and then the global tour. I also went on tour for Gloria Estefan, worked with Ashanti, danced for Britney Spears and Ricky Martin… I have been a dancer in the commercial dance scene of Los Angeles for a while.
Does academia make your entertainment career stronger?
A lot of dancers don't feel like advanced dance degrees are necessary but they have been extremely helpful for me. They made me a more thoughtful dancer, a better choreographer and a better educator.
Being a dancer is not only about the practice of a technique. It's also about understanding the historical significance of the art form. Years in academia give dancers a strong foundation to move on with their career. That's the point of higher education.
What role do you think USC Kaufman will play within the national dance landscape in a few years?
The school creates dancers who will become innovators and who can go out to the workforce with practical skills that will get them jobs.
Strong jazz departments are few and far between in university programs and the commercial dance realm is comprised primarily of jazz, hip-hop and vernacular styles. Kaufman students are getting a broader vocabulary to be working artists, as opposed to learning limited skills in a few art forms.
My master's degree thesis focused on bridging the gap between commercial dance and dance in higher education. The fact that this program exists shows that higher education is changing and adapting to what's going on in the real world.
You are also a professional actor. How has diversifying your talent helped your career?
It allowed me to work a lot more. I studied acting and voice so that I could participate in more projects. The more ammunition you have in your arsenal, the more options you'll have. This is especially true in the commercial realm.
You have worked with artists from various musical backgrounds. What memorable moment can you recall?
I remember an audition for Madonna. She was looking directly at me as I was dancing and she cracked a smile. I remember I smiled back and she turned and said "It's good. He smiled back at me."
There will be a lot of psychological tests when you start your career. They won't only measure how good you are but also your personality and how you conduct yourself.
How does dance contribute to the lives of the non-major students that you teach?
I believe movement is essential for an individual. Having command over your body gives you a level of confidence that is hard to get without training in dance.
My class is also for the overall enjoyment of life. I teach steps that are applicable to going out and having fun in the dance floor. Finally, I teach to educate. I want students to understand the nuances of this art form because, when talking about jazz and tap, we're talking about American history and culture.