USC Kaufman faculty receive 2021 Bessie Awards
October 12, 2021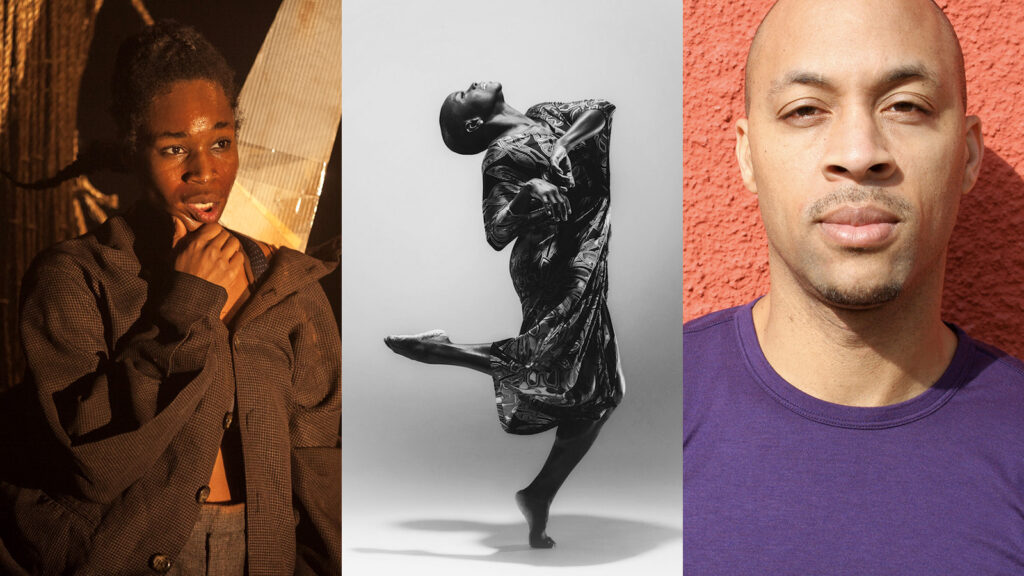 Yesterday, The Bessies awarded several faculty members of the USC Glorya Kaufman School of Dance. Award recipients included Artist in Residence Hope Boykin, Artist in Residence Marjani Forté-Saunders and Associate Professor of Practice d. Sabela grimes.
Outstanding Production
This year, The Bessies awarded Forté-Saunders and grimes, along with Saul Williams, Bill T. Jones, Maria Bauman, Kayla Farrish, Jasmine Hearn and Shamel Pitts for their production of The Motherboard Suite at New York Live Arts. The Motherboard Suite is a dynamic collaboration of musicians and choreographers who use their embodied artistry to activate the space in this transformative work. In this creative exploration, time, space, and personal stories are interrogated through multiple lenses. These include technology – ancient and contemporary, race and othering, exploitation and activism.
Outstanding Performer
In addition, grimes received the Outstanding Performer award for his performance in The Motherboard Suite. In The Motherboard Suite, grimes brings the Africanist presence into the performance space. Upon entering the performance conversation, grimes invokes Africanist ancestral synergy that becomes the vessel (and activist) at the crossroads that interrupts and transmutes the dire premonitions repeated in William's haunting poetic verse. grimes' every movement is a declaration of power and agency that reverberates with resistance and liberation. Their skillful use of a fusion of contemporary and traditional African-derived dance forms reunites Orishas from across the oceans and centuries via the brilliant technology of the human body and spirit.
Outstanding "Breakout" Choreographer
This year, The Bessies acknowledged Boykin as Outstanding "Breakout" Choreographer. An immensely multi-talented and multifaceted dancer, choreographer and educator, Boykin is a writer who infuses text in her work. In a particular piece, she had singers and dancers together; voices and movement together to create many dimensions.
Nominations and The Bessies
USC Kaufman's Claude and Alfred Mann Endowed Professor of Dance Kyle Abraham was nominated for Outstanding Production and Outstanding Visual Design.
Presented in partnership with Dance/NYC, the NY Dance and Performance Awards, The Bessies have saluted outstanding and groundbreaking creative work by independent dance artists in NYC for more than three decades. David White at Dance Theater Workshop established the awards in 1984. Known as "The Bessie" in honor of revered dance teacher Bessie Schönberg, they recognize exceptional work in choreography, performance, music composition and visual design.
A Selection Committee comprised of artists, presenters, producers, designers and writers choose nominees. All those working in the dance field are invited to join The Bessies Membership. Members participate in annual discussions on the direction of the awards and nominate members to serve on the Selection Committee.