USC Kaufman graduates thank faculty for their impact
May 15, 2019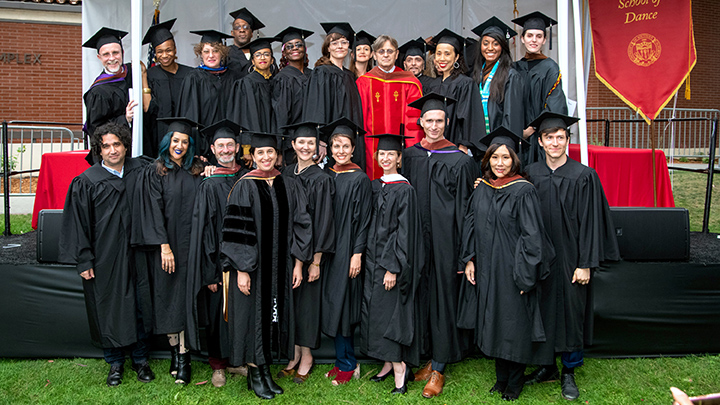 Throughout the curriculum implemented at the USC Glorya Kaufman School of Dance, BFA dance students interact with many faculty members on a daily basis. Several faculty members have assumed mentorship positions for these students, whether they know it or not. Below, USC Kaufman's inaugural class acknowledges faculty members for just a few of their favorite moments as undergraduates.
Faculty members
Coco Alvarez-Mena: Throughout my time at Kaufman, I have loved working with Jackie Kopcsak. She and Artist in Residence Zippora Karz have drastically improved my technique and have been incredibly caring and encouraging. Both genuinely care about our well-being and success. They want to see all of us reach our greatest potential.
Mary Mallaney: Time and time again, d. Sabela grimes has said something that made my head spin in the greatest way. Everything about him as a person and as a teacher has made it incredible to be in the room with him. He spent many moments pushing me–I am grateful for every one.
Celine Kiner: Bret Easterling has changed the way I enjoy movement. Thanks to his leadership, I am able to thank my body for its willingness to dance, and to let go of inhibitions; that's where the real stuff happens.
Ardyn Flynt: William Forsythe. Every time he visits, routines are thrown for a loop, conventions are bypassed, and expectations are usurped. He challenges you as a thinker and an artist daily.
Artists in Residence
Rachel Walton: Jermaine Spivey, one of our Artists in Residence, is one of the most exquisite dancers that I've been able to witness live. Taking classes from, and then delving into rehearsal with him, was truly a dream come true. Not many professionals, let alone students, get opportunities to work with such masters.
Lenai Wilkerson: Victor Quijada is one of my favorite Artists in Residence to work with. His work challenges me in ways unimaginable. I find myself improving quickly because I adore his process and clarity for his vision.
Olivia Euritt: Barak Marshall. I love how different his work is from everything else I've done. He has challenged me in a new way, particularly through the dialogue in his works. Every time you step on stage you are becoming an actor/actress. He has really encouraged me to channel that. He is an amazing human being and is truly such a pleasure to be around.
Guest artists
Satori Folkes-Stone: This question is unfair because Kaufman is pretty keen about bringing fabulous people to work with us. Christopher Roman and Ayman Harper are the first to come to mind. Each has shown such kindness, transparency and support. I could never pick a favorite faculty member!
Austyn Rich: I really enjoy working with all guest artists and faculty members, whether it's hands-on in the studio or just running into them in the halls. I feel supported, loved and appreciate without having to hear it directly. Our Kaufman community is unmatched!
Jessica Muszynski: No way! you can't ask me to choose one!