RUBBERBANDance Group
March 20, 2018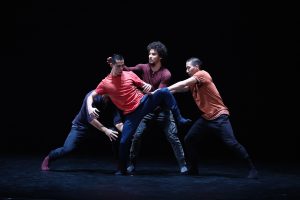 Combine the spontaneity, fearlessness, and risk-taking of hip-hop with the refinement and choreographic maturity of ballet, and you've got the groundbreaking RUBBERBANDance Group.
RUBBERBANDance Group will perform Vic's Mix in this USC Visions & Voices event, a full-evening program featuring choreographic jewels that span Victor Quijada's immense creative journey. In works that range from humorous to austere, Quijada continues to experiment, remixing his work and orchestrating a clash of urban pop and classical composition with an element of theatricality. The high-octane performance will be followed by a Q&A with Victor Quijada, moderated by Jodie Gates, vice dean and director of the USC Glorya Kaufman School of Dance.
Tuesday, March 20, 2018 | 7:30 p.m.
Bovard Auditorium
Learn more at visionsandvoices.usc.edu.
View all events