Fall Class Highlight: Ballet C with Jackie Kopcsak
July 19, 2016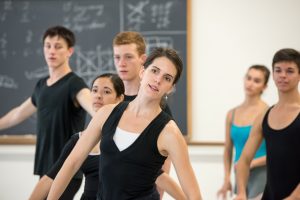 If you have previous dance experience or have already taken Ballet A & B, you might consider taking Ballet C with professor Jackie Kopcsak. The advanced technique course features a more difficult ballet vocabulary and a greater emphasis on artistry and musicality.
Who is this class for? What types of people/audiences would enjoy learning this material?
Ballet C is an advanced-level ballet technique class for non-dance majors.
What is the most important thing that a student in this class would learn?
In this class, you will focus on steps with greater complexity, refining technique, and developing more nuanced artistry and musicality.
What's the most fun and/or cool part of this class?
I have really enjoyed teaching Ballet B and Ballet C in the past – it is so fun to work with dancers who have come to USC from all over the country. We have also started to create performance opportunities for elective classes with an end-of-semester showcase — I look forward to having Ballet C participate!
When is this class? Is it open to majors, minors, or all university students?
The class meets on Tuesdays and Thursdays this fall from 10:30 – 11:50 a.m. in the beautiful new Glorya Kaufman International Dance Center. The class is open to all university students, but with the prerequisite of taking either Ballet A & B or having considerable previous dance experience. Interested students can email Cameo Beard to request the clearance code.