Hubbard Street's Los Angeles intensive returns to USC Kaufman
June 28, 2017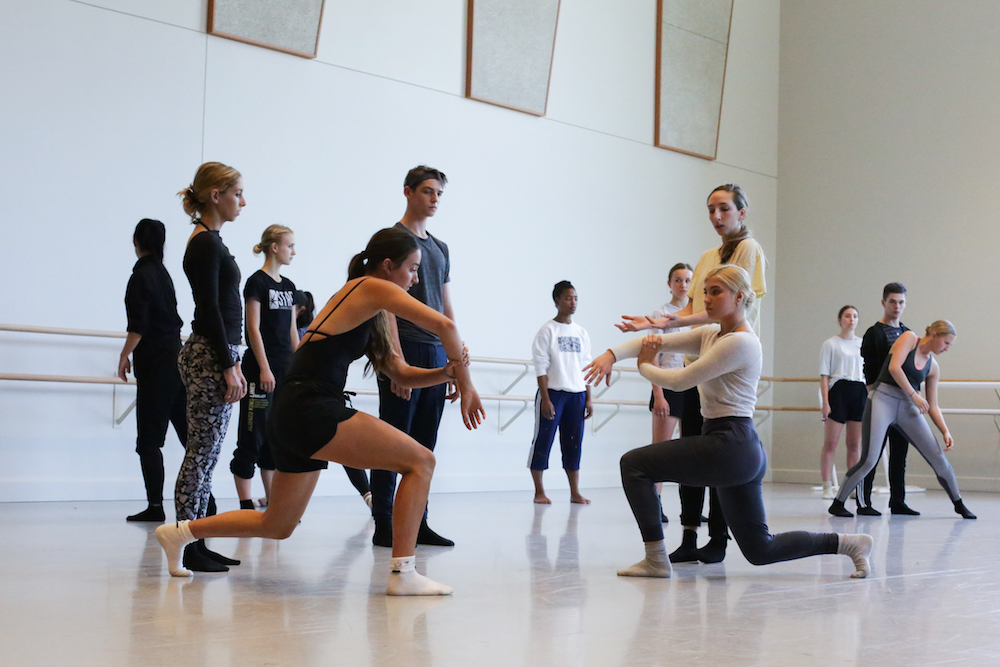 Last summer, Hubbard Street Dance Chicago took the grand facilities of the USC Kaufman School of Dance for a spin—in June of 2016, their inaugural Los Angeles intensive became the first official partnership program in USC Kaufman's brand new facility. This past June, the company returned for a second summer on the west coast. At this year's intensive, students took daily ballet and somatics classes and worked with two choreographic teams; Penny Saunders and Pablo Piantino, as well as Jermaine Spivey and Spenser Theberge.
Saunders and Piantino: Hubbard Street veterans
Saunders and Piantino both danced with Hubbard Street themselves, while intermittently working on other creative ventures. She choreographed for Hubbard Street 2, Neos Dance Theatre, the Nexus Project, Owen/Cox Dance Group, SFDanceworks and Whim W'Him, receiving a Princess Grace Choreography Fellowship in 2016; he received his MFA in Dance Education from the University of Washington, where he and Saunders danced and restaged Nacho Duato's Jardí Tancat.
The couple worked on a new piece with the students of the summer intensive, creating their movement with intricate timing and shapes. Saunders worked through a changing phrase with one group, and Piantino simultaneously lead the rest through counts in a particularly difficult group formation. Ultimately, the two sections came together in a unified piece.
"Penny and I are having a great time at the Glorya Kaufman International Dance Center," Piantino said mid-way through the program. "The students are wonderful and the state of the art facilities are a work of art all within itself. It is truly an honor to represent Hubbard Street in the Summer Intensive, allowing us to immerse ourselves in our creation while being inspired by this magnificent building."
Another intensive approach with Spivey and Theberge
Just across the hall, Spivey and Theberge worked from a different angle. Spivey worked with The LID, Robyn Live 2016, and more, while Theberge danced with Netherlands Dance Theater I and II—their résumés overlap at Princess Grace Awards, the Forsythe Company, and their work with Crystal Pite's Kidd Pivot. Their studio was quiet and thoughtful—the dancers were asked to make their own decisions.
"Creating here at the USC Kaufman School of Dance is so refreshing," Spivey said a few days into rehearsals. "The building feels like its purpose is to promote and support artistic practice and development. The goals of the summer intensive and the building are aligned."
Half the dancers stood still, the other half experimented with spatial orientation as they walked and ran between peers. From the front of the room, Spivey and Theberge gave thoughtful direction in between test runs, then encouraged the dancers to add a phrase they learned together, keeping in mind the parameters, but experimenting with their own interpretations.
"Spenser and I are very excited and honored to be included in this year's Hubbard Street Summer Intensive and we feel right at home making art with these wonderful young dancers in this thoughtfully crafted space," Spivey said.
Both pieces tied into the pre-professional intensive's focus on choreography—the students had the opportunity to absorb the pieces themselves, but also the choreographers' wildly different approaches to the creative process.
"Working with Spenser and Jermaine during the past week has been challenging, thought provoking, enjoyable, and productive to say the least," said Brendan Evans, a sophomore USC Kaufman student attending the intensive. "The choreographers have such immense knowledge to share with us to improve the students of Hubbard as artists and humans."
"The classes here transcend technique and choreography, rather educating students on lifelong lessons to provoke learning through challenges and exactitude," Evans said.
The process took place over a two-week intensive and culminated in a performance on the intensive's final day.
---
By Celine Kiner