Student Blog: Performing for NBC Sports' LA Fan Fest
October 29, 2021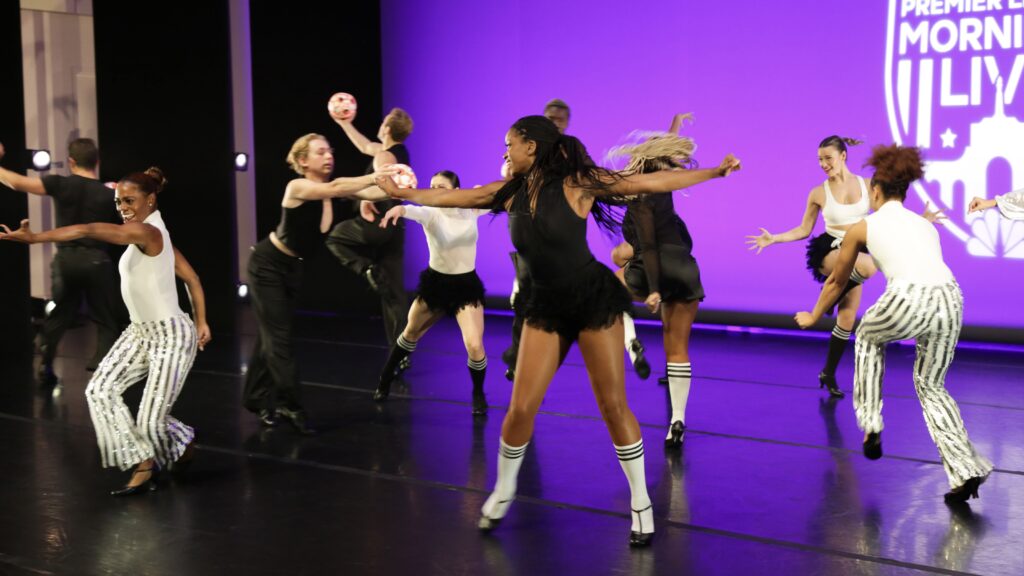 My name is Nina Gumbs and I am a senior at USC Kaufman. I am in the musical theatre cross-technique option of the BFA curriculum. Within this course, under the teaching of Lecturer Grasan Kingsberry, we learn different musical theatre repertoire and some of the music that accompanies it. So, when NBC Sports came knocking on USC Kaufman's door – it seemed like the perfect opportunity to advance our musical theatre learning!
A gig with NBC Sports
On Oct. 17, we received an email from our Assistant Dean of Faculty, Professor Jackie Kopcsak with the headline "NBC Sports Gig This Week." The email outlined an opportunity for USC Kaufman and USC Thornton students to produce and perform a Broadway-inspired song and dance number. The performance would air as part of the NBC Sports LA Fan Fest event taking place at the Coliseum, home to our USC Trojan Football team.
The next day, we all had a brief meeting with Professor Kopcsak and Professor Kingsberry. We further discussed the opportunity, the quick turnaround time, and what was expected of us. Along with the quickness of this process, this filming would also take place unmasked. Not only would the cast and crew need to take extra precautions in preparation for this, but as dancers we also had to prepare to use our faces, which have been covered for over 18 months.
Performing is like a muscle. And personally, my performance facial muscles have not been worked on for quite some time. Nonetheless, this opportunity required dedication to rehearsals, a lot of Covid tests, and early mornings. Although it was a challenging balance, all of us involved conquered this well!
Rehearsing for the performance
The week of the performance, we rehearsed every day. They embedded the rehearsal schedule within the core structure of the BFA curriculum for easy scheduling of rehearsals outside of class times.
During the first rehearsal we clarified potential concepts and images that would complement the music well. Following this, Professor Kingsberry and Professor Kopcsak moved onto choreography. They kept in mind the importance of choreographing movements reminiscent of old Broadway. As a dancer, it was fun to tap into that type of movement language throughout the process.
After the choreography was finished, we focused on what kind of shots the camera would capture to better inform how we as dancers would perform on the big day!
Filming the performance
Filming day quickly approached on Oct. 22 with an early call time. Following our call time, Professor Kingsberry led us in a warm-up to get our bodies ready for filming. He also went through a run-down of how the rest of the morning would go. As we stretched and chatted, the camera crew began to arrive which made the experience feel even more real.
Finally, we all put on our costumes. We had final looks for any last-minute alterations and settled into our opening poses of the piece… lights, camera, action!
View more photos from the filming on Flickr and watch the performance on Facebook.
---
By Nina Gumbs (BFA '22)