Jiří Kylián awarded membership at Académie des Beaux-Arts
April 23, 2019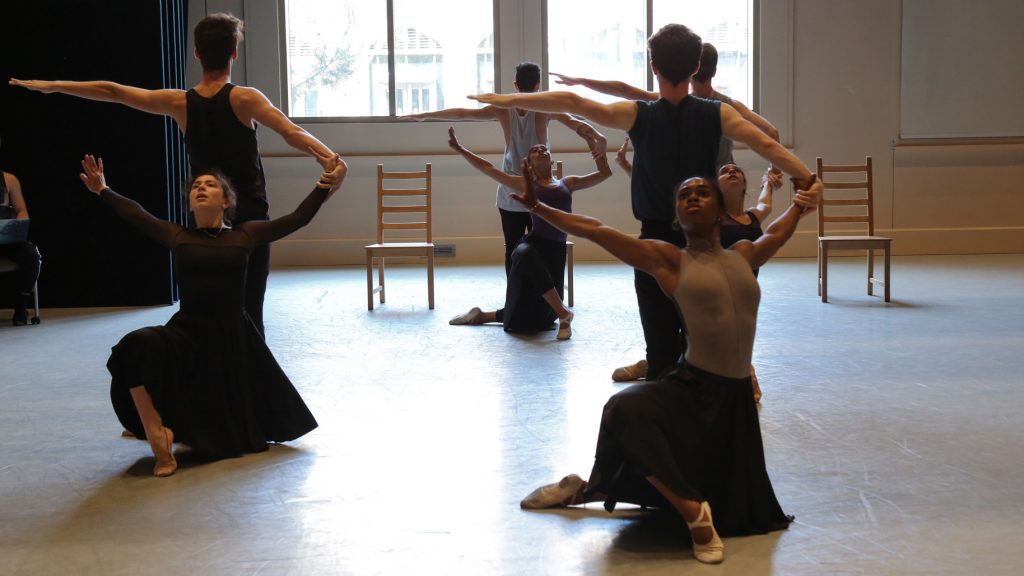 This month, choreographer Jiří Kylián was elected into the Académie des Beaux-Arts, one of the five academies of the Institut de France. Kylián will join Section VI: membres libres, or free members. Opera manager Hugues R. Gall, also a member of Section VI, will announce and invite Kylián formally to the Académie.
Kylián joins the Académie as the first choreographer to occupy a seat in his own designated category of choreography. Before him, choreographers Maurice Béjart and Marcel Marceau held seats, but as independents. The Académie's recognition of dance as an art among the rest is, for Kylián, monumental.
"This makes me obviously extremely proud, because the art of dance has been a grossly neglected art form for a considerable time," he wrote in the inauguration press release.
As the first to be recognized in the section of choreography, Kylián is not without credentials. His work with John Cranko's Stuttgart Ballet and, most notably, as artistic director at Nederlands Dans Theater (NDT), has long been regarded and revered in the realm of contemporary concert dance. Repertory companies worldwide perform Kylián's work to date. This includes the BFA program at the USC Glorya Kaufman School of Dance. In order to properly preserve the work, Kylián has appointed original repetiteurs like USC Kaufman Artist in Residence Fiona Lummis. These repetiteurs travel to companies to set the choreography the way they learned it—from Kylián himself.
From The Hague to the halls of USC Kaufman
Lummis joined NDT 2 at age eighteen, when Kylián had just begun making work. She first originated a role in one of his works in 1984, as the Dragonfly in L'Enfant et les Sortiléges. During her time at the company, he created many roles on her in original pieces.
Lummis, who teaches Kylián's work at USC Kaufman and Los Angeles County High School for the Arts (LACHSA), also sets the work at large companies. In 2017, she traveled to Houston to set Stepping Stones (1991) on Houston Ballet. To Lummis, the spread of Kylián's work across the United States indicates his choreographic impact. For her, bringing this work to the south side of the west coast is exposing it to both an educational/institutional audience and to a larger public in Los Angeles. For the students here, the work has a few applications.
"When these students graduate, some will likely begin to perform with companies that have his work in their repertory. My hope is that they will take to the choreography like a duck to water—that's the practical application," said Lummis.
Additionally, at USC Kaufman, the BFA students have learned and performed Kylián's choreography. They have danced excerpts from Symphony of Psalms (1978), which will be performed at USC Kaufman's upcoming Spring Dance Performance. They have also performed excerpts of Forgotten Land (1981), Falling Angels (1989), and Sarabande (1990). That's the larger application. Dancing the work every year as part of a free program for the public, they have been able to share a bit of Kylián with Los Angeles.
In a greater context
Lummis hopes that Kylián's inauguration into the Académie indicates a greater pattern. She hopes that eventually his work is recognized not only as a piece of dance history but as a great work of art to all.
"Not only is it important for the students, but it's important that the wider public see the work of Jiří Kylián and investigate a little, look more deeply into his work," she said.
Kylián's timeline fits well into the curriculum at USC Kaufman. A contemporary of George Balanchine and a predecessor to William Forsythe, he paved an alternate path. He also made a massive body of work that is still performed today. His is a strong link in this lineage of repertory that the BFA students perform. His work is an important bridge into both professional company repertory and the creation of new contemporary works.
"He was doing something different during that time period. The history gets lost here in America because originally so much of it was in Europe," Lummis said. "Now that this larger cultural institution has recognized his work, perhaps we can inform a greater audience."
The Académie's acknowledgement of choreography as an art among writing, painting, filmmaking and more reallocates dance as a valid form among a greater public. Lummis finds that this aligns with USC Kaufman's mission to create a 'new movement' that celebrates more makers like Kylián.
"That's what I really want my students here to know: that dance is among these great art forms and that we as dance artists have that power and that voice. This is a huge step in that direction," she said.
---
By Celine Kiner