Fiona Lummis carries Kylián work to Houston Ballet and beyond
February 16, 2017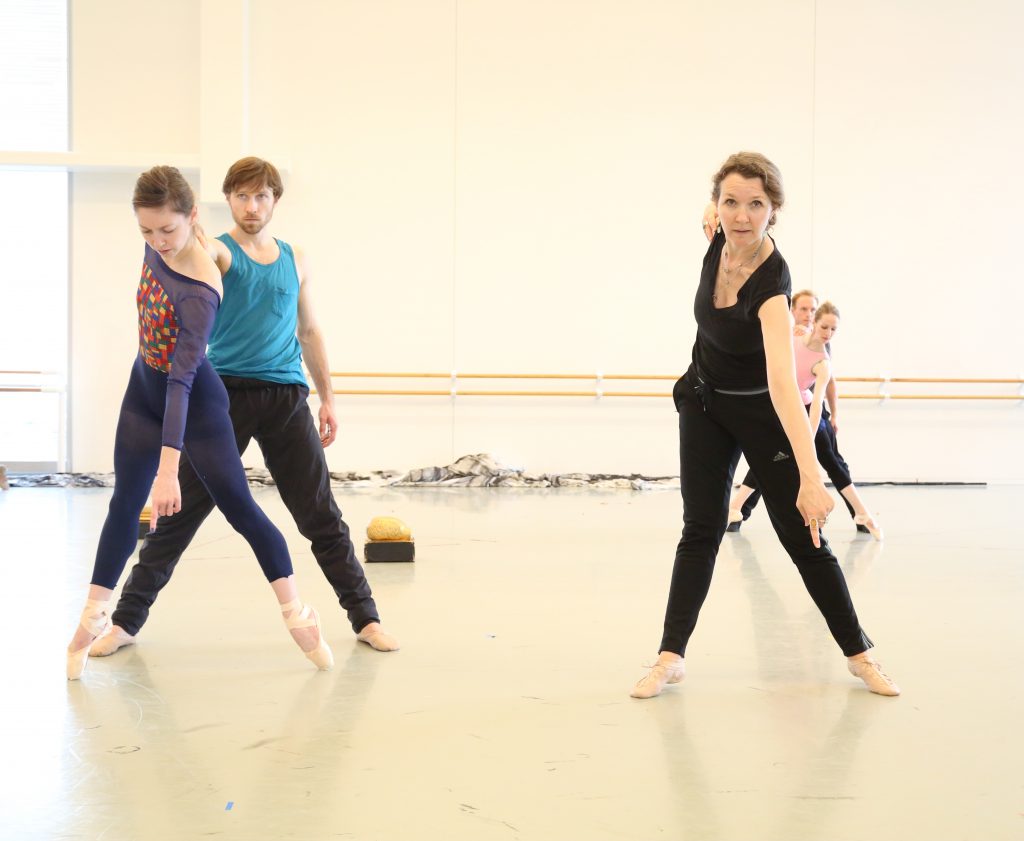 Dance history in the second half of the 20th century revolved around emblematic choreographers, many working in Europe, who led avant-garde ballet companies. Their legacies keep expanding in today's dance practice, thanks to choreographers and stagers who once danced for them.
Ballet icons such as William Forsythe at the Ballet Frankfurt, Jiří Kylián at the Nederlands Dans Theater, John Neumeier at the Hamburg Ballet and Mats Ek in the Cullberg Ballet, among others, gave birth to schools of thought that are enlarged through the work of their pupils.
USC Kaufman current faculty artist in residence and former Nederlands Dans Theater dancer, Fiona Lummis, witnessed firsthand how the choreographer Jiří Kylián became a historic figure. She frequently stages his masterpieces and sees herself as extending his tradition.
"Jiří Kylián has been a hot topic for about four decades. That's because he's evolved in time while maintaining an essential inner world that doesn't change," said Lummis. "I've said before that he used to write prose and now he writes haiku, condensing everything that was in the prose into something very pure and clean."
Fiona Lummis stages "Stepping Stones" at The Houston Ballet
After Kylián created "Stepping Stones" in 1991, Lummis had the chance to perform it at least 60 times. She's now setting the piece for the Houston Ballet's "Legends and Prodigy" program, which premieres in that city on March 16.
"The process starts from the days in which I used to dance and feel "Stepping Stones," said Lummis. "I have to use my physical memory of the past and retrieve the archives of ballets that wonder around my head."
In "Stepping Stones," which is danced to John Cage's "Sonatas and Interludes for Prepared Piano" and Anton Webern's "Six Bagatelles for String Quartet," Kylián acknowledged human heritage, using artifacts from different cultures. The stepping stones represent the traces of humanity's history, and dancers interact with objects from ancient and modern cultures, watched over by three wise Egyptian cats that have witnessed thousands of years of evolution.
Choreographer Ken Ossola, another Kylián pupil, is contributing to the staging of "Stepping Stones" in Houston, taking charge of rehearsals after Lummis set the ballet on the dancers.
Lummis described the need for first-hand experience to recreate Kylián's work, since every movement is slightly different and repetition is minimal.
"You have to pass on the dance from human to human because the intention behind a movement is what's really important about it," explained Lummis. "You can tell the difference when dancers just mimic a video. The dance becomes very two-dimensional if it's taken from a two-dimensional medium."
Historical nodes in the network of dance
Dance companies continue representing repertory of preeminent choreographers from the last five decade in their search for balanced programs that can satisfy an audience with art that they already enjoy and introduce them to new surprises.
Lummis discusses how some of these active, yet already legendary choreographers, grew with their audiences and how their audiences grew with them.
"Companies use Jiří's work because it pleases the audiences," said Lummis. "Then, they educate that audience to be curious about him and start wanting to see some of his less accessible work."
Lummis said that William Forsythe was able to transform audiences in Frankfurt.
"It's quite fantastic," she said. "They went on a long journey with him and they could follow some of his more obscure works because they had entered into his world." She noted that Ohad Naharin did the same with the audiences for the Batsheva Dance Company in Tel Aviv.
Now, younger dancers that come from these schools of thought are branching away from their teachers' nodes, either by creating new work, or by perpetuating their mentors' legacy.
Sharon Eyal from Naharin's company now directs her own company, L-E-V. Forsythe's Crystal Pite now leads Kidd Pivot in Vancouver and Christopher Roman leads Dance On Ensemble in Berlin. Paul Lightfoot received Kylián's torch and is now directing the Nederlands Dans Theater. Other choreographers such as Nacho Duato, Medhi Walerski, Sol Leon or Johan Inger also have emerged from Kylián's studios, and the list goes on.
Repertoire companies such as American Ballet Theatre, The National Ballet of Canada, Les Grands Ballets Canadiens, The Boston Ballet, The Pacific Northwestern Ballet, The Paris Opera and The Houston Ballet, among others, often include Kylián's work in their programs, offering audiences a mix of mature master pieces and new works that their current choreographers create.
"Most people with a professional dance career know the importance of learning from the past to inform the future. If you live in a bubble, you may think that you've created something that was actually invented decades ago," said Lummis. "Knowledge is food. It's like fusion cuisine."
---