Kaufman Connections continues online for 32nd Street students
May 11, 2020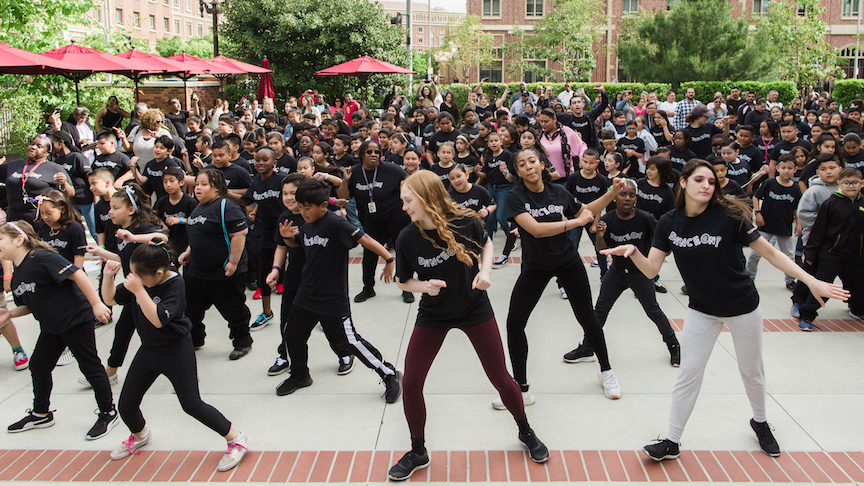 In recent months, the USC Glorya Kaufman School of Dance's community engagement initiative, Kaufman Connections, has found a new life online. Both USC Kaufman and its partner in this program, 32nd Street Elementary School, shifted to remote learning amid the COVID-19 pandemic. Thanks to innovation by both institutions, Kaufman Connections has continued throughout the semester.
Kaufman Connections provides dance classes to 3rd through 6th grade students, introducing them to the choreographic process with a focus on hip-hop. USC Kaufman BFA students, also known as "teaching artists," lead the program's weekly, one-hour sessions of integrated dance instruction.  Recently, these sessions were held virtually using Zoom.
Creating opportunity and accessibility
"Our teaching artists were rockstars in this process," said Program Director and USC Kaufman lecturer Tiffany Bong. "On top of adapting to their own studies and new lifestyles, they selflessly committed to eight a.m. Friday meetings, virtually collaborated on lesson plans and choreography, and jumped into online teaching within a week. They sincerely love the work they do in the 32nd Street classrooms and were eager to dance with their students again."
The 32nd Street Elementary School teachers also played a critical role in ensuring this program remained accessible to students.
"COVID-19 has really exposed the inequity of resources in our communities," said Bong. "The 32nd Street teachers were once again, unsung heroes in crisis. They quickly developed an online learning plan, distributed equipment and communicated with families with little notice or training."
Learning to adapt
Like their teachers and the teaching artists, 32nd Street students had to acclimate quickly to the digital learning environment.
"The rest of the students' classes don't require much physical exertion or exchange… The reality that most students would not be moving throughout the day gave more incentive to ensure that Kaufman Connections classes continued with as little disruption for them as possible," said Bong.
Rachel Harris (BFA '20), a teaching artist, spoke to her Kaufman Connections students' perseverance.
"Because of the students' various household space confinements, some are unable to find a nice place to dance and hear audio without distractions," she said. "Luckily, with such resilient students, they have been adapting and we have been able to review and continue moving forward."
The "KC Dance Challenge"
As part of the adjustments made to the Kaufman Connections' curriculum, Harris and her fellow teaching artists choreographed an original line-dance called the "KC Dance Challenge" as a way to motivate their students to keep dancing.
"The challenge is threefold," said Bong. "It is to practice performing the line dance sequence, to embody the hip-hop philosophy of "Each One. Teach One." by teaching it to a family member and to ultimately dance it all together someday when we reunite."
Inspiring a joy for dance
Ultimately, Harris is pleased by the outcome of this year's program.
"I am hopeful that the students take away the joy of dance and break past any insecurity or fear of expression that can creep in around elementary and middle school age," she said. "I am feeling confident that these goals are being achieved. As I talk to them each week, they have shown their excitement to get up and move. Overall, I think we are making the most of it, and the message is getting across."
Bong similarly reflected on her vision for Kaufman Connections.
"We hope the students will be inspired to find new and creative ways to keep moving," she said. "As we say in hip-hop: 'Can't Stop. Won't Stop!'"
Generous Support
Kaufman Connections is made possible thanks to generous grants and funding from supporters.
The program received a new grant for their second year from USC's Good Neighbors Campaign: a USC staff-funded initiative which supports local community programs focusing on education, particularly in the neighborhoods surrounding USC's downtown campus.
Kaufman Connections' second year was also made possible thanks to a grant from the American Dance Movement. Founded by Nigel Lythgoe (So You Think You Can Dance) and Adam Shankman (Hairspray, Step Up), American Dance Movement has been encouraging communities to get moving through dance for over 10 years by funding dance education in underserved communities, as well as educating the public on the many benefits of dance.
Finally, Kaufman Connections is also supported with generous funding from Arts in Action. Arts in Action is a program under the USC Provost's Arts and Humanities Initiative. This organization supports USC arts activities that facilitate positive social change and enhance our collective quality of life within the community.
---