Third annual Choreographers & Composers collaboration in full swing
March 15, 2019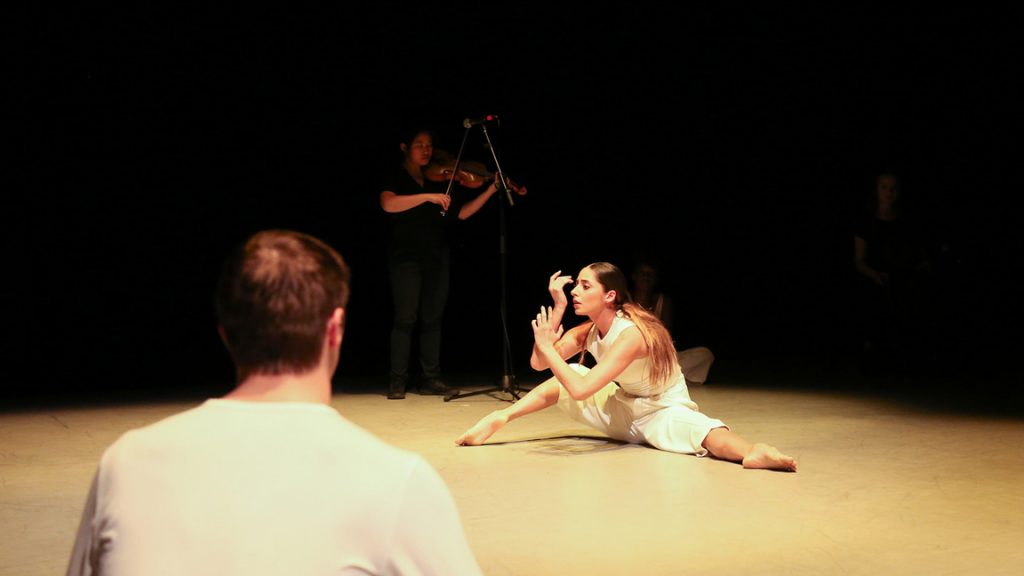 This year, USC Glorya Kaufman School of Dance and USC Thornton School of Music embark on the third iteration of their annual Choreographers & Composers concert: a collaboration between music and dance students which yields an evening of new works.
The collaboration assigns sophomore composition majors to small groups of sophomore dance majors. Each cluster then creates a short work that pairs live music and live dance for the concert stage. As the evening approaches, the creators are responsible for costuming, lighting and more.
Initial meeting: synchronizing forms
Composer Tristan Heinicke will work with sophomore BFA dance students Londyn Alexander, Juliette Ochoa, Camryn Pearson and Simon Schuh. Each group's process is different: for this small unit, creation came naturally. Heinicke performed in the Choreographers & Composers concert two years ago in its debut; he played live guitar in a piece composed by Katya Richardson, with the BFA class of 2019. Since then, he has been no stranger to collaboration, particularly with dancers.
"I find it so fascinating that there is a world of experience around one's body and around sound that I simply don't feel as gutturally or naturally," Heinicke said.
During his first session with these choreographers, he brought his guitar and improvised alongside the dancers, to research how their artistic voices echoed and blended. They ended up working this way for almost an hour.
"It was a case of seeing how deeply we each individually experience sensations (like sound) and that being part of our identity," he said, "but also that there's a world of thought and literal motion that's approaching sound as a space and object rather than what I'm doing."
This foundational meeting established a pace for the artists. With an understanding of their working styles, they developed the piece into its current iteration.
Conceptual growth and negotiation
To evolve between these two points, the artists contributed in both individual and collaborative respects. Each rehearsal involved a negotiation between the movement and music.
"We are all passionate artists, and value our individual ideas a lot, so a challenge we faced was deciding which ideas stayed and what was left out," said Alexander. "But this encouraged me to dissect what I found really meaningful and impactful, and has contributed to making me a better choreographer."
Once the dancers had set a basic structure for the piece's spatial arrangements, they met with Heinicke to discuss needs: tempo changes for soloists, themes for duets. Heinicke would return for the next rehearsal with another minute of music in hand.
"Then we just got together and built something," he said. "They would choreograph 40 seconds right in front of me and we'd reflect on its momentum…it felt so balanced: collaborative and independent."
A central theme — arguments the artists have had with people they love — drove the process. The piece is called "Said and Done," and Heinicke's composition is called "Splice." There is a sort of parallel in the process and its inspiration. The sophomore dancers especially have been working together for two years now; they must navigate conflict in the studio and compromise with their own ideas.
"The audience will see that the tone is often discordant, but contrasted with moments of resolution," said Alexander.
Final products
For Heinicke, immersion in the rehearsal world of the dancers was a new experience: the lexicon and learning curve surprised him and changed his approach.
"Hearing the discourse they used was fascinating," said Heinicke. "They could write and memorize a section in two listens and repeat it two weeks later…and things I saw as minor details, or even accidental, they would latch onto and run with. I feel like everything is new again."
Hours in the studio with this concept as precedent led eventually to a completed piece. Together, the artists pushed the fledgling project into preparation for the stage. On the production side, they've added projections to deepen the work.
"I would like the audience to feel the converging shapes over the course of the experience. I am also so excited for the layout of the dancers, the order of their events and sequence. The end result isn't music, or video, or dance, it's a completely new different thing," said Heinicke.
As the piece comes together and begins to assert its own comprehensive narrative, the artists look forward to its debut.
"There's this moment with these shadows that change in size and proportion while the music jumps wildly back and forth. In rehearsal, my hair stood up on the back of my neck," Heinicke said. "I'm excited for everybody's art that's been undergoing the same process in their own ways. I'm excited for everybody there to see with our ears and listen with our eyes."
Reserve tickets for Choreographers & Composers, which runs March 20-21, 2019.
---
By Celine Kiner