Kyle Abraham settles in for month-long residency
January 19, 2023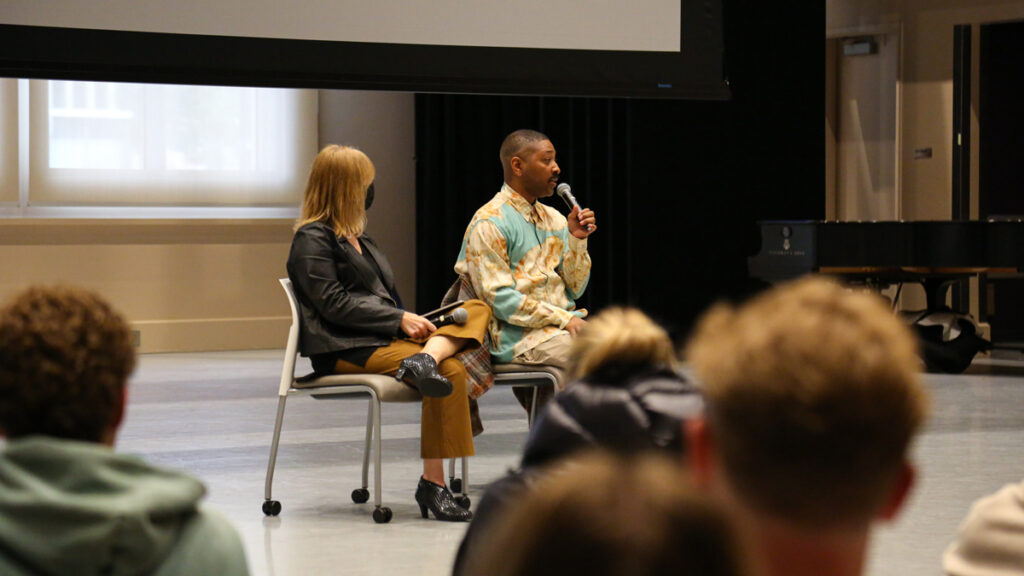 The Dance Magazine Award honoree and MacArthur Fellow sits down with Dean Julia Ritter and students of the USC Glorya Kaufman School of Dance to talk about his path to success.
Kyle Abraham's resume is the envy of many.
In 2019, on the heels of the arrival of the COVID-19 pandemic, Abraham and his friend, the ballet superstar Misty Copeland, collaborated on a solo performance that challenged people's expectations of Copeland as a classically trained dancer and sold out its two performances at the Joyce Theatre's Fall for Dance festival. In September 2022, Abraham was named a Dance Magazine Award honoree, one of the field's most prestigious honors. And last December, he premiered his third original work for Alvin Ailey American Dance Theater, Are You in Your Feelings?, at New York City Center to wide fanfare and critical praise.
And that's just recent history. Never mind his MacArthur Genius and Princess Grace Awards, or his yearlong residency at the Joyce, or his one degree of separation with Beyoncé (he served as a choreographic contributor for the pop icon's 2013 British Vogue cover shoot).
Now, Abraham begins his first USC Kaufman residency here in Los Angeles after being named to the Claude and Alfred Mann Endowed Professorship in Dance in April of 2021, succeeding former endowed professorship holder William Forsythe.
Abraham noted at the time of his appointment that the mission of his company is to create an evocative interdisciplinary body of work, which he was excited to share with the USC community during his residency, January 9-February 12. He recently joined USC Kaufman Dean Julia Ritter for an all-school gathering to talk about his journey in dance. Below are edited excerpts of the conversation.
Dean Ritter: I was hoping we could start by talking about your training, experiences, and encounters that helped you build the skills and confidence to accomplish all these things.
I started studying dance late. I grew up playing classical instruments: the cello, French horn. I was a big rave and hip hop kid. Playing cello was stationary. Dance was something that needed more space. I was hungry to learn everything: Limón technique, Martha Graham technique, Cunningham, various forms of ballet and jazz. I tried to absorb and accept all forms. Ideally, your mind is open to all those things throughout the process.
Can you talk about the kind of genres or sounds that got you into motion?
My first record was a Prince album. But I can find joy in all of it—Country to Heavy Metal to Gospel. It's all valid. But I think it's the intentionality behind it that draws me in. I worked in record stores for a long time. That was my high school job. I think having a love and appreciation for everything drives me in different ways.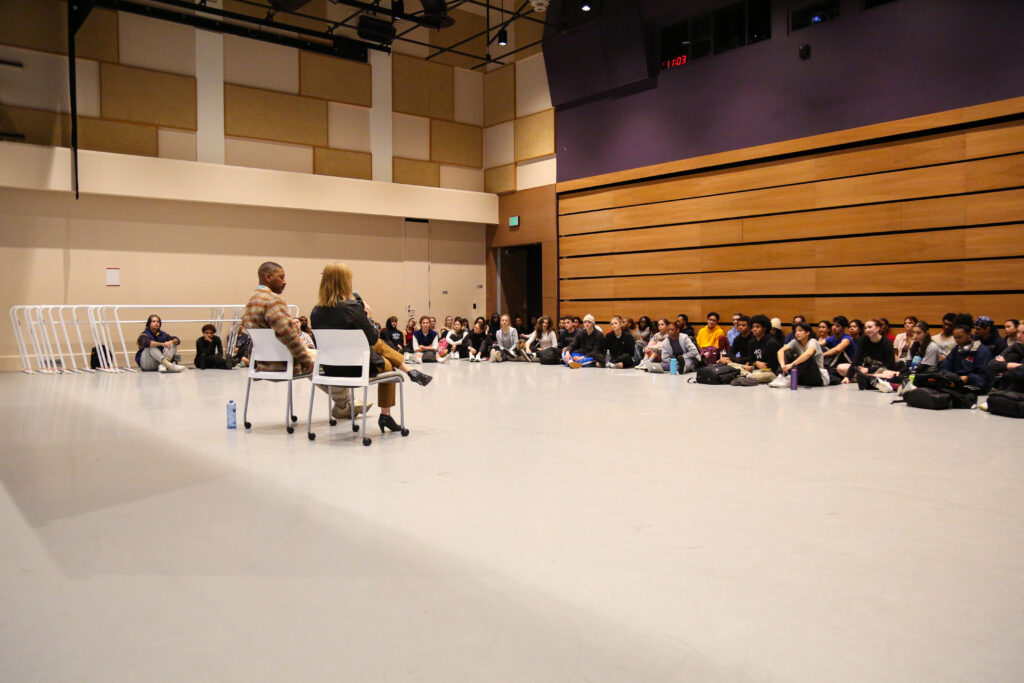 What led you to make the decision to study dance in higher ed?
It was my senior year in high school. Bill T. Jones/Arnie Zane Dance Company came to my school and performed excerpts of a work called Still Here. Bill also read from his autobiography. Learning about the dancers in that company led me to consider different possibilities with choreography. Eventually, I went to SUNY Purchase. Before that, I went to Morgan State in Baltimore. There's a lot of story there, but one of the reasons I chose to go to a conservatory program was to focus on dance as a practice and not just my technical chops.
What were some formative encounters that led you to the path you're on now?
The journey has been tricky and precarious. I never went to college thinking I'd be a dancer. I wanted to focus on being a choreographer, but all my classmates were trying to get dance jobs. I was like, I want to be in a company, too! I got caught up in it, joined a company and ended up having a miserable time. I realized I wanted to be in the room, but I didn't want to be a dancer. I took some time off and moved to London, San Francisco and Pittsburgh, back to New York, trying to figure out my place and what my relationship to dance could be. Going to graduate school was a time for me to figure that out.
Can you talk about some people that stick out in your mind, that gave you good advice and direction?
Stephanie Powell. I got to work with her in Baltimore. I would take her classes on Wednesday nights and Saturday mornings. She was supportive, and I met a lot of amazing people. The thing that's been the most helpful, always, is my dancers and my company. They remind me that the work I'm making isn't for critics. It's been so liberating.
You have a really, I think, progressive structure in your company in terms of participation and sharing. How did you cultivate that?
If you create a work with me and you stay with that work through its premiere, you'll get a royalty for the rest of your life. Collaborators that work always get a check. When I first started out, we were using my EBT card just to bring in snacks! But it evolved from there by saying, Okay, well, I can't pay hourly, I can give you a stipend. Those stipends improved. And then we got to hourly pay, then salaries. Now every dancer has a salary, healthcare, retirement plan, health insurance, workers comp., royalties, massage credits. It takes time and help but the goal was always to support the community that we want to have.