New building captures the essence of USC Kaufman
April 16, 2016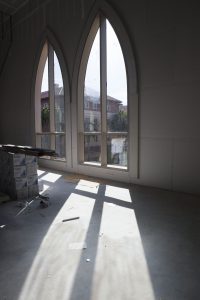 To be completed this summer, the USC Glorya Kaufman International Dance Center is a brick-and-mortar celebration of dance and movement. Conceived through brainstorming sessions between Pfeiffer Partners Architects, Glorya Kaufman and the school's leadership team, the building's unique design shows movement in playfully ways.
Avoiding 90-degree angles, the architects created a space in which corners are replaced by curves. On the ground floor, the hallways between dance studios mimic the shape of a leg. A sweeping "Grand Staircase" flows between the building's three levels.
The 70-foot tall building is a physical representation of the essence of USC Glorya Kaufman School of Dance.
"It's not just the size of it. It's the commitment to the details that have been incorporated into the space," said Jeffrey de Caen, Associate Dean for Operations.
The exterior, with its Italian Collegiate Gothic look, juxtaposes a very modern and vibrant interior. The state-of-the-art facility will house dance studios decorated with jewel tones: topaz, amethyst, ruby, and sapphire.
A sense of home
With the intention of building a sense of home, the dance center will have eye-catching, original details throughout its space. Entering through the main doors and into the lobby, the space incorporates Art Deco lighting fixtures, personally donated by Ms. Kaufman. Her portrait will hang in the entrance of the undulating staircase. To the left of the staircase, a "Wall of Firsts" celebrates early moments in the school's history, and will feature portraits including the first class of students, the first dean, and the first school staff.
USC Glorya Kaufman School of Dance will open its doors next fall for more than 2,000 USC students, who will take advantage the space and the school's more than 40 dance courses.
---
By Maria Rodriguez