Admissions Parent Blog: Sending your student away from home
April 16, 2019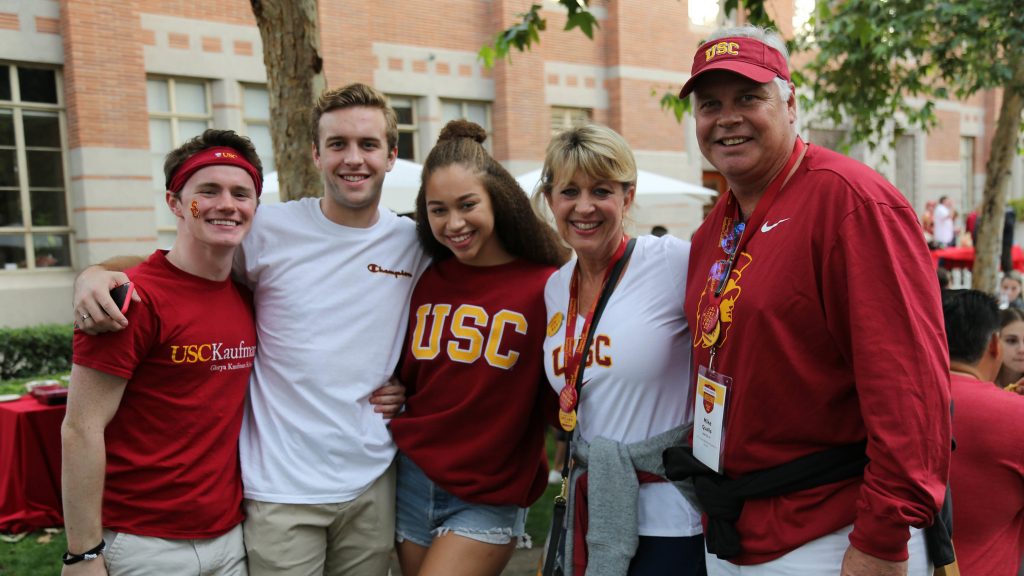 Sending kids to college is hard for every parent. However, in talking to parents (mine included), I've gathered that it is comforting to know that here at USC Kaufman, your dancer becomes a part of our family. Especially for families geographically far from Los Angeles, parents stay connected by planning trips to come see shows, FaceTiming their kids and keeping up to date with Kaufman's social media and emails. Here are some stories and snippets of advice from current parents on sending their dancers to USC Kaufman.
Christine Balka, parent of Dylan Balka (BFA '19)
Dylan and I were standing on the beach watching the sunrise. It was decision day. Would he leave his family, his friends and all the comforts of home to move 2,800 miles away? This was not a light decision. It wore heavily on his heart and even more heavily on mine. He turned with tears in his eyes, and I knew at that moment that I needed to be the strong one and let go. From that moment on, it was roots and wings: a perfect combination. As the sun rose, so did he. Now the sun sets in the evening for him and his dreams are an arm's length away.
Challenges and triumphs
We had our challenges. Cancer stole half of his sophomore year. He fought hard to regain his strength and to rejoin his inaugural classmates. I had to let go a second time. My son will not regain full health until after graduation.
The USC culture fosters family unlike anything I have ever witnessed while putting my other children through prominent colleges. The support we received from our USC family was immeasurable during his time of crisis. I do not believe we would have gotten the same sense of village from any other establishment. We had parents, students and staff from other USC schools reach out to us, even. It was all so overwhelming. Whenever we visit the school, my older children are in awe of the USC family. They have never witnessed anything like it and neither have I.
Let them go… roots, wings, and a little trust!
Claudine Murray, parent of Casey Murray (BFA '22)
Helping your child decide where to attend college can weigh heavily on any parent. We wanted a place where he would receive a top notch education, along with the ability to drop him off at school and drive away knowing that he was safe, happy and welcomed. We made the decision as a family, based on where we thought he would thrive. Casey was looking for a college program that would help guide him into his future and that would give him continual positive growth and opportunity.
College criteria
Our decision was less about the distance and more about the space itself, where he would be spending his next four years. We chose USC Kaufman for so many reasons, including the extensive and diverse dance program they offer–which includes technique as well as many opportunities. Casey would be able to experience so many different forms of dance with amazing educators, to collaborate with other departments at USC, to travel and to learn alongside skilled fellow students. Academics are also very important to us. We felt he should be able to expand his education in multiple forms. After touring many different universities and dance departments, we felt USC Kaufman best gave our son the education he was looking for, in an encouraging surrounding environment.
Dropping our son off at college and driving away was not easy. There were tears–not from him, as he was excited and so happy beginning his next journey–but definitely from me. As a parent, you may have moments the months following drop-off: walking by your child's room and aching for a hug, or accidentally buying their favorite snacks at the grocery store. But knowing that your child is happy, thriving, and cared about really does make things easier.
Joining another family
A big piece of advice I can give any future USC Kaufman parent is attending admitted student events with your student. Each of our children attended different colleges. This was the first time we felt like we were leaving our child with a second family. We felt like we arrived at USC Kaufman to open arms.  The older BFA students have been supportive, kind and encouraging to incoming students and parents from day one. The administration and faculty are fantastic and personal with the new students. A mentoring faculty member helps guide Casey, as well. He values and appreciates this professor so much. The students have all been so supportive to one another: Casey has never felt alone. In addition, I have been able to meet other wonderful parents. Many times other parents have posted photos of Casey with their students in performances, or we send them to each other by email or Facebook.
There have been multiple opportunities to see our son dance at USC Kaufman. We love the personal stage in the Glorya Kaufman International Dance Center. The school does a wonderful job helping parents feel included in their child's experience, even though they are away from home.  The communication from faculty and staff to parents is informative, engaging and helpful. There is a parent Facebook group, a USC Kaufman Instagram and an email newsletter as well. Besides our son getting an incredible education in a program filled with opportunities, we feel like we are part of something more than just a college campus with classes. It's more like a community, and part of the Kaufman family.
Ellie Clapp, parent of Lillie Pincus (BFA '20)
To be perfectly honest, we tried our best not to think about the distance when Lillie was considering colleges. We felt that it was her decision to make and that she would make the decision based on what she felt was the right fit for her both dance-wise and academically.  Since she had already spent two years away from home (boarding school), we knew she would be fine living so far away. However, I wouldn't be honest if I were to say it hasn't been challenging–logistically, financially and emotionally–for us as parents.
Being present from a distance
After helping Lillie move in freshman year together, my husband and I have tried to tag-team attending her shows and helping with apartment move-ins. Whereas we were able to attend every show she danced in when she was a bit closer during high school, we have sadly missed some USC shows. However, we are so appreciative of the efforts Sarah Haggerty, USC Kaufman's Associate Director of Individual Giving, has made to screen past performances during parent and show weekends.
Freshman year taught us that trying to fly Lillie home for a brief Thanksgiving visit just wasn't worth the wear and tear. By freshman year's spring break, faced with coming home to a foot of snow, Lillie suggested I come out to California instead. We have done it every year since, and I love this solution and every minute of these trips. It gives Lillie a chance to get off campus and beyond the radius of free Lyft for a few days. And it gives me a chance to escape our gray upstate New York weather and treasure some rare mother-daughter time! We still miss her at Thanksgiving and Easter – and most of the summer which, as dance parents know, entails more travel for summer intensives.
Home away from home
On the upside, we truly agree with Lillie that she made the best choice. She has completely adapted to life on the west coast, admittedly better than her parents have adapted to her being so far away! She loves life at USC and Kaufman does indeed seem to be a home away from home for the dancers. We are thankful for the care the faculty and staff seems to share with the students – and the students for each other. Lillie's class is especially small and quite diverse. It seems they are all as close as dance company members might be. Making one's home in an arts family, in a university, in a new and large city is all a precursor to what comes next for these artists. USC Kaufman seems to be priming the students – with both challenge and support – for success. We are so grateful.
Joye Qualls, parent of Luke Qualls (BFA '22)
I was already somewhat prepared, as I already had sent two other kids off to college. I knew my son wanted to be on the east or west coast. But when he made his decision and the time came to drop him off at USC Kaufman, it hit me. The tears came as I walked away from his dorm. Luke saw, and he squeezed me again….but it was tough. So I told my husband that night that we had to budget for travel!
Making it to LA from Texas to see as many of the performances as possible has made it easier for us to tolerate the distance. Lots of FaceTime as well!  Truly, if you can budget for Trojan Family Weekend and/or the Fall Dance Performances, all of a sudden it's Thanksgiving and Christmas and your child is home with you!
The semester flies by
The stretch to spring break is not so bad, and then you can attend the Spring Dance Performances. It was hard to budget for the trips, but we used a lot of cheap airfare, air miles and credit card points to make it work. Our son had a few days where we could tell he was homesick. But he truly was surrounded by friends and his new dance family and that made it so much easier. His schedule was very full, which was par for the course for most dancers, so time went by pretty quickly. All in all, it was a pretty easy transition from a mom's perspective. A few rough moments are to be expected when your youngest is far from home, even when it's exactly where he wanted to be! After his first year, he would tell you, he wouldn't have had it any other way. Luke's dad and I feel the same–what an amazing program our son is a part of.  We feel extremely blessed that Luke is a part of USC Kaufman.
---
Compiled by Lillie Pincus