Patrick Corbin puts dance into words for Dance Studio Life
February 10, 2016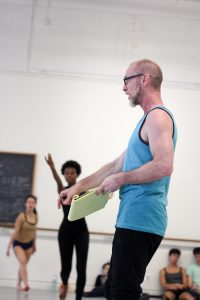 Dance Studio Life, a leading publication for studio owners and dance teachers nationwide, now includes a regular column written by USC Kaufman faculty member Patrick Corbin. Every month, Corbin will share wisdom from his long career as a dancer and instructor in "2 Tips for Modern and Contemporary Teachers." His contribution the magazine's the January and February issues include "Contractions and Expressive Feet" and "Hinges and Finding Shapes in Space."
Even though writing has always been part of Corbin's work as a choreographer, this is the first time he has written for a publication. When Dance Studio Life demonstrated interest in his work as a faculty member at USC Kaufman, he jumped at the opportunity to contribute.
"I want (readers) to attain the tools to be good teachers, and to have access to ideas that they can deliver to their students," said Corbin.
Corbin, who teaches contemporary dance, Dancing on the Screen, tap and media classes at USC, portrays his experience as a teacher in his writing.
"What I teach here at USC is there," said Corbin. "What I say everyday in class is there."
---
By Maria Rodriguez