RYBG: USC Kaufman alumni launch production company
May 24, 2021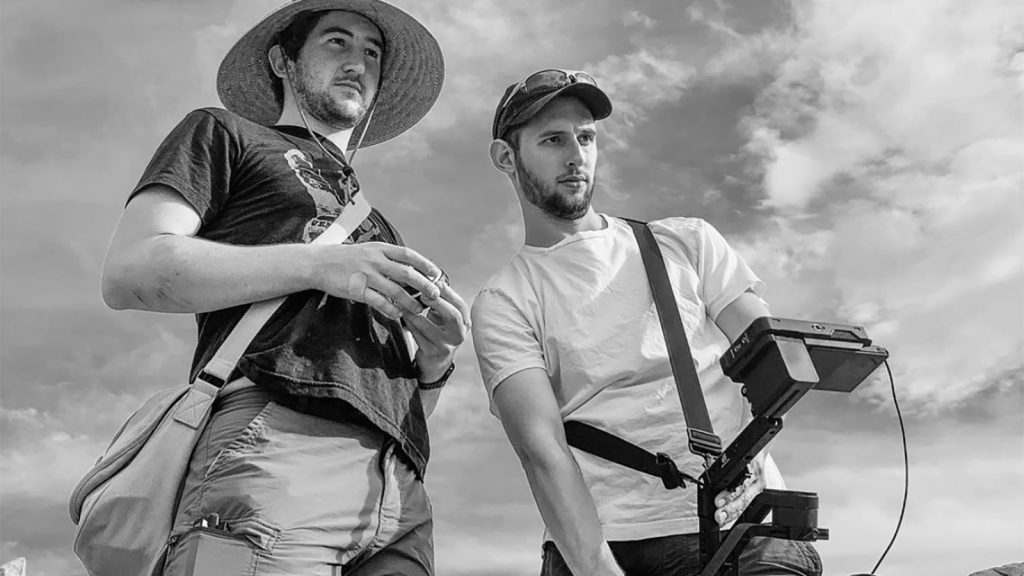 USC Glorya Kaufman School of Dance alumni Adam Agostino and Justin Epstein (BFA '19) launched their production company, RYBG, in the spring of 2020. The pair had already been collaborating as part of the media crew for USC Kaufman's Dance Operations. They saw RYBG as a natural progression of this work. After the pandemic hit, they brought on fellow alum, Noah Guthier (BFA '19), to round out their multifaceted company.
Establishing the company and mission
The idea for a production company originally stemmed from Agostino's lifelong dream of becoming a filmmaker. He took classes at the USC School of Cinematic Arts while completing his BFA. Eventually, he became the head of film at RYBG. Additionally, Epstein had a growing interest in sound design and music while at USC Kaufman. Now, he is the head of sound for the company. Guthier, who specializes in motion capture and design, also seemed like a great fit for the company, which explores the intersection of dance and new media.
As RYBG came into focus, Agostino, Epstein and Guthier sought to root their multidisciplinary company in choreographic thinking. Building off their USC Kaufman training, they combined their talents to create a company that specializes in film, sound production and movement technology.
"Choreographic thinking is this corporeal processing that exists in the style of an improvisational dance duet," Epstein said. "You need to be listening not just with your ears but listening with relative space. The mission of our company is to take this idea of choreographic thinking and see how it translates into different mediums like film, sound and motion design."
The story behind the name
The name RYBG traces back to a choreographic practice from their freshman year, Agostino said. William Forsythe, USC Kaufman's inaugural Claude and Alfred Mann Endowed Professor of Dance, introduced the Class of 2019 to a game he called RYBG. Forsythe encouraged dancers to make variations on the game by translating its movement into something new.
"This game helped expand my thinking about dance and choreography in terms of language and translation," Agostino said. "I started thinking about how to approach film and other art the same way. For example in dance: how do you translate choreography into camera movement and edits happening on screen?"
Directed research with USC Kaufman
During their senior year, Agostino, Epstein and Guthier took the course DANC 305: Dance in New Media with Dawn Stoppiello, an Assistant Professor of Practice at the School of Dance. The course offered relevant skills for their future production company as well as established a connection with Stoppiello. This led to an eventual collaboration during this past school year. Stoppiello invited the trio to lead production and editing workshops in her directed research course.
In this course, BFA students interacted with the RYBG team to learn the creative and business skills needed to operate a production company. According to Stoppiello, the students executed a final project including an original short film and an essay on business practices and entrepreneurship.
Learning the skills of production
The course also provided training sessions with industry-standard software. In the first semester, Agostino taught video editing through DaVinci Resolve and Epstein taught sound editing through Ableton. Guthier joined the research initiative in the second semester and taught motion editing on Isadora. This software manipulates visual media in real time using camera and voice tracking to control the live media. This software is unique to Stoppiello's career as she helped create it with her artistic partner Mark Coniglio.
Stoppiello sees the connection between the directed research and RYBG as an asset for future USC Kaufman students. It acts as a bridge between their BFA training and real-world expertise in the field of dance media. She hopes to continue the partnership so students can eventually have the opportunity to do in-person work with the company.
"These three gentlemen understand USC Kaufman as a school, and they are in tune to what the current students are connected to," Stoppiello said. "They're also forging their own path, and I think our students benefit from this special connection to these young entrepreneurs and creative thinkers."
RYBG recently filmed half.alive's music video "TIME 2." Watch the video, which features choreography by fellow alumni Aidan Carberry and Jordan Johnson (BFA '19), below:
---
By Brigid Murphy