USC Kaufman faculty member d. Sabela Grimes lends an ear for music and eye for dance to his latest collaboration with CONTRA-TIEMPO
January 14, 2016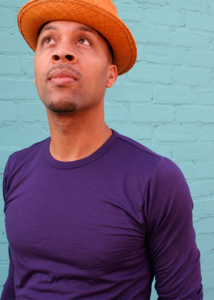 USC Kaufman faculty member d. Sabela Grimes is one of the creative forces behind "Agua Furiosa," the newest work of Los Angeles-based dance company, CONTRA-TIEMPO. Grimes crafted both the soundscape and script for the evening-length piece that was inspired by Shakespeare's the "Tempest" and tales of the Afro-Cuban goddess Oya.
"Agua Furiosa" started with a series of collaborative choreographic laboratories in which Grimes contributed as a composer and sound designer. The music, a mix of traditional instruments, media sound bites and a sonic score, was developed in step with the dance rehearsal process.
As a choreographer and composer, Grimes has the ability to understand what for many are two different languages – music and movement.
"Having experience choreographing gives me a way into a choreographic mind," said Grimes. "I'm seeing it as a choreographer and hearing as a composer, but I'm also hearing it as a choreographer and seeing it as a composer."
In many ways, Grimes' interdisciplinary work with CONTRA-TIEMPO mirrors his pedagogical approach at USC Kaufman. As a professor of Hip-Hop, Dance History and Improvisation, he emphasizes the close union of dance and music in Afro-Diasporic cultural practices.
"Agua Furiosa" opens Jan. 14 for two weekends of performances at Glorya Kaufman Theater located on the UCLA campus.  Learn more
---
By Maria Rodriguez