Student Blog: Shifting gears at this year's New Movement Residency
June 24, 2019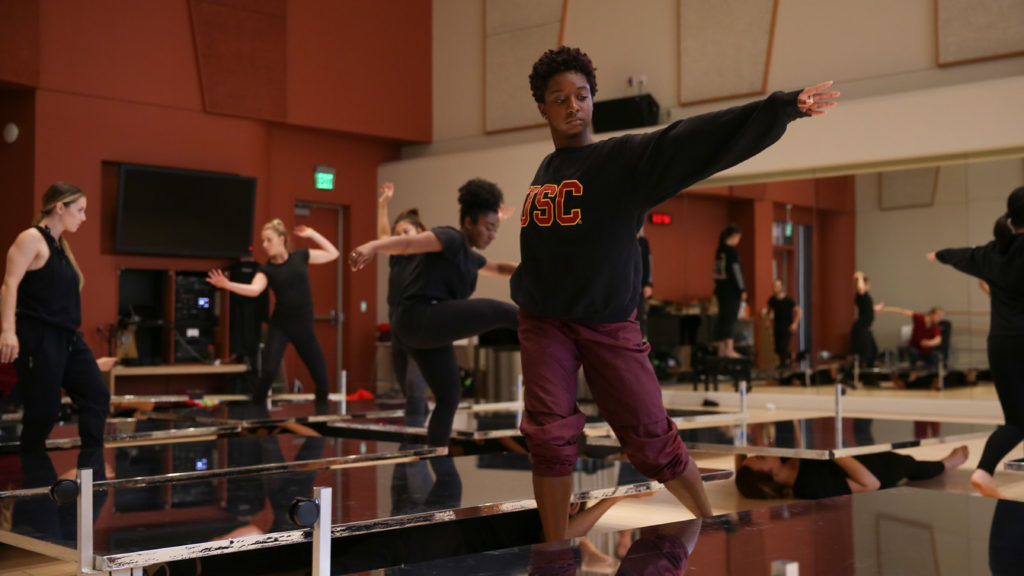 As soon as USC Kaufman announced this year's New Movement Residency artists, I began to arrange plans to stay in Los Angeles for the summer. An excited buzz filled the USC Kaufman hallways and studios among my peers when we found out that Marissa Osato, Micaela Taylor and Tony Testa would be here this summer. I signed up for what would be four amazing weeks with two of the three artists. Though I had never been in a choreographic process with either Tony Testa or Micaela Taylor, I was eager to get firsthand insight. I was curious about the nitty gritty stages behind Testa's and Taylor's productions for the stage and camera. Each process became a hub for my own artistic growth, challenging me to create and perform beyond my comfort zone.
Testa's collaborative approach to the residency
Meeting Tony Testa was like meeting a kid in a candy shop. He was incredibly eager to create and mine the room for artistic gems. Right away, he shared his intention for the residency: to film small, "tapas-like" segments of choreography. Eventually, he would submit them for consideration, as a pitch for the opening ceremony of the 2022 Olympic Winter Games in Beijing.
I was immediately struck by his ambition, but even more excited about his approach to this task. As someone who aspires to lead and facilitate spaces for all sorts of artistic investigation, I appreciated his affinity for collaboration. He also sought after and valued our input. This was no easy task. There were challenges that came with organizing a cohort of more than 20 dancers. The task of building exciting visuals with flags, portable mirrors and bright red gloves made it no easier. Ultimately, however, it was a joy to work alongside intelligent dancers, many of whom I had never met before. We built such a fun environment, and produced the beginnings of what I believe will soon make its way to Beijing.
Shifting gears with Taylor
My time at USC Kaufman has taught me several skills useful to the "hybrid" dancer. Among them: quickly shifting gears when adapting to several different choreographers. I found this skill incredibly valuable in my transition from Testa's residency to Taylor's. In the latter, we were given the opportunity to learn and perform excerpts of her most recent work DRIFT. Members of The TL Collective taught us the choreography, as they prepared for upcoming summer engagements at Jacob's Pillow and beyond.
As a "new drifter," I challenged myself to dive into Taylor's unique and powerful movement aesthetic, one that I deeply admire. The challenge was simultaneously exploring ways to relate to her personal story through my own movement quality and learning style. As I observed the intensity of her choreographic process, I began to ask myself questions regarding my own artistic growth. How I can continue to challenge my own body and artistry? How do I push past conventional standards of the dance world or my own self-imposed limitations? My time at USC Kaufman has been all about asking new questions to propel my art forward. I am so grateful to USC Kaufman and this year's New Movement Residency artists for being part of another chapter in my artistic journey.
---
By Amaria Stern