Spotlight on USC Kaufman contemporary faculty
October 22, 2020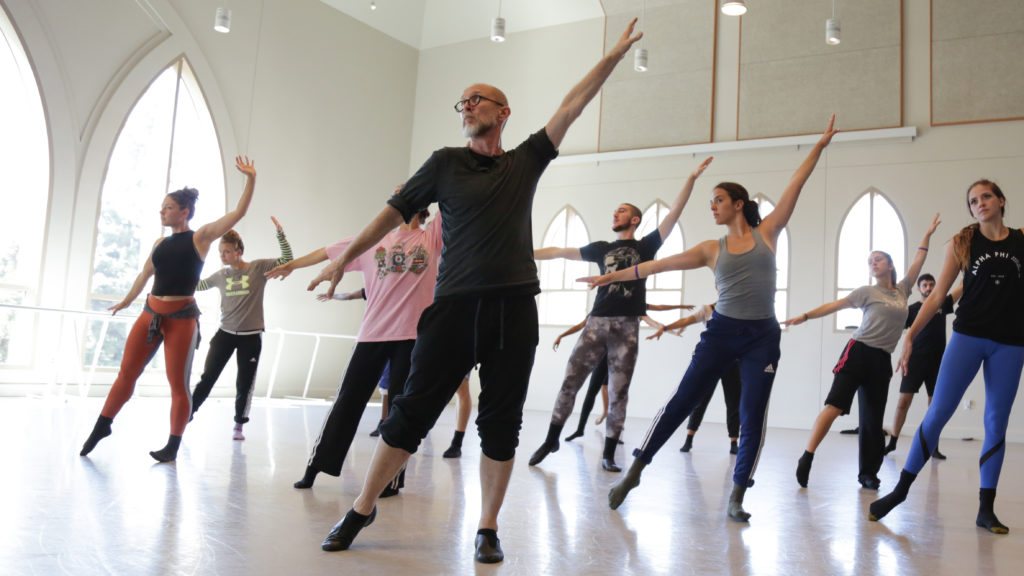 The USC Glorya Kaufman School of Dance provides BFA students the opportunity to engage with leading dance innovators including year-round faculty with highly-regarded careers and visiting artists who are active in the field. Read on to get to know some of the contemporary faculty working with BFA students this year.
Patrick Corbin
Associate Professor of Practice Patrick Corbin provides over 30 years of career experience to his contemporary classes at USC Kaufman. His career has spanned over styles including classical ballet, modern and contemporary. Corbin has studied dance since the age of five. He began with tap and jazz classes at Art Linkletter Totten studios in Maryland.
Corbin went on to study ballet at the Washington School of Ballet and the School of American Ballet. Between 1981 and 1985, Corbin danced professionally for the Washington Ballet, the Kansas City Ballet and American Ballet Theatre II. He also danced with the Joffrey Ballet for four years. After this time in his career, Corbin joined the Paul Taylor Dance Company in 1989. He received the New York Performance Award for Sustained Achievement with the Paul Taylor Dance Company in 2001.
Corbin has been featured in five PBS Great Performances between 1988 and 2004. He was also involved in the 1998 Academy Award-nominated documentary, Dancemaker. Corbin started his own dance company in 2003, CorbinDances. At the company, he stages his original work along with that of Paul Taylor.
Jennifer McQuiston Lott
Assistant Professor of Practice Jennifer McQuiston Lott earned her BFA in ballet performance from Indiana University, and her MFA in dance from the University of California, Irvine. She is one of only eight North American teachers of Countertechnique, the contemporary movement system developed by Dutch artist Anouk Van Dijk.
Lott has danced with a variety of companies, including Gibney Dance Company, Groundworks Dancetheater, Armitage Gone! Dance, Inlet Dance Theatre, Collective Body Dance Lab and Eglevsky Ballet. She has also created works for Cleveland's Ingenuity Festival, Gibney Dance Center, the Laguna Dance Festival, Baldwin Wallace University's Bach Festival, The Institute for 21st Century Creativity at UC Irvine,  The Traverse Symphony Orchestra, Interlochen Arts Academy, Parallel 45 Theater Festival and Rockford Dance Company.
Lott co-founded the seasonal Traverse City Dance Project in 2012. Now in its ninth year, the TCDP offers summer opportunities to professional dancers across the country, and commissions a steady stream of new choreographies and music for dance. In March 2020, in response to the adverse effects of the global pandemic on the dance community, Lott initiated the TCDP's No-Distance Festival, through which she has commissioned and produced 15 virtual collaborations to date between an international array of dance artists and composers.
Lott has also choreographed music videos for the groups Son Lux and My Brightest Diamond. The Son Lux videos "Undone" and "You Don't Know Me" star Lott as the featured dancer.
Bret Easterling
Lecturer Bret Easterling brings a lifelong dance career to his contemporary classes at USC Kaufman. He grew up in his mother's dance studio in Northern California, and his career began at the age of seven. He started doing commercial dance work, including a duet with Angela Lansbury in Mrs. Santa Claus. Easterling also danced in Fiona Apple's 1999 music video for Paper Bag.
His career as a young artist continued. At the age of 11, Easterling was a founding member of Teen Dance Company of the Bay Area. He also was an original cast member of New York Stage Original'sTap Kids. He also was an annual performer in the Radio City Christmas Spectacular.
Bret moved to New York City and earned his BFA from the Juilliard School. Upon graduation, Ohad Naharin invited Easterling to join the Ensemble Batsheva in Tel Aviv, Israel. Eventually, Easterling was promoted to the Batsheva Dance Company, which gave him the opportunity to tour internationally.
In 2011, Easterling began teaching Gaga. Since then he has had the privilege of sharing this movement language to dancers and people around the world. He has exclusively been teaching Gaga this semester at USC Kaufman.
Currently, Easterling is a certified Ilan Lev Method practitioner. He is also a rehearsal director for Gallim Dance and the Artistic Director of BEMOVING.