Announcing Spring 2021 Repertory and Guest Artists at USC Kaufman
January 26, 2021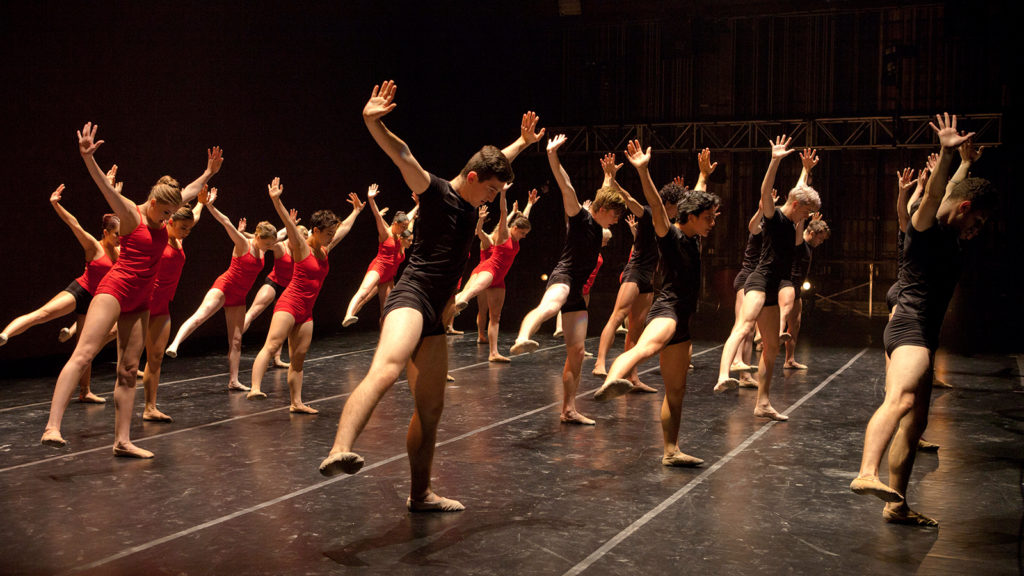 Every school year, USC Kaufman proudly offers its students the opportunity to learn a variety of renowned repertory and to work with some of the most distinguished artists in the field. Even though instruction remains online, USC Kaufman looks forward to continuing this tradition in the Spring 2021 semester.
Faculty & Artists in Residence
Dwight Rhoden, who has previously worked with BFA students as a guest artist, recently joined USC Kaufman as an Artist in Residence. Rhoden will be re-staging his work "RED/THE FORCE" for the camera. He will also be working with upperclassmen to create a world premiere for USC Kaufman's spring online dance festival.
Artist in Residence Marjani Forté-Saunders will work with the underclassmen in Repertory and Performance. She will also be a guest teacher in Improvisation & Composition, as well as USC Kaufman's Senior Seminar course.
In addition to working with Rhoden and Forté-Saunders, students in USC Kaufman's Repertory and Performance Class will learn repertory with Lecturer Bret Easterling and Artist in Residence Zippora Karz. Easterling will be working with the upperclassmen while teaching the repertory of Ohad Naharin. Karz will collaborate with all USC Kaufman dancers on the repertory of George Balanchine.
Artist in Residence Victor Quijada will be utilizing Zoom as a platform for discussing the intersection of street dance and concert dance in Technique Classes. He will also share his experiences directing and choreographing dance films with students in Improvisation & Composition classes.
Artist backgrounds
The artists slated to work with USC Kaufman students hail from various backgrounds across the dance industry. Rhoden, along with fellow Artist in Residence Desmond Richardson, founded Complexions Contemporary Ballet Company. It is often recognized as "America's Original Multicultural Contemporary Ballet Company."
Forté-Saunders is the 2020 recipient of the Dance Magazine Harkness Promise Award. She toured for five years with Urban Bush Women and currently collaborates with her partner, composer Everett Asis Saunders, as 7NMS. The two direct ART & POWER, an emerging platform for artists, writers, scientists, spiritualists and scholars.
Easterling attended The Juilliard School in New York City and upon graduation was invited by Ohad Naharin to join the Ensemble Batsheva in Tel Aviv, Israel. Later, he was promoted to the acclaimed Batsheva Dance Company, and brings this experience to his work with USC Kaufman students.
Karz, a former soloist with the New York City Ballet, serves as a teacher and repetiteur for the George Balanchine Trust, rehearsing and staging Balanchine's choreography across the globe. She also authored a memoir, The Sugarless Plum, detailing her path in dance with Type 1 Diabetes and encouraging those with and without diabetes that they should not give up on their dreams no matter what challenges they face.
Quijada also founded a dance company, RUBBERBAND, and has since created many short and full-length pieces for his company that have toured across North America and Europe. He also developed the RUBBERBAND Method, which blends the opposing aesthetics of balletic grace, contemporary distortion and hip-hop dynamics.
Master classes and networking
In addition to the Technique Classes, there will be ballet master classes with Wendy Whelan, Co-Artistic Director of New York City Ballet; Jovani Furlan, New York City Ballet Soloist; and Patricia Delgado, former Principal Dancer with Miami City Ballet and Associate Choreographer (with Justin Peck) of Steven Spielberg's West Side Story film.
Finally, USC Kaufman's Career Services team has arranged for various artists and directors to work with graduating students. These include Danielle Agami, Artistic Director of Ate9 Dance Company; Nigel Campbell, Company Director of Gibney Dance; Christine Cox, Artistic & Executive Director of BalletX; Shannon Gillen, Founder and Artistic Director of Vim Vigor Dance Company; Jeremy Raia, Interim Artistic Director of Les Ballets Jazz de Montréal; Eduardo Vilaro, Artistic Director & CEO of Ballet Hispánico; Medhi Walerski, Artistic Director of Ballet BC; and representatives of Rambert Contemporary Dance Company in London.
USC Kaufman looks forward to welcoming this host of diverse artists in the semester ahead. As students continue instruction online, this engagement across the field will help them grow in their artistic abilities and introduce them to renowned dancers and choreography alike. Please visit our website for more information about USC Kaufman faculty, Artists in Residence and guest artists.
Visiting artists to USC Kaufman are supported in part through generous funding from The Choi Family Artists in Residence Fund.