Announcing Spring 2022 Repertory and Guest Artists at USC Kaufman
February 10, 2022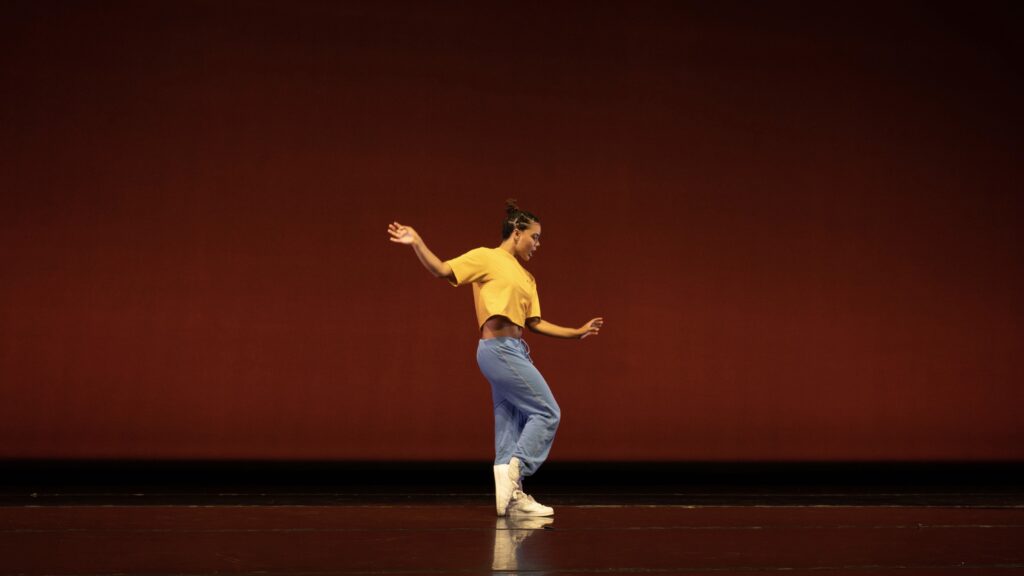 This semester, BFA students will have the opportunity to work with renowned choreographers and to learn repertory that will be presented at the USC Kaufman Spring Dance Performance. The students will learn works from USC Kaufman faculty and Artists in Residence, as well as guest choreographers.
Repertory by Guest Artists
Justin Peck, Tony Award-winning choreographer, director, filmmaker and dancer will be a guest artist at USC Kaufman this spring. Peck is the resident choreographer and artistic advisor of the New York City Ballet. He most recently choreographed for Steven Spielberg's West Side Story film. BFA students from all four classes will learn excerpts of Peck's Rodeo. In addition to Peck, guest artist Patricia Delgado and Artist in Residence Michael Breeden will teach and stage the piece.
Michael Breeden is a repetiteur for Peck and has staged his works for Hong Kong Ballet, Miami City Ballet and more. Breeden has danced professionally with Miami City Ballet, Pennsylvania Ballet and Oregon Ballet Theatre among others. He also co-founded the podcast 'Conversations On Dance,' which has become the most listened to dance podcast.
Members of the Class of 2022 and the Class of 2023 will learn Minus 16 by Ohad Naharin. Naharin is the house choreographer of Batsheva Dance Company and the creator of the GAGA movement language. This language explores physical sensation and going beyond familiar limits. USC Kaufman Lecturer Bret Easterling, who has studied GAGA under Naharin and danced with the Batsheva Dance Company, will teach and stage Minus 16.
New Works by Faculty and Artists in Residence
In addition to works by guest artists, USC Kaufman's Spring Dance Performance will include repertory by USC Kaufman faculty and Artists in Residence. Two-time Emmy Award-winning choreographer and Artist in Residence Tessandra Chavez will create a new work with members of the Class of 2022 and the Class of 2023. Chavez has choreographed for NBC's "World of Dance," "Dancing with the Stars" and other notable television shows. She has also created work for legendary artists such as Jennifer Lopez, Janet Jackson and Paula Abdul.
Lecturer Achinta S. McDaniel will create a new work on the Class of 2024 and the Class of 2025. McDaniel is the founder and artistic director of Blue13 Dance Company and a pioneer of contemporary Indian dance. She also teaches classes in Bollywood dance at USC Kaufman.
Artist in Residence Toyin Sogunro will work with members of the Class of 2025 to create a new work for USC Kaufman's Spring Dance Performance. Sogunro is a well known name in house dance. She is a dancer, educator and choreographer, who works to preserve and cultivate authenticity in Black street and club dance.
Members of the Class of 2024 will take part in a new creation with Artist in Residence Doug Varone. The students will perform this world premiere in February as part of an event presented by USC Visions and Voices. Doug Varone and Dancers has received widespread acclaim for its expansive vision, versatility and technical prowess.
Spring 2022 promises to be a semester full of innovative repertory and exciting opportunities for the BFA students at USC Kaufman. Stay tuned for more information regarding the USC Kaufman Spring Dance Performance, set for April 2022!
USC Kaufman Artists in Residence are supported in part through generous funding from The Choi Family Artists in Residence Fund. This performance of Minus 16 is supported in part by Renae Williams Niles and Gregory Niles.