Student Blog: Building on the masters in Jessica Lang's master class
February 20, 2017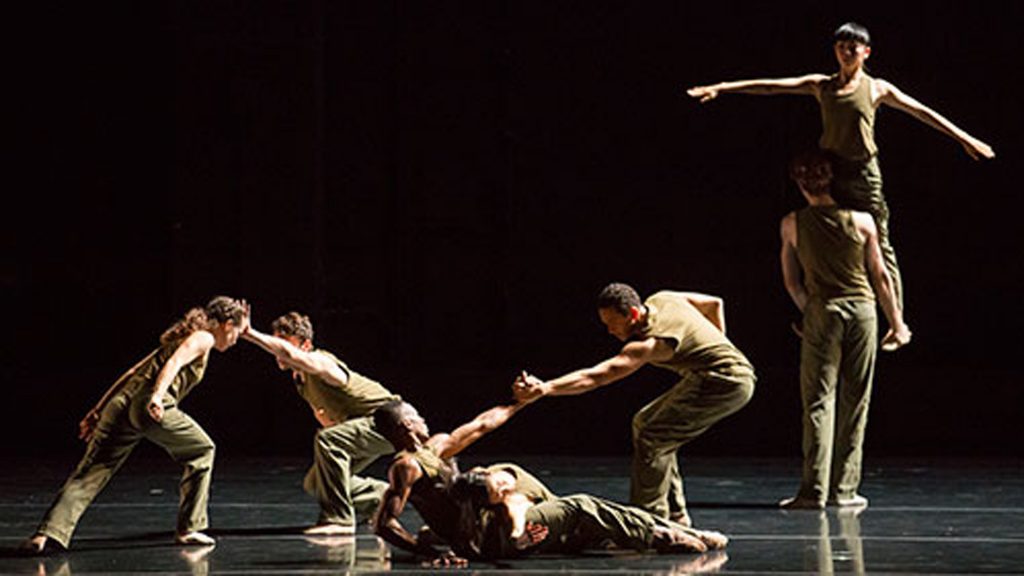 By Celine Kiner
Thursday morning master class with Jessica Lang Dance started out pretty standard–ballet barre with some very helpful corrections about placement and musicality. Lang herself was warm, inviting, and very articulate: she brought us new ideas using terminology that was familiar, allowing us to connect and correct with no difficulty. After a quick barre, however, we launched into some of her choreography from "Thousand Yard Stare," a piece evoking war and paying tribute to veterans.
Lang's company members John Harnage and Laura Mead taught the repertory, specifying movement again through terms we knew from our core techniques.
"Your modern technique is important, or at least I think so," Lang told us.
Molded by the masters
Indeed, the structure of these master techniques streamlined our absorption of her choreography–Graham contractions and shapes marked her choreography. Yet the choreography was not a copy of the Graham work we know from our work with the Graham Company's Tadej Brdnik on "Helios" from "Acts of Light's" "Ritual to the Sun." It built upon the structures with Lang's own signature movement style, reinforcing that idea (the one that our professors tell us all the time but never quite sinks in) that the masters are important. Their techniques unite us with a movement language that we can use to further our own artistic vision.
Practice to performance
The movement quality of "Thousand Yard Stare" was especially evident after seeing the Jessica Lang company perform the piece in their debut at The Music Center Saturday night. The piece effortlessly ebbed and flowed, but it was clear that the dancers were not falling through the movement. Their strength and lines were impeccable, their feeling and intention clear through the expression of their bodies.
Lang stressed this in class, too– "really find your connection to it," she urged us. "This means something. You have to perform the piece every time, which is why it's really hard to rehearse this one," she explained.
If it had not been clear before, Lang's master class really reinforced the idea central to USC Kaufman that in order to create the New Movement, we must first immerse ourselves in the "old," educating and absorbing the work of the masters before creating our own.