Student Blog: Day in the Life of a Third Year
November 8, 2022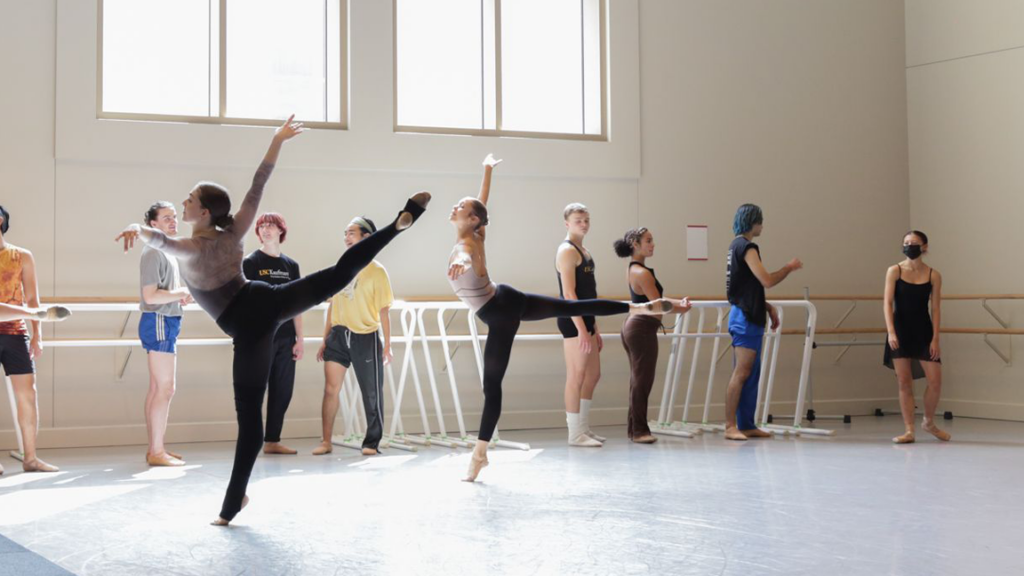 I (much to my disbelief) am now a third year dance major here at The USC Glorya Kaufman School of Dance. This has been my first year after making a return to campus. Sophomore year was my first time as a BFA stepping foot into the USC Kaufman building. My freshman year was entirely online at home in Hong Kong due to the pandemic.
I've chosen to share a snapshot of my typical Tuesday, which is an assortment of both the physical and intellectual. It's definitely one of my busiest, but also my most fulfilling of days. Tuesdays really illustrate all of my varied interests at USC Kaufman and USC as a whole. They also show how I've been able to tailor the BFA curriculum to suit my personal academic and artistic interests.
7:30 – 9:00 a.m.
I'll typically start my day with a (90 minute) opening shift for USC Kaufman's Dance Operations Team (DanceOps). We're responsible for the upkeep and management of our beautiful studios and building, production as well as AV and IT. I work alongside other BFA students, dance minors or even various arts majors (musical theater, screenwriting etc). We sanitize the studios, pre-set ballet barres, check speakers and essentially make sure everything is in place for when the building officially opens from 8:00 a.m. onwards!
Once my shift is complete, I have an hour and a half until my first class of the day – ballet. Usually I'll grab a coffee from Café Dulce in the USC Village. Then I'll either head up to the physiotherapy room at USC Kaufman to start warming up for the day with some strengthening exercises, or I'll get some homework done in the second floor dressing room (it's a hidden gem, and my favorite place in the building to take time to myself).
10:30 – 11:50 a.m.
On Tuesdays and Thursdays we take our ballet class as an entire cohort with Professor Ebony Haswell-Frazier. This is different from Mondays, Wednesdays and Fridays, where there is the option to take a specialized ballet class on Mondays (Allegro or Footwork), or a cross-technique class (tap or Pilates). I personally have opted to take ballet five days a week. Usually we're in our Large Performance Space (LPS) for this class, the same space where our performances are held. I love this, because it truly feels like a company class taking place on stage!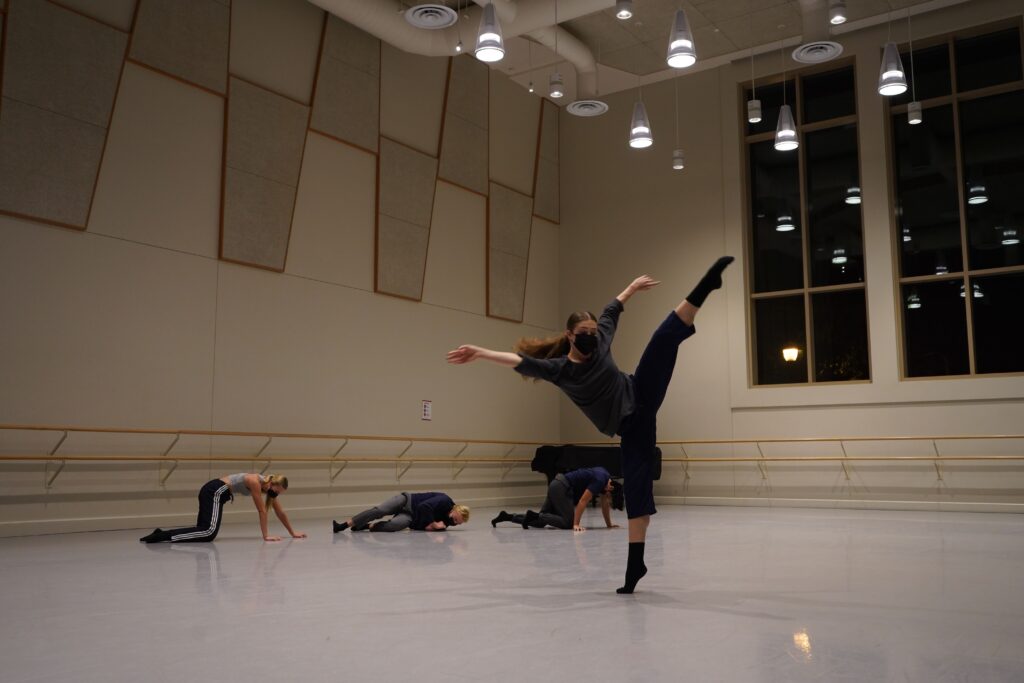 12:00 – 1:20 p.m.
After a brief ten minute break, I head to my second technique class of the day. This semester, that class is 'Locking' with Professor Tiffany Bong. This is one of my favorite classes I have on my schedule this semester. I am not only being exposed to a completely new style, locking or 'Campbellocking', but we are also learning some of the iconic soul train dances, and performing them with each other in a couple dance-off. We're accompanied by the mixing of either DJ Ghost or DJ TiffStar, and it feels as if we've been transported to the Soul Train era of the 70's.
2:00 – 3:30 p.m.
After technique classes, we have a forty minute break before the rest of our afternoon. During this break, I and a few fellow BFA students will sit on the quad and eat our packed lunches (meal-prep is a must for upperclassmen due to tight schedules). From USC Kaufman it's a short walk to Taper Hall, where we take International & Historical Perspectives on Dance, taught by USC Kaufman faculty member Alison D'Amato. The majority of the class is dance minors or other USC students looking to fulfill GE requirements.
3:30-4:50pm
After International Historical Perspectives, I run to the USC Annenberg School for Communication and Journalism for my next class. I am pursuing a minor in Sports Media Industry, and this semester I'm taking Sport and Social Change. This is definitely one of my most engaging courses. We discuss both modern and historical examples of how athletes utilize their role and status to enact social change. I certainly have had many "interesting" conversations in this class surrounding my identity as a dancer, whether dance can be considered a sport and how dancers are defined as non-traditional athletes.
Once my afternoon of academics ends, I head back to USC Kaufman before my last class of the day. In the hour or so break I have, I like to sit in our Collab space. I use this time to quickly review my notes from the day and pre-read any homework I have been assigned. This is also an opportunity to decompress before my evening class.
6:00-7:20pm
My final class of the day is an elective, titled Performance Lab: Classical Variations with Professor Jackie Kopcsak. This is one of the most specialized classes I take at USC Kaufman in terms of the content. As someone who hopes to enter the professional world with an emphasis on contemporary ballet, I seize any opportunity I have to take more pointe classes. For the first half of this semester, we've been focusing on the pas de trois coda from Paquita, to perform at Fall Works in Progress and film for our midterm.
At 7:20 p.m., the pointe shoes come off and I head home for the night, having wrapped up my longest day of classes! My usual night time routine includes making myself a quick dinner, icing my feet, running an epsom salt bath, stretching and rolling out before collapsing into bed. I find that to maintain a healthy body, as well as my sanity during these long days (especially approaching midterms, finals, and show weeks) I have to make time each day for self care, nutrition, hydration, rest and recovery.
---
By Hope Patterson (BFA '24)