Student choreographers display 360-degree artistry
November 23, 2016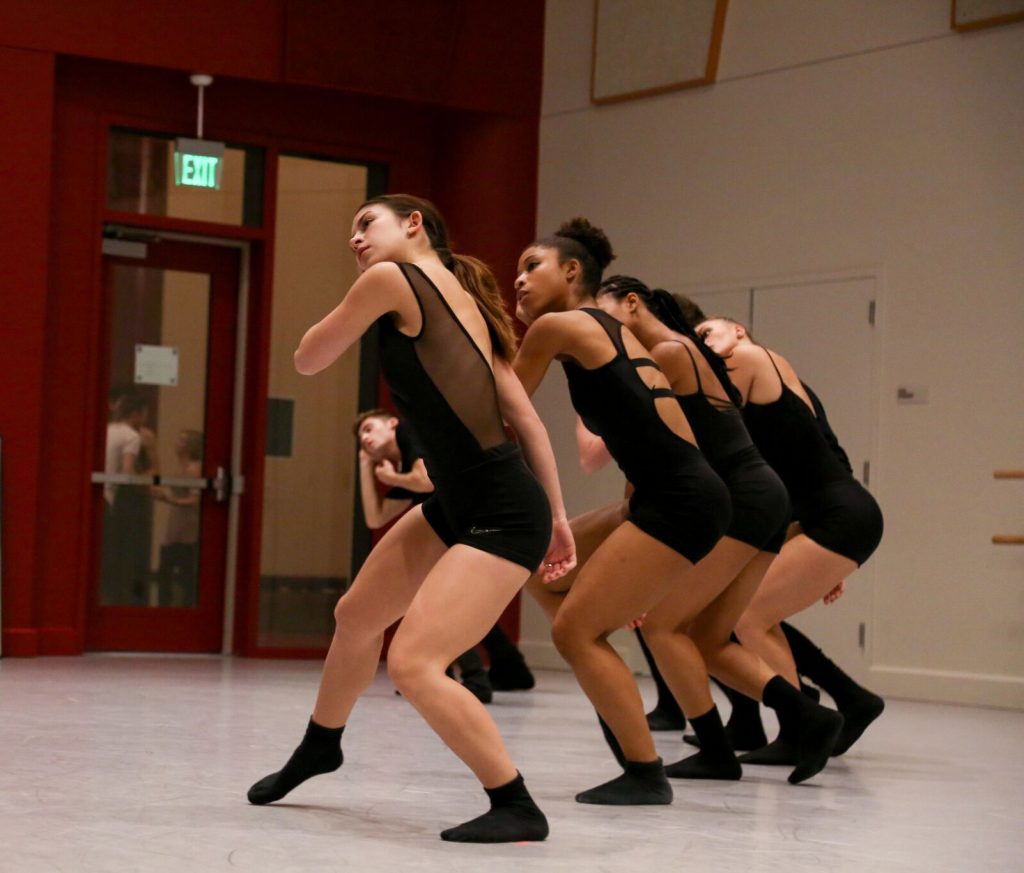 After an exciting semester welcoming its second class of BFA students, opening a new building, celebrating choreographer William Forsythe in the month-long Fall for Forsythe program and arranging multiple live events, the USC Kaufman School of Dance will showcase works choreographed by its students. On Nov. 28 and 29 at 7:30 p.m., 13 pieces choreographed by BFA sophomores will be shown in the Performance Studio of the Glorya Kaufman International Dance Center. The cast will include both freshman and sophomore students.
By making their own individual choices in terms of composition, genre, cast, lighting and staging, the sophomore choreographers have been forced to push their own boundaries and go from the role of interpretation to that of creation. Freshman students, on the other hand, involve themselves in collaborative work by dancing in their peers' choreography.
As much as it provides a platform for artistry, the students' choreography also has demanded great commitment. In the midst of a tight academic schedule, students were challenged to think strategically about time management, leadership and teamwork, while honoring the responsibility of producing interesting works.
"I've seen them grow a lot. They're taking risks and they're getting better at creating a cohesive whole," said professor Thomas McManus, who guided the students through the development of their work. "Their hard work and dedication to this project is remarkable. I sometimes get impressed by how their work ethic doesn't stop, no matter how heavy their course load is. It's inspiring to me as a professor."
Evolution of multiple voices
The Student Works Performance will present a variety of dance and music styles. Audiences will experience dances to tunes that include funk, soul, orchestral music and cello. Students chose an eclectic selection of musicians to accompany their designs, ranging from Stevie Wonder to Alexandre Desplat to James Brown, among others.
In their pieces, many of the choreographers tackle social and psychological questions, such as the concepts of peace, fun or pain, and the discussion of gender roles within society and the dance world is a manifest theme in many of their pieces.
Dance concepts of improvisation, counterpoint and composition also are analyzed at different levels in the student works.  So is tone, which varies from comedic pieces to scenes of very strong subject matter, and physicality, ranging from the very pedestrian to the very acrobatic.
Examples of what's ahead
Sophomore Noah Guthier, whose choreography Lovemouth consists of a solo performed by Stephanie Dai, decided to explore issues of gender equality and civil rights.
"I choreographed the movement but it was entirely up to her the way she chose to perform it to the music," said Guthier. "If my piece had a color it would probably be nude. The point of it is to bring light to a dark topic, so its natural color would be the color of light."
For her piece Sang-Froid, sophomore Lenai Wilkerson took a different approach by involving eight dancers. The main premise of her piece is the dancers' individual searches for calm within chaos.
"When I was thinking of the dancers that I wanted for my piece, I pictured them in their natural improvisatory state, instead of me inflicting some kind of choreography onto them," said Wilkerson. "I've used a lot of deep, red, saturated lighting. I'm excited to see how that couples with the choreography."
Freshman Rachel Harris said she was happy to participate in three dances. By rehearsing for Wilkerson's Sang-Froid, Dylan Balka's Conscious, Certain and Satori Folkes-Stone's I can't see a thing, Harris has been exposed to different choreographic styles and intentions.
"I think the most exciting thing will be the versatility of all the pieces," said Harris. "I'm technically doing hip-hop in both Satori's and Lenai's pieces, but what I'm doing on each is completely different from the other. You'll not only see a lot of versatility in styles but even within the same genre."
Experience all their creations at the Fall 2016 Student Works Performance.
---