Performance opportunities at USC Kaufman
April 1, 2020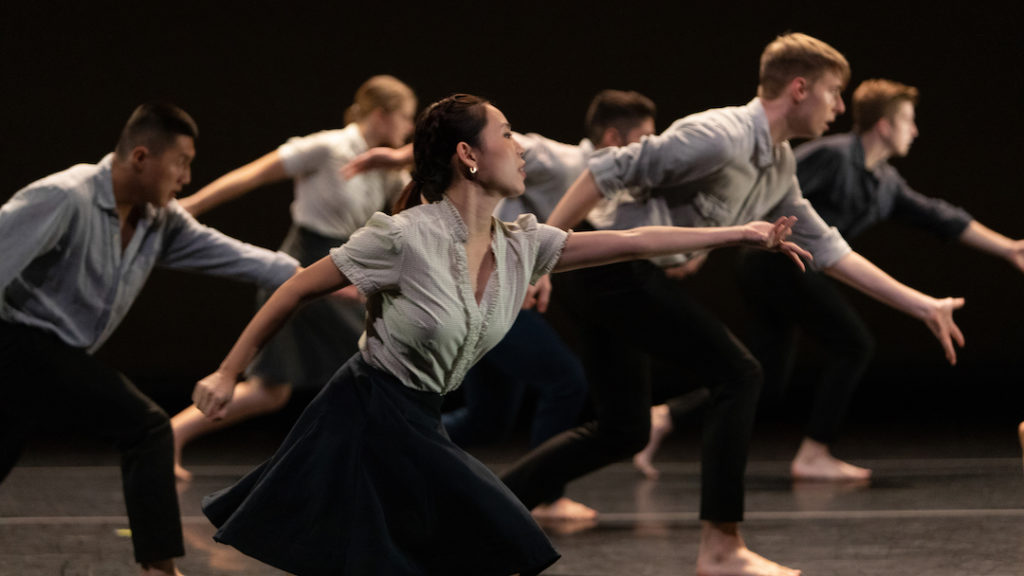 At the USC Glorya Kaufman School of Dance, BFA dance majors participate in several types of performances. In addition to the fall and spring repertory showings, performance opportunities present themselves in several ways. Below is a list of performance opportunities that our students have enjoyed:
Works in Progress
Halfway through each semester, all BFA students perform the repertory they've been preparing in Repertory & Performance class. In a slightly more informal show with minimal costumes and lighting, dancers perform masterworks by Artists in Residence, guest choreographers, faculty and more. This means that freshmen are able to perform during their first semester at USC Kaufman. Selected BFA student choreography also premieres during Student Works performances.
Fall & Spring Dance Performance
At the end of the semester, friends and family can watch a fully-produced show. The repertory previously performed during Works in Progress is now dressed with full costumes, lighting and production. BFA students perform the masterworks at their full capacity in either the Large Performance Studio at the Glorya Kaufman International Dance Center, at the University of Southern California's Bing Theatre or another local venue.
Choreographers & Composers
BFA sophomores participate in an annual collaboration with sophomore composition students at the USC Thornton School of Music. Each group of dancers is first matched with a composer, who will then write an original score for a work the dancers choreograph themselves. Learn more about this collaboration.
Site-Specific and Special Events
Opportunities for special, one-time performances come up often at USC Kaufman. Students performed at President Folt's inauguration in 2019. They also previously performed at  Laguna Dance Festival, at the opening of the USC Village, and in a version of Bill T. Jones' Story/Time through USC Visions and Voices. BFA students even participated in Fall for Forsythe in 2016. Faculty member William Forsythe selected dancers to participate in a live installation at LACMA as well as a lecture/demonstration in USC Kaufman's large performance studio.
Alongside notable companies
Special, one-time performances also come up when major companies visit USC Kaufman. BFA students have performed with Hubbard Street II at the USC Fisher Museum of Art as part of Lita Albequerque's 20/20: Accelerando installation. They have also performed Martha Graham's work in a program with the Martha Graham Dance Company at Bovard Auditorium through USC Visions and Voices.
National/International travel
Last year, USC Kaufman students, faculty and staff traveled to Los Cabos, Mexico for Gala de Danza. At the event, students performed repertory and commissioned works alongside seasoned professionals. BFA student Jakevis Thomason (BFA '20) presented his own original work at the gala as well. BFA students have also traveled to Japan to perform at the USC Global Conference, as well as to New York to perform at The Joyce Theater.
University events
Aside from President Folt's inauguration and the USC Village opening, USC Kaufman BFA students have had the opportunity to perform at the halftime show of select USC Trojan Football games. BFA students have also performed at the USC Trustee Conference. During this event, USC Trustees convene and enjoy the university's artistic offerings, including excerpts of repertory the students have learned during their time at USC Kaufman.
Video Stage
USC Kaufman periodically hosts a Video Stage. Faculty curators accept submissions from BFA students who have created work for the screen. Dance films are then screened in the Glorya Kaufman International Dance Center, and a Q&A with the audience takes place afterward.
These are just some of the many performance opportunities that are available to USC Kaufman students. Additionally, many students participate in informal collaborations with students in other programs. Some also join USC dance organizations for performances. Between these many modes of performance, students can enjoy stage time in several settings.
---
By Celine Kiner