BFA students perform new works by Patrick Corbin and Amy O'Neal
September 30, 2021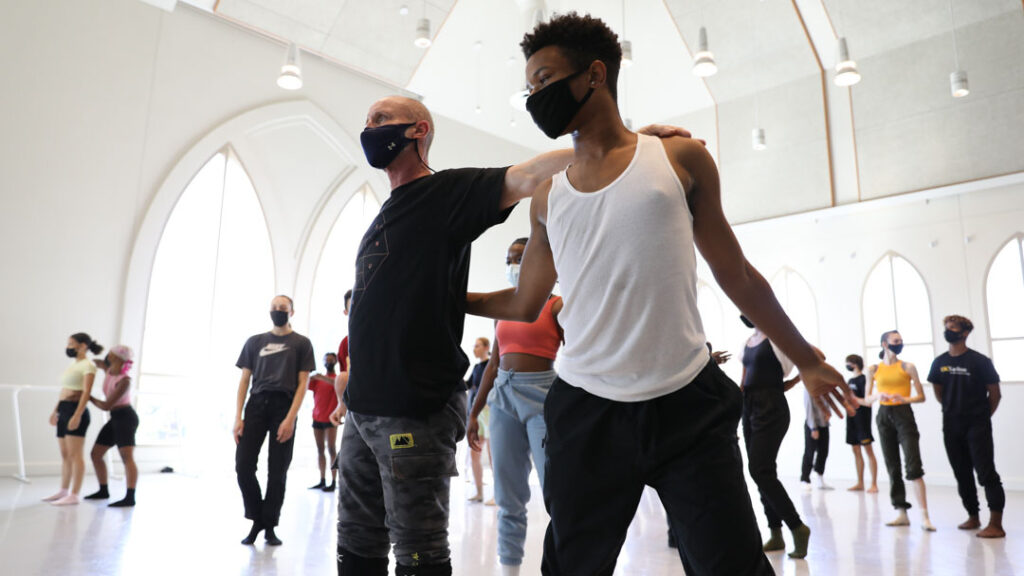 The USC Glorya Kaufman School of Dance continues to welcome back in-person performances with Fall New Works. This semester, Associate Professor of Practice Patrick Corbin and Lecturer Amy O'Neal have been working with the Classes of 2024 and 2025 to create these new works to engage audiences in innovative ways since the pandemic.
Performance space
Since the audience and performers must remain six feet apart due to COVID-19 health guidelines, Corbin and O'Neal sought to play with the proximity of their new works. To do this, the pair decentralized the audience so they will sit among the performance space in a club-like atmosphere.
"Professor O'Neal and I wanted to design a performance that wasn't necessarily a true proscenium stage performance," Corbin explained. "We wanted to ask questions about proximity and placement of an audience and what a performance can be. We agreed on designing a playful, fun evening of dance that would be a party that everyone is invited to."
Although USC Kaufman has previously presented site-specific works that experiment with audience/performer relationships at museums including LACMA and the USC Fisher Museum of Art, this performance layout for Fall New Works may seem new for the USC Kaufman concert dance space. However, O'Neal pointed out that this format is already established in the underground hip-hop community and experimental art world. She described that USC Kaufman is not innovating something new, but participating in a longstanding creative and collective experience in accordance with The New Movement.
"What USC Kaufman has presented for most of our repertory shows since its inception has been more traditional in the audience-performer relationship," O'Neal said. "Through this performance and Cypher Celebration, we're trying to catch USC Kaufman up to what's already been happening outside of institutions in the relationship to the performance of Black social dance specifically."
Class of 2025 makes their USC Kaufman debut
According to Corbin, the performance's club-like atmosphere echoes in the choreography as well. Both him and O'Neal are drawing inspiration from their experiences with club dance, house dance and hip-hop to create the organic feeling of a dance club itself. Corbin said that he used to partake in the club scene in New York City in the 1970s and 1980s. Now, his cultural experiences are helping shape his new work with the first year students.
While club dancing hinges on improvisation, Corbin explained that he has set definitive choreography for the students with ample opportunities for improvisation. Through this work, Corbin hopes to offer a sense of positivity and release after an isolated and stressful time. To emphasize this, he chose songs about daytime and light. The new work will include remixes of songs including "Let the Sun Shine In" from the musical Hair and "Perfect Day" by Lou Reed. It will also include a portion of "Feeling Good" by Nina Simone.
At the beginning of the semester, USC Kaufman reopened its doors to faculty and students. Corbin explained that returning to in-person instruction has been a delight. With this debut performance for the first year BFA students, he wants to showcase their talent and dedication to the work.
"The students allow themselves to be vulnerable, free and in the moment,' Corbin said. "They come into every rehearsal incredibly prepared, and we've been able to generate quite a bit of material together. It's been a real joy to work with them every single day."
Working with the Class of 2024
As a hip-hop educator, O'Neal brings her diverse experience into her new work with the second year students. At USC Kaufman, she has strived to highlight this social dance practice and its grounding in Black dance traditions. O'Neal has also been working to bring this underground dance club culture into the theater space.
"We've been exploring movement languages together while really centering on the foundations of hip-hop and house dance, which are rock, bounce and groove," O'Neal said. "We're also working with improvisation tasks that keep groove central. I want to encourage the dancers to find their own way of grooving by incorporating different movement languages they already know."
Similarly to Corbin, O'Neal has put together a mix of choreographed phrases as well as opportunities for improvisation. The audience will see larger group work along with moments of solo movement, duets and smaller group interplay. In this way, O'Neal intends to emulate the sharing nature present in the hip-hop cypher experience.
O'Neal also shares Corbin's excitement about returning to the studios in person. She explained that working with the second year students has been refreshing after dancing virtually for so long.
"This group is so open-minded, supportive, generous and respectful of both the process and of each other. There's so much imaginative exploration, and that's been such a joy. This energy is important to exchange with fellow dancers and the audience, so it's been really nourishing and healing for everybody."
Audience reception
In response to Fall New Works, O'Neal wants the audience to walk away with an appreciation for the movement. She also hopes the audience gains a new perspective on the nature of dance performance.
"I hope that people want to dance," O'Neal said. "My mission as an artist is to inspire people to reflect on themselves and each other to hopefully see people in a new light, especially if they are bodies or identities that are different from themselves."
Fall New Works will take place Oct. 8 at 5:30 p.m. and 7:30 p.m. at the Glorya Kaufman International Dance Center. Click here to reserve tickets.
---
By Brigid Murphy