Three exciting faculty members join USC Glorya Kaufman School of Dance
August 4, 2014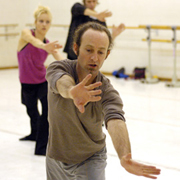 The University of Southern California Glorya Kaufman School of Dance welcomes three celebrated and diverse new members of its faculty: professor Jackie Kopcsak, a ballet dancer and choreographer who most recently taught at the University of California, Irvine; lecturer d. Sabela grimes, an interdisciplinary artist and choreographer; and lecturer Saleemah E. Knight, a choreographer and performer.
The three will begin teaching on campus this fall, working primarily with non-majors and students enrolled in one of USC Kaufman's dance minors, before expanding their teaching duties to also include BFA dance majors when the first USC Kaufman class enrolls in fall 2015.
Founded in 2012 with a transformational gift by arts patron Glorya Kaufman, USC Kaufman combines a conservatory environment with the academic rigor of a major private research institution. With training grounded in ballet, hip-hop and contemporary styles, the school is at the forefront of creating a hybrid art form expressed on and beyond traditional stages. The school will enroll its first cohort of Bachelor of Fine Arts dance majors in Fall 2015.
"We are thrilled that these wonderful dancers and artists have agreed to join our faculty, " said Robert Cuttieta, dean of the USC Glorya Kaufman School of Dance. "Their commitment to the school, along with the announcement in May that William Forsythe is coming to USC Kaufman, begins a steady stream of exciting announcements coming from the school."
A graduate of the MFA dance program at the University of California, Irvine, Jackie Kopcsak [left] originated roles in many new contemporary works, and danced leading roles in most of the classical ballet repertoire. While earning her B.A. in history from the University of Washington, Kopcsak founded, directed and choreographed for the university's first ballet company. A certified teacher in primary through level 3 of American Ballet Theatre's National Training Curriculum, Kopcsak is a sought-after ballet teacher and has taught for various schools around the country.
"As the school's first Professor of Practice, Jackie is a perfect fit for this position," said Jodie Gates, vice dean and director of the USC Glorya Kaufman School of Dance. "Her background and training in classical ballet is beautifully informed, and her knowledge of dance history is integral to what USC Kaufman is all about. Her interest in preserving the tradition and linage of classical ballet will be fundamental to all of our student dancers."
Dubbed by the Los Angeles Times as "the Los Angeles dance world's best-kept secret," d. Sabela grimes [right] is a choreographer, composer and educator whose work investigates contemporary notions of hip-hop culture and aesthetics. A self-described "Afro-futurist," grimes studied African-American literature before receiving his MFA in dance and choreography from the University of California, Los Angeles. Previously, grimes co-authored and performed as a principal dancer in Rennie Harris Puremovement's award-winning Rome & Jewels. He will be a lecturer at USC Kaufman, as will Knight.
"Since hip-hop is a key foundational aspect of our program, the hiring of an expert who can inform students on the history and style of hip-hop is crucial," Gates said. "Sabela will bring a wealth of experience to USC Kaufman students. His knowledge of African-American literature and cultural studies, along with his interest in the Afro-Diasporic social dance, makes him an extraordinary addition to our program."
Saleemah E. Knight [left] is a performer and choreographer who has trained with outstanding dance companies including Gus Giordano Chicago, River North Chicago and Dayton Contemporary Dance Company. Knight has danced alongside some of the top names in music, including Beyonce, Chris Brown, Ludacris and will.I.am. Most recently, she was a featured dancer in the Broadway musical, The Lion King. Knight holds a BFA in dance from the University of Arizona and an MFA in dance from UC Irvine, where she taught jazz dance technique. Her work at USC Kaufman will encompass both jazz and modern dance technique instruction as well as general dance performance coursework. She is represented by the MSA Agency.
"Saleemah crosses boundaries and blends styles better then most teachers I know," Gates explained. "Her ability to cross over from the commercial world onto the concert stage is unique and will be a very important aspect for the USC Kaufman School. She inspires and demands a very strong work ethic out of her students, and watching her work with young dancers is magic."
ABOUT THE USC GLORYA KAUFMAN SCHOOL OF DANCE
Situated in Los Angeles, one of the world's creative capitals, the USC Glorya Kaufman School of Dance is designed for the artist, the innovator and the entrepreneur. With training grounded in ballet, hip-hop and contemporary styles, the school is at the forefront of creating a hybrid art form expressed on and beyond traditional stages.  The hallmark of the USC Kaufman School — represented by its motto "The New Movement" — is the development of a curriculum expressed in new media, scholarship, studio practice and choreography for the 21st century. Concentrations in dance performance, choreography for stage & cinematic arts, and dance & music encourage interdisciplinary and collaborative work across one of the world's leading private research universities.