Jackie Kopcsak and USC Kaufman students bring PAIR/US to the Norton Simon Museum
February 18, 2020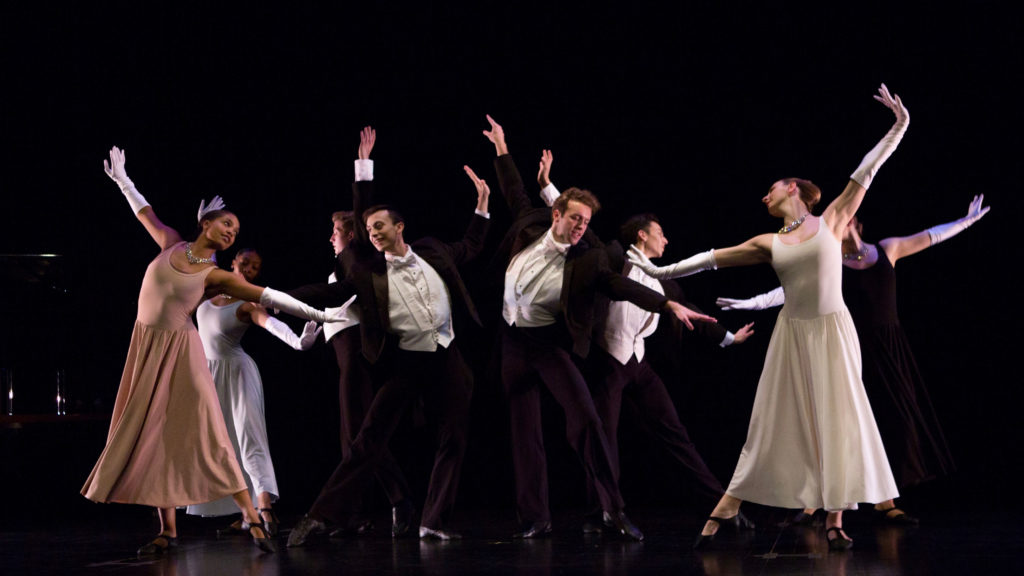 This February, USC Glorya Kaufman School of Dance faculty member Jackie Kopcsak premiered her commissioned work "PAIR/US" at Pasadena's Norton Simon Museum. Her cast consisted of eight members from USC Kaufman's Class of 2022: Dylan Amsterdam, Ciara Billups, Isabella Caso, Cameron Cofrancesco, Elise Monson, Jordan Powell, Luke Qualls and Anthony Tette. The piece—which featured live music by jazz saxophonist Gavin Templeton, pianist Grace Chung and soprano Karina Kallas—was presented in dialogue with the museum's current 2019/2020 special exhibit "By Day & by Night: Paris in the Belle Époque," which is on view through March 2.
"When I was asked to choreograph a piece inspired by this exhibit, I knew I wanted to involve USC Kaufman students who had traveled with me as part of the Paris Maymester," said Kopscak. "'PAIR/US' was almost like a continuation of our coursework. Collectively, we could draw inspiration from so many shared experiences—walking the city, seeing performances and studying Parisian history, art and culture. Knowing our USC Kaufman students both technically as well as personally allowed for a very easy creative process and it was a pleasure to work with them."
A point of connection
For Kopcsak, France has been a point of connection throughout her near five-year relationship with the Norton Simon Museum. In 2015, ArtistsPlus Productions—the interdisciplinary dance company of which she is a co-director—presented "Out of the Blue," inspired by the exhibit "A Revolution of the Palette: The First Synthetic Blues and their Impact on French Artists." In 2018, Kopcsak brought four USC Kaufman dancers to pose in the galleries for "Night in Focus: Edgar Degas."
Kopcsak's focus on France stems from her interest in the relationship between music, dance and visual art— a passion she brings to the university's curriculum.
"My MFA thesis was about the lives of the late 19th-Century ballerinas featured in Edgar Degas' paintings," she said. "As a graduate student, I spent some time conducting research in Paris, and in many ways, those first experiences as a scholar, artist and tourist laid the foundations for the design of USC Kaufman's Paris Maymester."
A sentimental performance
Isabella Caso, who traveled to Paris with Kopscak for the Maymester in 2019, enjoyed this performance opportunity due to its sentimental value. 
"Working with Professor Kopscak on the 'PAIR/US' program allowed me to reminisce on the weeks I spent in Paris, France last summer," she said. "I loved using my experience of listening to a Parisian musician while strolling through a park and transposing it into a dance based around live music."
---
By Sara Silberman