How USC Kaufman is reimagining the future of ballet
April 14, 2020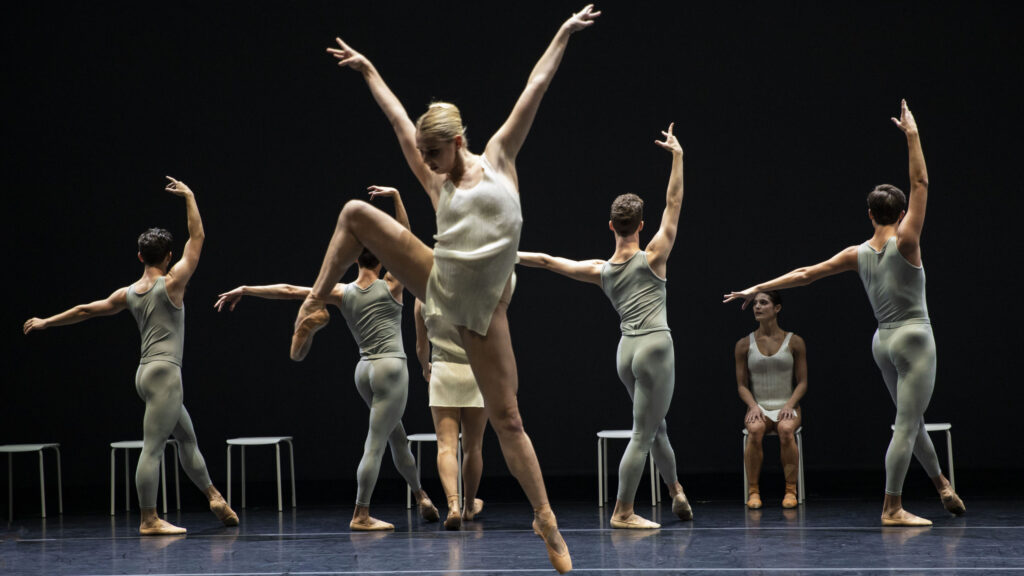 Since its inception, the USC Glorya Kaufman School of Dance has been centered on its unique vision for the future of dance education and practice. "The New Movement," as it is called, emphasizes dance as a hybrid and interdisciplinary art form which reflects the capabilities of 21st century artists. This philosophy is perhaps, most radically, informing the program's approach to ballet, coupled with the requirement to study and train in hip-hop and social dance practices.
"Honoring the tradition of ballet is important and should be recognized, however there is more we can do to drive the standards of ballet into the future, and because dancers are perhaps more versatile and capable than they were decades ago," said USC Kaufman's Vice Dean and Artistic Director Jodie Gates. "They're physically strong, more agile and so forth. This provides the opportunity to push the boundaries of what we thought was possible when I was dancing, for example. Consequently, I think we need to reinvent and rethink what ballet is, and explore artistic possibilities within the framework. It is important to do so for it to be relevant now and moving forward."
William Forsythe's perspective
Ballet is one of the foundational techniques at USC Kaufman. The school requires its BFA students to take ballet class every day for the first two years of their training.
"[Because of this], it was very important that we addressed how an older form like ballet could play a vital role in shaping 'The New Movement,'" said Assistant Professor of Practice Jackie Kopcsak. "We have been very lucky to have Professor William Forsythe on faculty, sharing his unique philosophy on ballet. His joy and passion for the layered research that can be conducted within a ballet class has set the tone for our collective attitude."
Assistant Professor of Practice Thomas McManus worked with Forsythe as both a performer and répétiteur before they both joined USC Kaufman's faculty. He spoke to Forsythe's philosophy on the reinvention of ballet.
"Bill had been talking about our reasons and motivations in 'deconstructing ballet.' He warned people that deconstruction is often unconsciously equated with destruction. That is definitely not what we were intending on, or, in fact, doing. We were taking apart ballet into its constituent parts in order to experience them in novel ways; perhaps in a different relationship with gravity or combining them with an improvisation mode like dropping points," he said. "People who thought of the art form as having rules of aesthetic presentation considered this taking apart of ballet radical. This kind of fetishizing of ballet gave Bill the feeling that it was somehow dead. That it no longer spoke to people of his generation. Therefore, he stated simply that, 'ballet deserves a future!'"
Encouraging artistry
According to Kopcsak, this contemporary mindset is behind each USC Kaufman faculty member's approach to ballet technique.
"While we want to instill a respect for the form and its history, it is important to us that ballet feels like an expressive and living art form that resonates with 21st century students," she said. "All of the faculty are concerned with helping students develop a clean technique with sound anatomical alignment, but we also want to encourage artistry. Part of that is allowing students to cultivate curiosity and investigate multiple possibilities of how certain steps can be executed. The how is always more interesting than the what."
Defining USC Kaufman's aesthetic
Kopcsak further explained how this approach manifests itself stylistically in USC Kaufman students' practice.
"If there is a USC Kaufman aesthetic when it comes to ballet, some of the hallmarks would include a whole-bodied approach to movement with expressive épaulement and port de bras. I would also include articulate footwork, dynamic use of space and a nuanced approach to musicality," she said.
Vice Dean Gates elaborated on this point.
"Additionally, lines are taught in such a way that they reach beyond what you think is possible," she said. "So, we extend the lines of the aesthetic of ballet, which is much more 'of now' and how we see successful ballet dancers relating to audiences, in both classical and contemporary ballet companies."
One example of how USC Kaufman's desired aesthetic qualities are applied to the students' movement can be seen during petit allegro. Vice Dean Gates noted how complex musicality and emphasis of "the counterpoint," as well as articulate footwork, come into play through this aspect of the students' technique and are informed by studying social dance forms.
"Petit allegro is complicated because students are expected to bring their footwork and groove with similar rhythms and beats they would in hip-hop and social dances, into the ballet studio," she said.
Repertory and Artists in Residence
USC Kaufman holds its BFA students to a high standard of practice in all aspects of their education, including ballet.
"With no 'levels,' the general level and rigor of all ballet classes is high, as are the demands," said Kopcsak. "Students have performed repertoire—George Balanchine, William Forsythe and Jiří Kylián —that is the envy of professional ballet companies. Our students have to be prepared to dance incredibly challenging roles."
In addition to learning world-renowned ballet repertory, the students have the opportunity to work regularly with expert Artists in Residence. These artists have performed with professional classical and contemporary ballet companies.
"We choose our Artists in Residence because of their background and lineage," said Vice Dean Gates. "This is because their own histories inform their ballet classes. For example, Desmond Richardson, who worked very hard to achieve his technique, is a perfect example of a hybrid artist and exceptional teacher. He is also one who can teach the intent behind ballet. He can teach the focus—the actual, visual focus to captivate a room, whether or not you're onstage."
The student perspective
For the students, working with faculty and Artists in Residence has been a highlight of their USC Kaufman ballet instruction.
"We are learning in our technique classes how to adapt to new environments and style of dance. Whether we are in class with Zippora Karz who danced with New York City Ballet, Fiona Lummis who dances with Nederlands Dans Theater or our Vice Dean, Jodie Gates, who was with Ballet Frankfurt, we learn how to switch our intentions to fit within the specific style that is presented," said Anthony Tette (BFA '22). "I will be able to apply this trait when I audition for companies to give me the best shot."
Zackery Torres (BFA '21) shared that the inclusivity of the program has also been important to the school's reinvention of ballet.
"Ballet at USC Kaufman continues to grow and adapt as the dance world becomes more inclusive," they said. "USC Kaufman is fostering 'The New Movement.' With this comes the responsibility of actually producing something that is forward thinking. USC Kaufman teaches steps and classes that are historically gendered without that specification. They teach the skills, but without exclusiveness."
Torres hopes to bring this experience with them in the future.
"I plan to continue using my USC Kaufman education to meaningfully shape the companies I am a part of. Whether it is speaking out against exclusiveness or supporting an already inclusive environment," they said.
A lasting impact
On this note, Kopcsak shared what she hopes students will take away from their education in ballet at USC Kaufman.
"At its simplest, ballet is a system of organizing the body in space and time; at its most profound, ballet is a spiritual practice," she said. "All along that spectrum, the practice of ballet involves much more than mastering a series of steps. It teaches skills for life: discipline, self-motivation, humility, resiliency, and perhaps most importantly, perseverance."
Vice Dean Gates also shared her aspirations.
"What I hope students take away is a love and a fierce joy for ballet. I hope they learn not to fear imperfection or breaking the rules. That is the way we approach it. Through dance, using your ballet technique in a way that seems boundless," she said.
---