USC Fall On-Campus Open House – November 11
November 11, 2017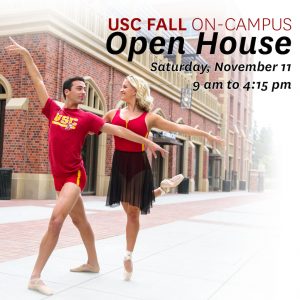 This year's Fall On-Campus Open House will take place on Saturday, November 11 from 9am to 4:15pm. You'll not only learn about USC, but also the dance school. Reserve your spot for all general USC activities now. Registration for USC Kaufman's activities is now open.
Please note that this event is for high school seniors, high school juniors, and transfer applicants only. Furthermore, attendees may only register for a maximum of TWO master classes.
Below is a tentative schedule for the day.
General Activities
9am – Check in
9am-3pm – Financial aid information sessions (hourly)
9am-3pm – Admission information sessions (hourly)
9:30am-3:30am – Campus walking tours (continuous)
11:30am & 3pm – USC student panel (does not include USC Kaufman students)
11am-2pm – Academic and student life interest fair
USC Kaufman Offerings
Information Sessions
10am-11:15am, 1:30pm-2:45pm, 3pm-4:15pm
The Director of Admission will talk about USC Kaufman and its admission process during each of the day's three sessions. Current BFA students will be on hand to answer questions about student life. Students and families are encouraged to attend at least one information session.
Conditioning and Dance Science Demonstration
1:30pm-2:45pm
Sample USC Kaufman's Conditioning and Dance Science courses with Dr. Margo Apostolos and current BFA students. Students and families are welcome to attend.
Parent Perspective: Parent-to-Parent Chat (guardians only)
11:30am-12:30pm
We encourage guardians to join us for a casual conversation with parents of current BFA students. Light refreshments are provided.
Tours of the Glorya Kaufman International Dance Center
11:30am, 12pm, 12:30pm (20 minutes each)
Master Classes (students only)
Reservations are required for master classes. Students may register for up to TWO master classes only. Walk-ins will be accommodated on a space available basis.
Session One ~ 10am-11:15am
+ Contemporary master class with Jennifer Lott
+ Ballet master class with Jackie Kopcsak
+ Hip-Hop master class with Tiffany Bong
+ Forsythe Repertory master class with Thomas McManus
Session Two ~ 1:30pm-2:45pm
+ Contemporary master class with Jennifer Lott
+ Taylor Repertory master class with Patrick Corbin
+ Hip-Hop master class with Moncell Durden
+ Forsythe Repertory master class with Thomas McManus
+ Conditioning & Dance Science Demonstration with Dr. Margo Apostolos (guardians & students)*
Session Three ~ 3pm-4:15pm
+ Jazz master class with Saleemah E. Knight
+ Ballet master class with Jackie Kopcsak
+ Hip-Hop master class with Moncell Durden
+ Contemporary master class with Patrick Corbin
View all events