USC Kaufman hosts third Cypher Summit
March 5, 2020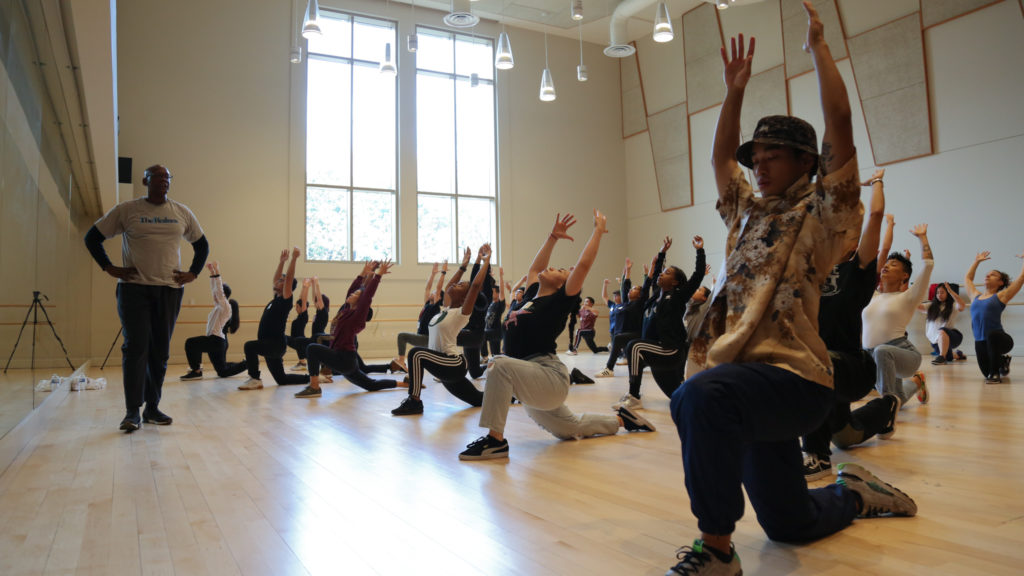 On February 29, the USC Glorya Kaufman School of Dance held its third biennial Cypher Summit. This event exists as a space for dancers to converge on the preservation of authenticity of hip-hop dance in education.
USC Kaufman held the first summit in 2017. Tiffany Bong, a USC Kaufman lecturer, conceptualized and directed the event. As a self-described entrepreneur, she wanted to create a celebratory yet conversational approach to integrating hip-hop into the academic world.
"The summit was the brainchild of several people at USC Kaufman and in the community," Bong said. "What I think makes hip-hop unique is that its essence is communal. It's never about the one. It's always about the whole, so there was a whole hip-hop faculty behind us when we first started."
Relevance of the summit
The mission of each summit essentially comes from a specific call-of-the-times, according to Bong. This year, she explained that the summit was a response to a very pivotal time in hip-hop's journey: a need for safe dance practices and injury prevention. As hip-hop continues to evolve, dancers must bring wellness and safety to the forefront of their practice.
"In the hip-hop community, we had some serious brain and physical injuries of very gifted artists," Bong said. "A lot of the originals didn't have access to education on how the brain and the body works and how to take care of it. As a community culture, we wanted to increase this understanding. We wanted to see things from a fitness and athlete's perspective."
Additionally, Amy O'Neal, a USC Kaufman lecturer involved in organizing the summit, described the summit's importance. She cited the need to build a bridge between the urban dance community at USC and in the surrounding community.
"It's important for the community to know that the hip-hop faculty at USC Kaufman are coming from a cultural perspective and are upholding the values of these dance practices," O'Neal said. "We feel passionate about sharing the resources that we have here at this institution, and having open dialogue about what it means to have hip-hop and street dance forms in this institution, and to bring everyone together to share ideas."
Expert keynote lecturers
This year, Bong brought in Fred Folkes, a leading fitness dance expert from the United Kingdom. His ideas focused on the importance of safe dance practices in hip-hop.
"Folkes is number one, a hip-hop practitioner. He is a dancer, first and foremost, so he has been in this culture for decades," Bong said. "I've attended conferences with the same theme, safe dance practices and injury prevention, and there was maybe only five percent of anything that focused on hip-hop. It was all more focused on ballet and contemporary. So the first thing in planning the summit was finding a real practitioner from our community who understands our value systems and these dances."
Student participants share session feedback
Emily Lu, a senior at USC, volunteered at the summit. She also participated in some of the sessions throughout the day. Lu described her excitement to see a structured, academic approach to hip-hop.
"It's an undeniably eclectic mix of hip-hop pioneers, some young, some old, from all different parts of L.A. and even across the world," Lu said. "It's really cool to see an event come together like this because hip-hop is not usually considered a very academic field of study. I think it's cool to see something that's considered usually more social and cultural. We should examine and approach it with a more academic perspective, and just to see people support each other."
Similarly, James Liu Tang, a junior at USC, was also a volunteer at the summit. Curious about lesser known hip-hop styles, he attended a Krumping workshop to explore the technique.
"We basically learned a little bit about the five fundamentals of Krump and the style of dance," Tang said. "My biggest takeaway was that Krump is a dance form that's meaningful for people to release all their worries and troubles from the day in a kinesthetic way."
Future plans
Bong hopes to sustain the momentum of the event and to continue building on the hip-hop conversation within academia.
"I have no idea what the temperature will be in 2022, but I know I would love for it to continue branching off from safe dance practices for the body and what well-being means for our community," Bong said. "I really want it to be a joyful, supportive gathering of thought leaders and solution-based educators who acknowledge and honor where this dance form comes from."
---
By Brigid Murphy