2 USC Kaufman programs among recipients of 2023 Arts in Action grants
March 7, 2023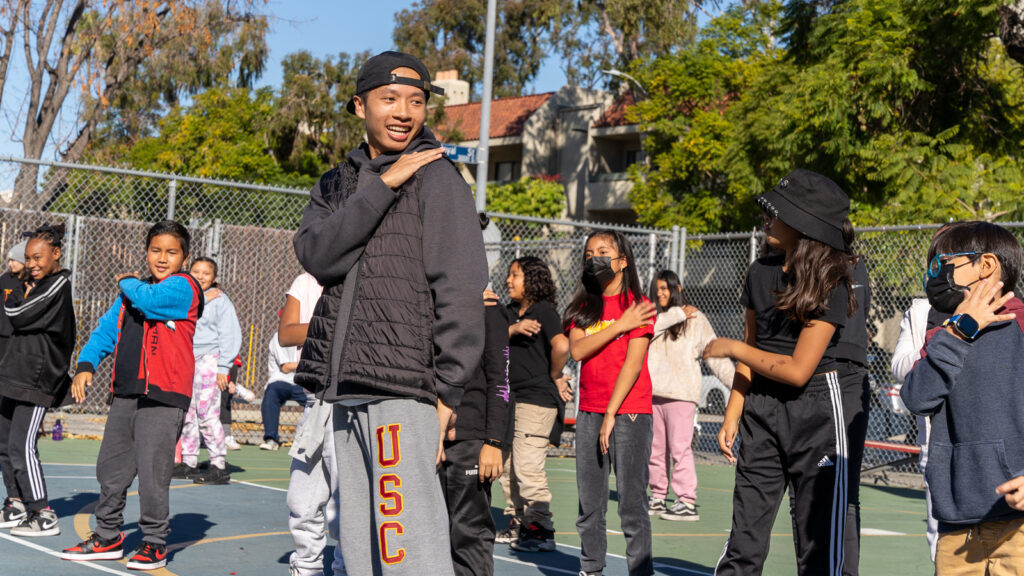 Professors Tiffany Bong and Patrick Corbin are utilizing the power of dance to nurture community and improve wellness.
Two programs directed by faculty members of the USC Glorya Kaufman School of Dance are the recent recipients of 2023 Arts in Action grants, a funding project from USC's Visions & Voices, which builds on USC's historic commitment to address some of society's most pervasive problems through community building and the arts. In addition to funding, Arts in Action provides USC students and faculty with opportunities to work with partners and activists outside the university to create positive change in the world.
This year's USC Kaufman programs receiving funding in 2023 include Kaufman Connections, a dance mentorship program led by Assistant Professor of Practice Tiffany Bong, and Dance and Ability, a multi-dimensional elective course from Associate Professor of Practice Patrick Corbin, which enlists collaborators like USC's Keck School of Medicine to investigate the neurological benefits of movement.
"Tiffany and Patrick have a demonstrated track record of using dance to improve the emotional and physical well-being of people in and around the USC community," said USC Kaufman Dean Julia Ritter. "They continue to be model artists and change makers. We are grateful to Visions & Voices for supporting and believing in the important work they're doing in and out of the classroom."
Kaufman Connections: Nurturing community and building confidence through Hip-Hop
For the last five years, Bong, Assistant Professor of Practice of Hip-Hop and Dance Pedagogy at USC Kaufman and Founding Director of Kaufman Connections, has combined the energizing power of Hip-Hop and the talents of USC Kaufman BFA undergraduates to reach students in the neighboring 32nd Street Elementary School. The 24-week dance and choreographic program introduces kids in grades K-5 to the art of Hip-Hop through public events and special presentations. Weekly one-hour sessions of integrated instruction with USC Kaufman BFA students is part of a key objective to nurture community, confidence, and social-emotional learning using elements that are naturally embedded in the process of dance-making and performance.
"Five years is a mini-milestone for us," said Bong. "We started this program to get out into the community, beyond the campus of USC, and it's paid off in so many ways. The enthusiasm we've seen—from young people, especially—is allowing us to dream big. I'm looking forward to the next five years as we continue to build this program."
Kaufman Connections is also made possible through generous funding from USC Good Neighbors, American Dance Movement, and LA84 Foundation.
Dance and Ability: Using dance to enhance wellness
Since the fall of 2022, Corbin, a long-time performer, dance practitioner, and facilitator of movement wellness, has worked with partners to use movement therapy to positively impact people living with disabilities. Dance and Ability brings together the USC Glorya Kaufman School of Dance, USC's Keck School of Medicine, and Free 2 Be Me Dance (a nonprofit offering dance classes for people with Down Syndrome) as part of a multi-disciplinary program that teaches USC students to facilitate dance classes for people with disabilities, culminating in end-of-semester performances. The course is designed for all students—no matter their dance background—and sectioned into modules that include lecture, studio time, and fieldwork, including a Dance for Parkinson's class with clients with Parkinson's at USC's Keck School of Medicine. Fieldwork has since expanded into other areas of neurological research.
"I'm a firm believer that dance is one of the most visceral ways to experience joy," said Corbin. "We've seen it in the data—the mind-body connection is exceptionally strong when we're moving in space. It's a special kind of energy that stimulates our mental and physical capacities like few things can, and I'm proud that this course is growing year by year. The more we can keep people dancing, the better off we'll be as a society."
Arts in Action supports new projects
In 2022, Arts in Action supported nine faculty and/or student driven projects, with grants ranging from $3,000-$28,000, and spanning a wide range of art forms to address systemic oppression and social issues, including homelessness, mass incarceration, sustainability, arts access, and more. Grants are open to all categories of USC faculty, including part-time, tenure-track, and non-tenure track. USC students are also eligible with the endorsement of at least one USC faculty member.
Applicants are required to submit a preliminary proposal that outlines their objectives and how the project aligns with the Arts in Action mission. Projects are often participant-driven, challenging a separation between "artists" and "audiences," and prioritize artwork that is the result of a shared, relational process, and where the collaborative process of creating the work is a core part of the project's impact and value.