USC Kaufman Raises the Academic Bar(re)
November 3, 2017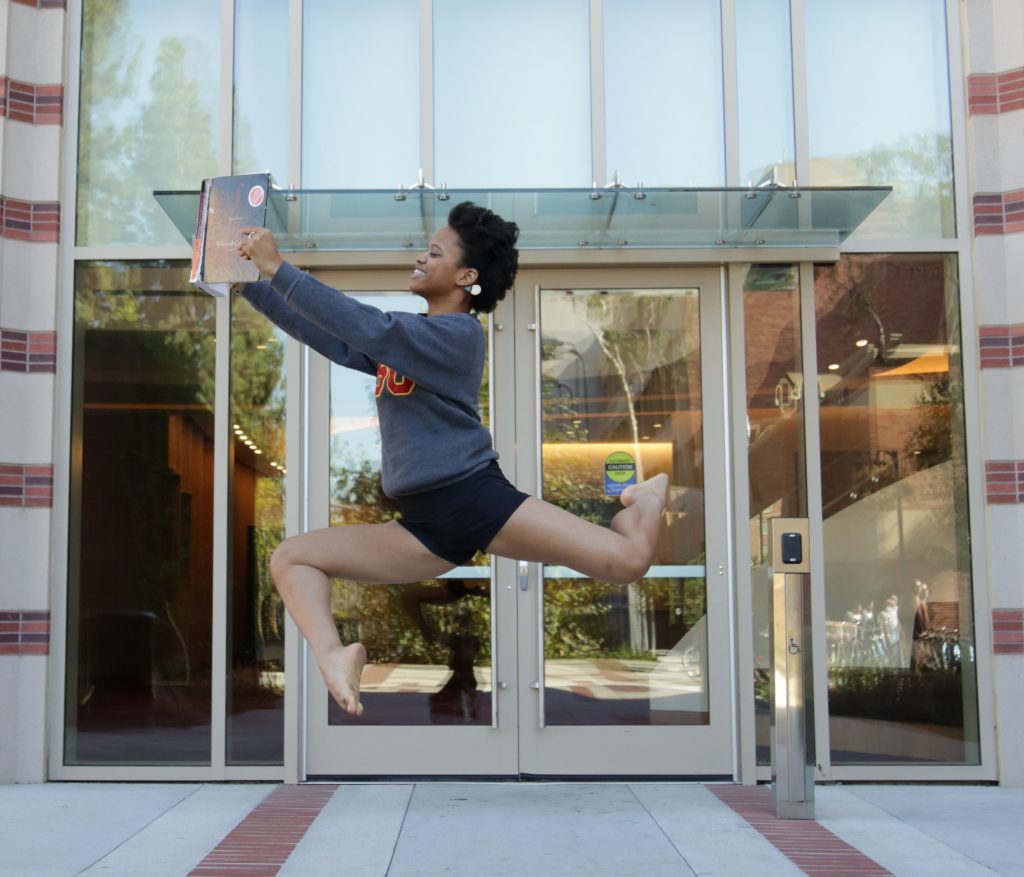 Part of what makes the USC Kaufman experience invaluable is the unique learning environment it provides for its BFA students, both artistically and academically. From the critical perspective the school takes on dance education, to the interdisciplinary liberal arts curriculum the dancers experience outside of the studio, Kaufman students are challenged to explore the intersections of their various intellectual pursuits here at USC. Ultimately, this will help them to become thoughtful, more well-rounded professionals.
We spoke to two BFA students– Rachel Harris, a sophomore, and Lenai Wilkerson, a junior—who both found a sense of direction from this space where artistry and academia collide.
A dance and engineering double major, Harris exemplifies what it means to receive an interdisciplinary education at USC. While her two majors may seem incredibly disparate, Harris has discovered connections between them which have only furthered her comprehension and ability to excel in both.
When discussing an architecture-centric writing course she took last semester, she said, "With my interest in engineering, not only did the energy efficient structures we studied spark that passion, but the analysis of structures mirrored how we break down the body to look at its unique shapes and architecture [in Kaufman]."
From that, Harris found that her improvisation skills were enhanced, as she could approach the way she analyzes her own body from a different perspective.
Similarly, Wilkerson's approach to her dance major and political science minor is all about exploring things from a new perspective. Of course-selection, she said, "I have chosen to take classes that challenge my thinking of the way society functions, how I function within it, and how I can contribute to it."
Her Kaufman classes such as Dance in Popular Culture and International and Historical Perspectives have fulfilled those needs by allowing her and her classmates to, "evaluate where we think dance is going and how we wish to contribute to it." She particularly appreciated Dance in Popular Culture for tackling, "very sensitive, but necessary information" in a class of majors and non-majors.
This passion for finding this greater societal understanding is what led Wilkerson to minor in political science, an area of study where she feels she can "continue learning more about the politics of intersectionality with race, gender, class, and social interactions."
Her studies in these two areas have also helped her to narrow down her future path.
"The career I believed I wanted before entering USC has evolved greatly because of my experience and knowledge acquired in just these last two years," she said. "I see myself now in a contemporary ballet company. I have learned how loose and ever-changing the term 'contemporary ballet' can be, and I am excited to dance in a realm where what I do and what I contribute is also ever-changing."
Ultimately she has confidence in the fact she is, "leaving USC a better human being as well as a smarter artist."
Harris also intends to pursue dance professionally but aims to apply her engineering background directly to those endeavors.
"I intend on dancing both commercially and in a company," she said. Her end goal is to, "create an energy efficient dance studio to house my own company so I can pass along my knowledge to the next generation."
Overall, Harris values the fact that, "USC's academic standards are very high and have pushed my understanding greatly within my three semesters here. My university experience has allowed me to be in conversation with some of the brightest dancers, musicians, and engineers of this generation which allows my artistry and understanding to grow beyond what it would be had I chosen to train anywhere else."
---
By Sara Silberman