Our favorite things about USC Kaufman
April 27, 2020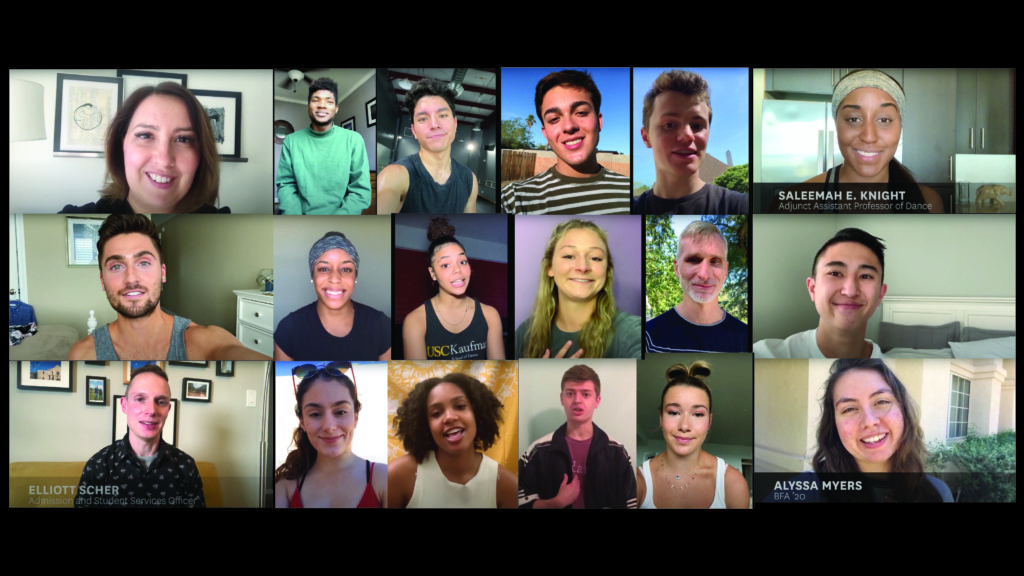 From their homes all across the country, students, staff and faculty sent in video submissions to share what makes the USC Glorya Kaufman School of Dance special to them. Their responses spanned from overarching programs to small moments with friends.
The USC Kaufman Community
Among the participants' selections, one particular aspect of life at USC Kaufman stood out as a shared highlight.
"My favorite thing about the school is the people," said Assistant Professor of Practice Bruce McCormick. "I feel so lucky to work every day with such an amazing group of students, staff and faculty."
Like many students, Tea Deveraux (BFA '21) shared in this sentiment.
"For those of us who go to school far away from home, it's amazing that USC Kaufman provides such a family atmosphere," she said. "It's kind of like a family away from your family."
Creating original work
Another commonly regarded aspect of the USC Kaufman experience is the school's emphasis on creating original work.
"One of my favorite things about USC Kaufman is all of the opportunities to choreograph," said Sidney Chuckas (BFA '21). "Starting as early as your freshman year you actually get to produce your own work. You can follow that trajectory all the way up into your junior and senior year with Advanced Composition."
On a related note, Juliette Ochoa (BFA '21) noted how valuable access to space has been for her throughout her time as a student.
"My favorite thing about USC Kaufman is having the ability to reserve a studio so that I can rehearse for a piece I'm choreographing, or I can just jam with friends," she said.
Connecting with faculty
For Eli Alford (BFA '22), USC Kaufman's faculty have made all the difference.
"The faculty work very intimately with us students to constantly reimagine what our curriculum looks like," he said. "This not only ensures that we're growing and challenged each day, but that we have everything we need to go out into the dance community and make a global impact upon graduation."
For even more USC Kaufman favorites, check out the video below: