Victor Quijada returns to L.A. as artist in residence at USC Kaufman
January 21, 2016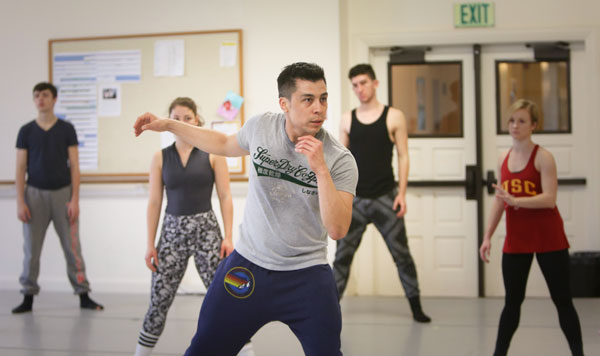 For choreographer and artistic director Victor Quijada, coming to the University of Southern California to teach at the Glorya Kaufman School of Dance was somewhat of a homecoming. A native of southern California, Quijada grew up just 20 miles east of Los Angeles in Baldwin Park. There, he began hip-hop dancing from a young age, never imaging that it would later form the basis of his career.
Dance by chance
Quijada's signature movement style, which blends hip-hop with classical forms, stems from his unique background in dance – one that came together by chance.  His formal training began at the Los Angeles County High School for the Arts (LACHSA) where he was encouraged to join the dance department, despite his intention of studying theater. It was at LACHSA, under the mentorship of dance faculty like Rudy Perez, that he learned about dance as "art with a capital 'A'" he recalled.
Then chance again led Quijada to New York, when he was invited to audition for famed choreographer Twyla Tharp. To his surprise, with only a few years of classical training, the young Quijada was selected from over 900 dancers to be part of Tharp's company. After years of collaborating with Tharp, he joined Montreal's Les Grands Ballets Canadiens, finally mastering classical form.
Quijada drew upon these multifaceted experiences when he formed RUBBERBANDance Group, a Montreal-based dance company that has been performing since 2002.
"We created a language that allows different dancers to communicate with each other while mastering opposing aesthetics," said Quijada. "The length and grace of ballet and the broken language of breakdance, the inversions of capoeira and the freedom of contemporary dance, all come together in one mutual language."
Stretching artistic limits
As a faculty artist in residence at USC Kaufman, Quijada will spend three weeks challenging young BFA student dancers to stretch their artistic limits through an approach he calls the Rubberband Method.
Among the students in Quijada's dance technique class at USC Kaufman are fellow LACHSA graduates Sophia Oddi and Paulo Hernadez-Farella who have already begun to feel a healthy tug on their technique.
"After only two classes with Quijada, the way that I approached dance had already changed," said Oddi. Paulo Hernandez-Farella, agreed, "Quijada is refreshing and new. I'm impressed by the variety of choreography that he sets and the different techniques that he knows."
For Quijada, the opportunity to return to Los Angeles to teach at USC Kaufman is also special.
"USC Kaufman is making a big impact in the field" said Quijada. "It's only been a year and this school already rivals the most famous dance institution in the country. I'm very proud to be here."
---
By Natalia Sanchez and Justina Gaddy