Catching up with Saleemah E. Knight
August 3, 2020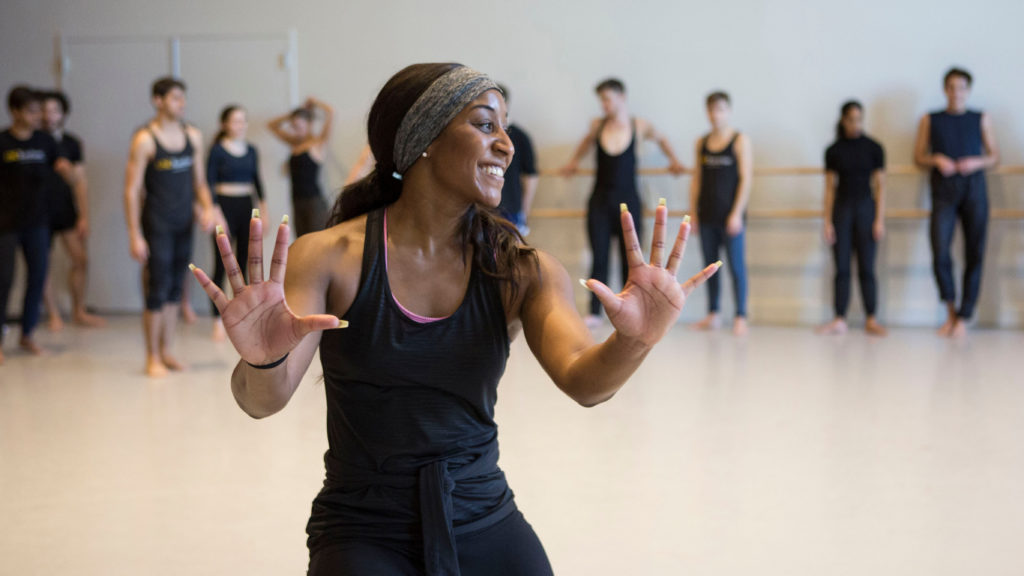 COVID-19 has paused life in many ways. However, Saleemah E. Knight, Adjunct Assistant Professor of Dance at the USC Glorya Kaufman School of Dance, has had an action-packed summer. Knight plans to bring the same energy to her classes at USC Kaufman this fall.
Response to Black Lives Matter protests
In response to the murders of George Floyd, Ahmaud Arbery and Breonna Taylor at the hands of police, Knight initiated a series of town halls to discuss the quality of Black life at USC Kaufman. One featured a panel of Black faculty and staff. The other was led by six Black students. Faculty members of color and the Equity, Diversity and Inclusion (EDI) committee helped launch the wider discussions at USC Kaufman.
According to Knight, there are issues of anti-Blackness within the program that need to be addressed. The town halls provided an opportunity for Black faculty and students to speak directly about these experiences.
Outside of USC Kaufman, Knight produced an online contemporary jazz master class series called Summer with Saleemah. It raised money to support Black Lives Matter, Campaign Zero, Justice for George Floyd, Justice for Breonna Taylor and more.
"I had anywhere from 150 to 175 students that signed up for class and it was incredible," Knight said. "I held two series and had dancers who signed up from all around the world, online, taking my master classes. That was wonderful."
Dance documentary
This summer, Knight also celebrated the premiere of the documentary Uprooted. It is a seminal piece on the history of jazz dance, according to Knight. It features many heavy hitters including Chita Rivera, Mandy Moore, Debbie Allen, Josh Bergasse, Al Blackstone, fellow USC Kaufman faculty member E. Moncell Durden and more. Knight served as a dance historian and as a narrator for the documentary.
"Uprooted talks about all of the people who unfortunately are not brought to the forefront of jazz. Particularly Black contributors who don't get talked about often enough," Knight said. "It was featured at the Dance on Camera Film Festival, which was broadcasted to 11 different countries worldwide. It has been featured in Dance Magazine, and covered by USA Today and the Hollywood Reporter."
Fall courses at USC Kaufman
This fall, Knight will take this wave of energy into her upcoming classes at USC Kaufman. This semester, she will be choreographing a jazz piece for the junior BFAs at USC Kaufman. She will also be teaching Dance in Popular Culture and professional level jazz for musical theatre majors. The BFA in Musical Theatre is an interdisciplinary program. It blends the resources of the USC Thornton School of Music, the USC School of Dramatic Arts and USC Kaufman. Knight is one of the faculty members helping to build the curriculum. The major welcomed its inaugural class in the fall of 2019.
Dance in Popular Culture centers around critical issues in dance and pop culture. The course is open to any USC students looking to satisfy their GE-A requirement.
"The class tends to be half dance majors and half pursuing other majors at USC," Knight said. "In order for everybody to be on the same page, I do breakout sessions where I take the dancers into the studio and have them experience the forms that we're talking about. I sometimes teach it myself. Sometimes I might bring in guests so they can get to know the other dance faculty as well."
In addition, students also learn about some of the critical issues, historical and cultural, that affect the dance world.
"For example, we discuss minstrelsy and Blackface when it comes to jazz dance or the commercialization of hip-hop." Knight said. "We talk about what's going on with Bollywood and Indian forms. What are the true classical Indian dances, and what do we typically see appropriated on TV shows."
Virtual choreography
Knight will also be choreographing a jazz piece for the junior BFAs. It will premiere as part of USC Kaufman's fall dance festival, Together Six Feet Apart.
"It's going to be a virtual performance, which is different from what I originally planned. COVID-19 turned up in March, so I had to completely revamp my choreography," she said.
Knight looks toward the fall with hopes for rich collaboration between students, despite social distancing measures and online class structures.
"This semester, I'm really focused on collaborative processes for the students," Knight said. "I want to give them the opportunity to do more peer to peer conversation, review and discussion within the course using things like breakout rooms on Zoom."
---
By Brigid Murphy