Choreographic Opportunities at USC Kaufman
November 14, 2019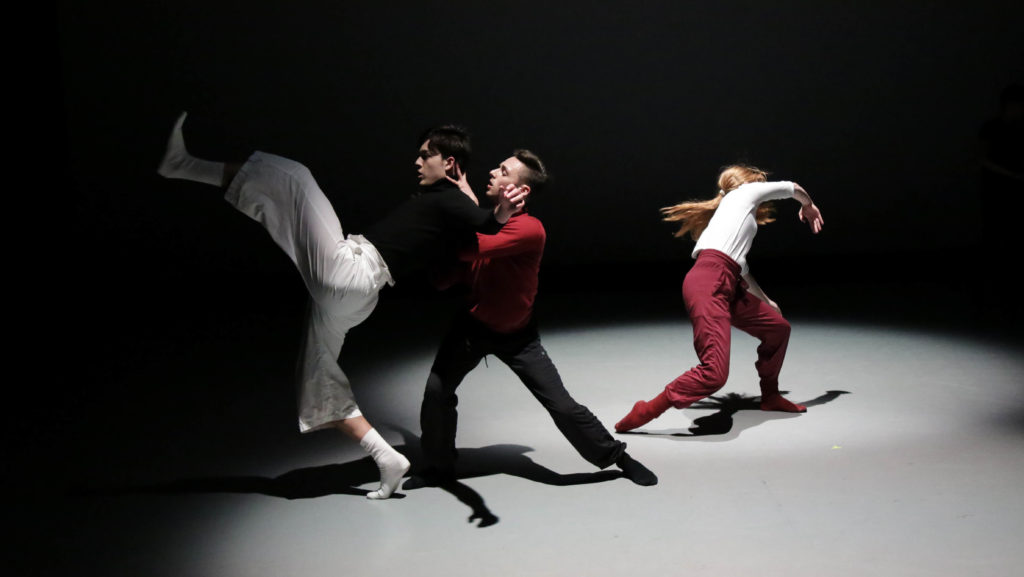 USC Kaufman constantly offers student choreographic opportunities, whether within or outside of the curriculum. The opportunities built into the curriculum are a part of Improvisation and Composition (for freshmen and sophomores). Later, they become part of Advanced Composition (for juniors and seniors). Throughout these courses, you'll find many opportunities to work on both your own individual work and collaborative choreography. I sat down with Ausia Jones (BFA '20) to hear her perspective on choreographing at USC Kaufman.
"Looking back at my time at USC Kaufman, I am so grateful that we were given at least one opportunity to create a choreographic work each year. Since I decided to take Composition every year, faculty consistently encouraged me to find clarity in my voice as a choreographer," she said.
Jones took Improvisation and Composition as a freshman and sophomore. In these courses, she created her own works, which premiered at student choreography shows. In the spring semester of sophomore year, she collaborated with her classmates and a composer from the USC Thornton School of Music for our annual Choreographers and Composers show. For this assignment, choreographers create new work to original compositions. According to Jones, this collaboration is one of her favorite choreographic opportunities at USC Kaufman.
Room to play
"One of the first things I learned in Advanced Composition is that the possibilities are endless. I loved knowing that there are not any rules in choreography–that made it exciting for me," she said. "Creating and playing with material on some of my closest friends made the process fun and much easier, especially because of the relationships we have created during our time together at USC Kaufman."
Collaboration among peers is a big part of our community, and our creation process. We are fortunate to learn from each other's choreographic processes, as well. Stefano Gallelli (BFA '23) has already seen this process in action within his first few months at USC Kaufman.
"This semester, two sophomores and one junior asked me to be in their student works pieces. Learning choreography from these students has taught me more about teamwork. I've learned what it's like to be a part of the USC Kaufman family," Gallelli said. "During the choreographic process, I noticed the different approach each choreographer had when creating. Each student has their own unique style making the works different from one another. Working with the upperclassmen has inspired me to start creating and choreographing for the freshmen choreography showing next semester!"
More advanced opportunities
If you choose to take Advanced Composition, choreographic opportunities increase. Jones took the opportunity to present work a Student Choreography Showing at New York Live Arts last February. The showing was part of a trip to New York, which included USC Kaufman's NYC Debut at The Joyce Theater.
"It helped me reconnect and make more connections with artists on the east coast. I was able to have conversations about my work with other artists, which was a nice way to reflect on the thought that the dancers and myself put into the piece. I felt honored to present my work in New York. It was such a nice feeling to share my work with friends, family and others," she said.
Looking forward
Jones declared Choreography for Stage and Screen as her concentration at USC Kaufman. Because of this, she has found so much dedicated space and time to create her own work on her peers. Depending on their schedules, students with other concentrations can also participate in these opportunities. Composition credits count toward several USC Kaufman concentrations, and can be worked into the Build Your Own option. As you move toward a more focused career trajectory, USC Kaufman can provide a pathway to facilitate your growth and transition into the professional realm.
"Over the past four years, I have really enjoyed investing in the choreographic process and recognizing how my choreographic voice has evolved each year," said Jones. "When I look back at the work I created freshman year and the work I am creating now, it's interesting to see how my work has evolved. The relationship that my friends have with my movement has evolved over time, too… I now feel I have found freedom in my voice, because I am constantly reminded that there are no rules."
---