First class of graduates and their career paths: Part 3
May 30, 2019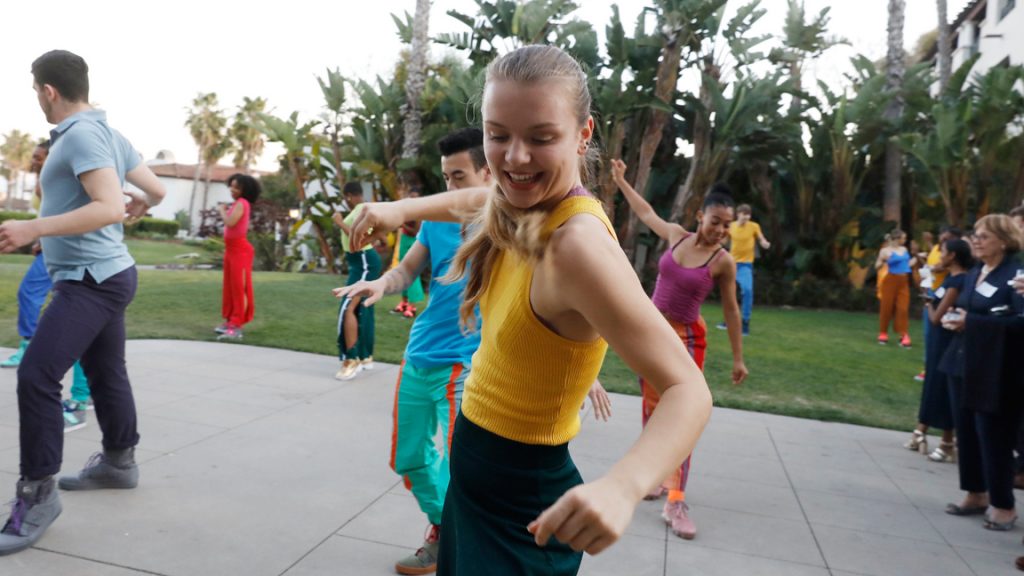 The first cohort to graduate from the USC Glorya Kaufman School of Dance houses more than just dancers. Each has a multifaceted set of interests that allows them a unique career path. Below, and in two other posts (parts one and two), they discuss their intentions for work post-commencement.
Concentration in Dance Performance
While at USC Kaufman, Carpio's passion for dance transformed as he discovered improvisation. He also ventured into the world of film, learning that he had a knack for acting and storytelling. He performed in several music videos, choreographed and acted in School of Cinematic Arts thesis films, and even wrote, directed and produced his own episode series. Post-commencement, he will train for a month at the London Academy of Music and Dramatic Arts. He hopes to mix concert and commercial work in his career, as well as pursuing work in film.
"Through a collaborative process," he said, "my projects aim to reflect our world by facing societal issues with a creative and optimistic spirit."
Concentration in Choreography for Stage & Cinematic Arts
Daftari blossomed in the commercial realm during his time as a BFA student, working with Todrick Hall, Yanis Marshall and more. He hopes to dance on a world tour, eventually teaching and choreographing worldwide. In the meantime, he will teach locally and continue to perform in music videos and more.
Daftari hopes "to create a platform for binding concert and commercial worlds, and to take that platform around the world, changing the way we see choreography and industry movement."
Concentration in Dance Performance
Euritt received her power yoga certification and began teaching classes this year, meanwhile booking her first commercial job for Netflix show GLOW. She will continue to teach at CorePower Yoga, where she is also a studio assistant. Euritt hopes for a diverse career that dips into both concert and commercial worlds.
"I want to seek challenges that build, create and explore new realms of possibilities beyond what is already familiar. Through the use of collaborative efforts and a wide range of artistic abilities, I hope to venture and investigate art beyond dance," she said.
Concentration in Dance Performance
Thematic Option Honors program
In the last four years, Flynt has put hours upon hours into social dance practices, engaging with house and hip-hop communities in LA and fusing her conservatory training with vernacular movement. She has taught her methods at the "Art Of" ballet intensive in Zurich, Switzerland with William Forsythe's approval, and will teach there again this summer. Flynt will also teach at the Paul Taylor Intensive in Los Angeles, as well as at the Laguna Dance Festival. She aims to continue to explore the synthesis between each of the styles in her arsenal and contribute her research in higher education.
"I want to illustrate the poignancy of dance as a communicative tool through comedy, movement, music and text," she said. "In doing so, I also want to celebrate the individuality of each dancer as a corporeal conversationalist."
Concentration in Choreography for Stage & Cinematic Arts
Folkes-Stone discovered love for teaching while at USC Kaufman. She also developed her choreographic voice extensively through her senior project and other works. In the immediate future, she will move to New York to dance in the 2020 Broadway revival of West Side Story. After working with young students in China, she hopes to continue teaching nationally and internationally. Throughout her career, Folkes-Stone will also continue developing dance work that focuses on black narratives, black female narratives and black catharsis.
She hopes "to be a dance maker and performer that is socio-politically conscious, self-aware, community centric, accepting of change and celebratory of the improvisational magic of street and black social dance practices."
Created her own concentration in flow and the creative process
Muszynski's four years at USC Kaufman culminated in a split-bill evening that she produced with classmate Alvaro Montelongo. Following commencement, she will work with Aszure Barton & Artists on a two-month creation process in Hamburg, Germany. She has also been offered an apprenticeship with a dance company based in Montreal, Canada.
"I want to inspire and reveal the freedom dance can bring by maintaining play, joy, integrity and vulnerability in the process of creating and performing," she said.
Concentration in Dance Performance
During her time at USC Kaufman, Oddi collaborated with film and music students to create work on the stage and screen. She also created platforms for non-dancers to experience dance onscreen, all while performing work by acclaimed choreographers. Oddi hopes to spend some time in Europe dancing in a contemporary company. She would also like to develop her own choreographic voice and presenting her own work later in her career. This summer, she will work with professor Jackie Kopcsak in Bosnia.
"Essentially, I hope to extend support, sensitivity and ardor into the workspace, thus creating a culture of advancement and encouragement towards all," she said. "I strive to approach with curiosity, and with a consideration for endless possible outcomes that research yields."
Concentration in Dance & Music
Posada Penagos found an affinity for musical theater while at USC Kaufman, especially after performing as Bernardo in West Side Story alongside students from USC Thornton and the USC School of Dramatic Arts. He then joined Musical Theatre Repertory, where he choreographed Spring Awakening. Posada Penagos hopes to stay in Los Angeles for awhile and work commercially in acting and dancing. He then hopes to pursue a career in musical theater, dance and Broadway in New York. This summer, Posada Penagos will join Traverse City Dance Project under the direction of professor Jennifer McQuiston Lott.
"I aim to serve as a reliable and relatable artist by bringing my lived experience into my character," he said.
Concentration in Dance Performance
Vomastek worked as a freelance artist in Los Angeles while attending courses at USC Kaufman, performing in a Backstreet Boys music video and more. She hopes eventually to dance professionally, tour with a major company or artist, and receive her MFA in choreography. This summer, she will work with Richard Siegal on a new creation in Germany before moving to New York to perform in the 2020 Broadway revival of West Side Story.
"I want to continue my passionate artistic and intellectual growth with dance and choreography while also developing individualism among all artistic mediums," she said. "I hope to be a leader in the field and represent other artists with quality and respect."
Created her own concentration in networking and performance
Troyak competed on So You Think You Can Dance, performed on Jimmy Kimmel Live and choreographed on Dallas Black Dance Theater while completing her BFA. Ultimately, she hopes to pursue dance in several avenues: with a concert company, in a commercial environment, as a rehearsal director, and more. She was offered an apprenticeship with Siegal's company, Ballet of Difference, and will work commercially in Los Angeles in the meantime.
"I am constantly searching to uncover the complexity of human connections, using a contrast of technical shapes and wild physicality in order to develop storytelling in motion," she said. "I work to release the animal inside while still finding connection to form and precision."
Concentration in Dance Performance
While at USC Kaufman, Yamashita studied dance in tandem with the pre-medical track. Along with completing all pre-med courses, she designed a senior project around volunteering at the Children's Hospital of Los Angeles. There, she worked with young patients and introduced concepts of movement for a range of ages and abilities. Yamashita hopes to continue combining dance and science in higher education once she has retired from the stage.
"I hope to follow a career in dance by getting my Master's degree in dance, or even going to physical therapy school," she said.