Mental health and wellness at USC Kaufman
May 1, 2019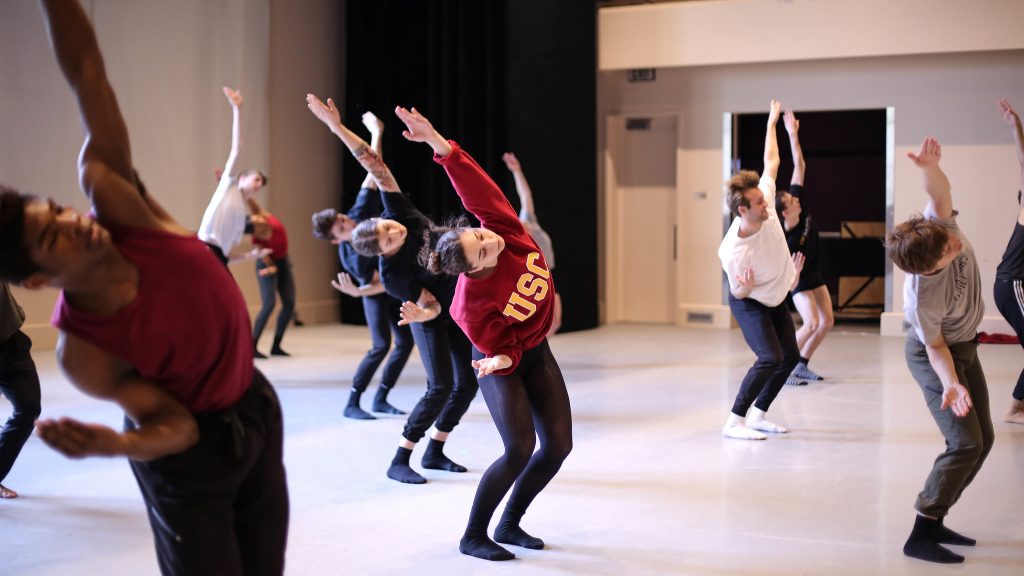 For Mental Health Awareness Month, Aurora Vaughan (BFA '21) offers her perspective on mental health and wellness at USC Kaufman. Vaughan participates in both the student body and the Student Advisory Board. As such, she acts as a liaison between students and faculty, hearing students and making suggestions to improve student life. We spoke with her briefly about her own experiences before and during her time in college, and about the resources she hopes to implement in the future.
What has been your experience with mental health/mental health advocacy before USC Kaufman?
My experience with mental health and mental health advocacy before coming to USC was mainly connected to my high school experiences. I was the president of a mental health awareness and peer-to-peer support club on campus named R.O.C.K. (Reach Out, Care, Know). I connected students to administration and mental health professionals when they needed them, as well as promoted general mental wellness on campus. This also involved training with Sources of Strength, a national suicide prevention organization.
In regards to dance, my home studio centered around dance and community. We had a loose mentor program in place and tried to look out for each other as family. Because of my training, I sometimes found myself acting as a support for my peers and friends.
My personal mental health has been a rollercoaster. However, I have actually been able to find gratitude for my progress in the past year. I have struggled with severe depression in the past, and have come to realize that mental health is a lifelong balancing act. I'm grateful to have found a network of trusted people and advocates that I can lean on. I have noticed that navigating and working to improve my own mental health has allowed me to become a better support for those who also need it.
How did you approach mental health recovery before USC Kaufman?
Mental health is a balancing act. I know I will experience a lifetime of ups and downs. I have the responsibility to notice and regulate myself, as well as reach out to those I know can help me. It's been a journey that has required me to emotionally and mentally mature a lot, sometimes a little too quickly, I think.
When I say "responsibility," I'd like to note that I am lucky to be able to take on that responsibility. During my most severe depression in high school, I was unable to recognize that. I had to work to get here through therapy and self-exploration. Mental health recovery is not a simple fix, by any means, and requires many different and personalized approaches. I want it to be clear that I needed outside support, and that is perfectly acceptable and I'm so glad that I got it.
How has your time at USC Kaufman changed your outlook on mental health?
At USC Kaufman, I've noticed that my mental health follows patterns. It also jumps around sometimes. Truthfully, I am blessed to dance everyday because it brings me joy as an art and endorphins as a physical activity (both things I know I need). However, on the days that I experience more "negativity," I still struggle to find the good in my life. I've found that when I am honest with myself about where I am, I can connect to people I trust. I can tell them I'm having a bad day, and they will support me unconditionally. At USC Kaufman, I've found those people, both students and faculty, that I can express myself to. They are there, without question. I'm very lucky.
Within the university, what mental health and wellness resources are available to students?
Within the university, I have utilized a variety of the resources offered. I have referred people who I believed needed support through Trojans Care for Trojans. I have actually seen results, regarding their receiving resources that can help them. Personally, I have used as many resources as I possibly could have. I have respectfully leaned on my peers, faculty and administration, sought professional counseling through the USC Engemann Student Health Center, and received acupuncture treatments directed toward my mental health.
What resources would you like to see USC Kaufman provide in the future?
USC Kaufman has a lovely quality of promoting family as a value. However, I think that as a school, buckling down on the possible mentor program that we want to put in place is imperative. I think a way to make it more feasible would be to create it for the freshmen and one other class. The mentor-mentee relationship would be a tangible connection for the first-years into the family that already exists within the school.
---
In addition to the resources provided by the university, USC Kaufman is looking to provide additional mental health and wellness services with the help of faculty, staff and students including Coco Alvarez-Mena (BFA '19), who focused her senior project on this very issue.
To learn more about USC counseling and mental health services, visit the USC Student Health website.