Creating new works with Hope Boykin and Patrick Corbin
April 3, 2020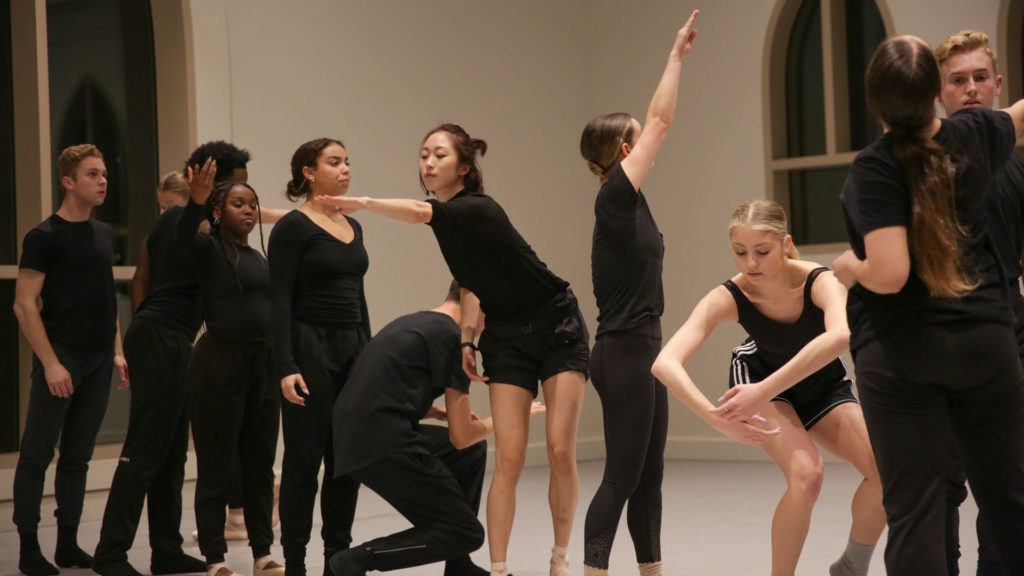 During the Spring 2020 semester, BFA students at the USC Glorya Kaufman School of Dance collaborated with faculty members to create new works. Among these new pieces were "Our Voices, Currently." by Artist in Residence Hope Boykin and "Departure" by Associate Professor of Practice Patrick Corbin.
The choreographers worked with the students on these pieces during their Repertory and Performance classes. Members of the Class of 2023 worked with Corbin, while members of the Class of 2022 worked with Boykin. Lauren Brophy (BFA '23) and Benjamin Peralta (BFA '22) shared their thoughts on this unique experience.
A new take on Repertory and Performance
"A traditional repertory rehearsal process is different from this explorative rehearsal process," Brophy said. "Traditionally in rep, we learn to embody the details and specificity of well-known work. In this process, we were the first to perform the piece and have the opportunity to work with the choreographer to make the details and shape its aesthetic."
Peralta enjoyed the freedom that came with this new challenge.
"Creating a new work allows for more room to play and make discovery within movement," he said. "There is a sense of excitement that comes with the endless possibilities as to what can be constructed into a final product."
Embracing individuality
Both students found they became very connected to the pieces they helped create. In Peralta's case, he credits his investment to Boykin's approach to the collaborative process.
"I really enjoyed how Hope Boykin got to know each and every one of us on a personal level. I also enjoyed how her passion for both dance and connection as humans carried over into the work," he said. "What made this experience particularly unique was the fact that Boykin highlighted all of our individuality throughout the work. It was a celebration of each and every one of us as unique artists."
Brophy agreed that this was true for her class as well.
"This work feels really personal and performing it felt extra special due to our involvement in Patrick Corbin's creative process," she said.
Embodying community and collaboration
Peralta sees this type of opportunity as integral to the USC Kaufman experience.
"Creating a new work intended to be presented at a USC Kaufman performance aligns with the school's goal of fostering hybrid artists," he said. "This process allowed for each class to work together. We helped to create pieces that fully encompass the USC Kaufman ideals of community and collaboration."
The creation of new works is made possible in part through generous support from The Choi Family Artist in Residence Fund. 
---