Day in the Life: Junior Year
June 12, 2020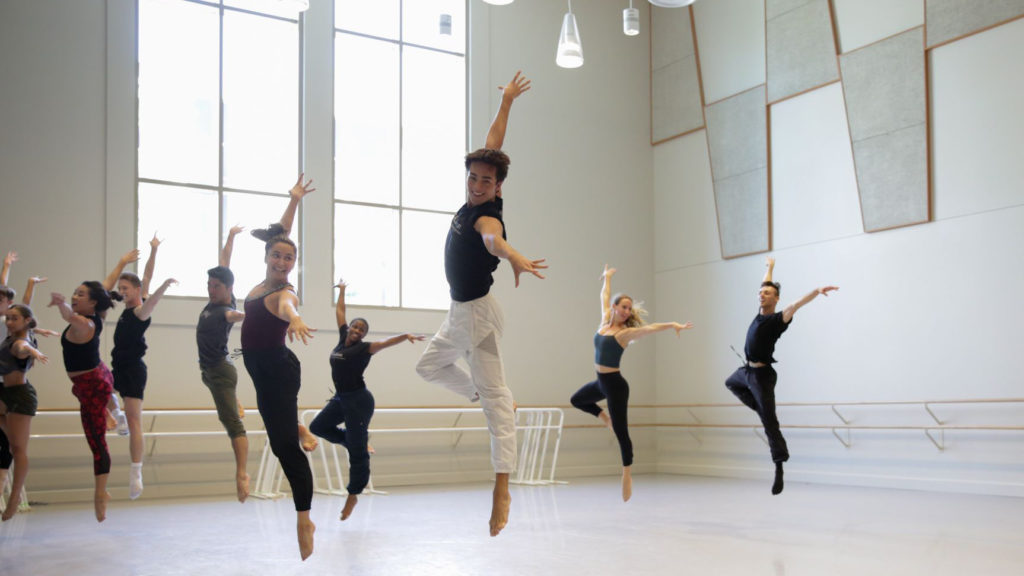 At USC Kaufman, you are able to pick from a variety of concentrations, and that choice informs what classes you take as you progress through your last two years. I have always wanted to dance in a contemporary company, which is why I declared dance performance as a concentration. Some other options include dance and music, choreography for stage and screen, dance and music, and even a design your own option. Your first two years are pretty structured, but as you enter your third and fourth year, it becomes a bit more individualized, and that goes for things outside of USC Kaufman as well.
In addition to my dance classes at USC Kaufman, I have taken a lot of courses in the Annenberg School for Communication and Journalism. Recently, I have also decided to pursue a progressive degree in Strategic Public Relations. This means that I will graduate in the spring of 2021 with a BFA in dance and half of a master's degree completed. I can then choose to take a break from the graduate program, or to stay at USC and complete my MA by spring of 2022.
Working at USC Kaufman
I have also had the honor to hold two jobs at USC Kaufman. I work for the Communications team where my responsibilities range from social media scheduling and content development, to managing and directing photoshoots. My other job is with the Admission and Student Services team. In this role, I communicate with prospective students, help out in the office, and even plan events.
Exploring Los Angeles
A big part of being at USC is also living in LA! Life in LA is great because there really is so much to do… and eat! If there is one thing my cohort could say about me, it's that I love going out to dinner. There are so many options in LA, and it's such a stress reliever. My happy place is definitely being at a restaurant off campus with my friends. I also have friends beyond the USC community, which is great when I need a break. My best friend is in the music industry in LA, and we take the city by storm, when my schedule permits of course. Fostering relationships at USC is so important, but so is looking beyond the university gates.
Daily schedule
I have always enjoyed being involved, so my schedule may seem extremely busy. However, your academic advisor helps you tailor a schedule that is right for you. Here is a typical day in the life from my third year at USC Kaufman.
The Morning Breakdown
Monday/Wednesday/Friday:
8:15 a.m. – 8:45 a.m. Private Pilates session with Professor Gillian Finley
9:00 a.m. – 10:30 a.m.: Science of Sport GE
10:30 a.m. – 11:50 a.m.: Dance Technique (Ballet)
12:00 p.m. – 1:20 p.m.: Dance Technique (Hip-Hop)
I usually signed up for private sessions of Pilates to get my day started on Mondays, Wednesdays and Fridays because these were the more physically demanding days. We are lucky to be able to have these sessions available to us for free in our Training and Fitness Zone. After that I would run over to a lecture for one of my General Education (GE) classes. I chose Science of Sport because there was a clear connection to dance, and a lot of information crossed over. Some of the topics we discussed were diet, metabolism and training trends.
Tuesday/Thursday:
10:30 a.m. – 11:50 a.m.: Dance Technique (Ballet)
12:00 p.m. – 1:20 p.m.: Dance Technique (Contemporary)
I would usually let myself sleep in until Dance Technique on Tuesdays and Thursdays. I am a firm believer in sleep because our schedules are tough and we need it!
The Afternoon/Evening Breakdown
Monday/Wednesday/Friday
2:00 p.m. – 4:50 p.m.: Repertory & Performance
5:00 p.m. – 6:30 p.m.: Work for USC Kaufman Communications
6:30 p.m. – Bedtime: Homework and rehearsals for student projects.
After class, I would go into the office to work for the Communications team. A lot of my job for the Communications team can be done remotely, but I like to go into the office because it is a more focused work space. After that I usually jumped right into rehearsals for student projects. We didn't have required rehearsals after Repertory and Performance on Mondays and Wednesdays, but those evenings were often filled with other rehearsals.
Tuesday/Thursday
2:00 p.m. – 3:30 p.m.: Argumentation and Advocacy
5:00 p.m. – 6:20 p.m.: French I
6:20 p.m. – Bedtime: Homework and rehearsals for student projects
Academic interests
I was able to fit other academic interests into my Tuesday and Thursday afternoons. Because my GE was in the morning, my afternoons were a bit more open. I chose to take Argumentation and Advocacy because it really aligns with my long term career goals. I am very passionate about politics, public speaking and philanthropy. I also had some free time in my schedule because I front loaded so many credits in my first two years. With that space, I decided to take French because I had never taken it before.
Being able to craft my education and to take classes specific to my future career goals has been extremely rewarding. In addition to pursuing a master's degree, I hope to eventually go to law school and also to dance professionally. College is the time to explore new things and USC Kaufman is a great place to be if you want to pursue other interests. The days can be pretty long and exhausting, but they are definitely worth it.
---
By Zackery Torres (BFA '21)