Maintaining physical health and wellness at USC Kaufman 
February 19, 2020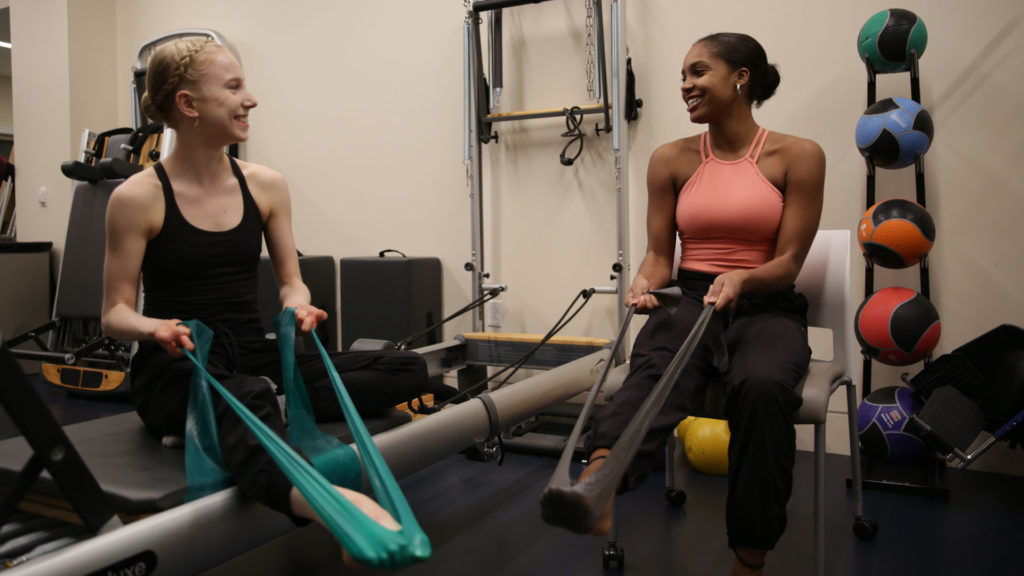 At the USC Glorya Kaufman School of Dance, students' overall health and wellness is a top priority. Dr. Marisa Hentis leads the school's physical therapy program and teaches two related courses for BFA students: DANC 105 Dance Science and DANC 103 Conditioning for Dancers. Through these offerings, students can learn how to take care of their bodies from both the practical and academic perspective.
For Madison Falconer (BFA '23), USC Kaufman's physical therapy program made a significant impact on her experience at the school thus far.
"I was really nervous coming into USC Kaufman my freshman year with an injury that severely limited my ability to dance for an entire year prior," she said. "However, a lot of those nerves were eased as I was introduced to USC Kaufman's remarkable physical therapy program."
Upon their arrival at USC, all new BFA students go through a mandatory wellness screening, which they can continue to opt-into annually. Based on these screenings, students receive individualized wellness plans. Additionally, the USC Kaufman faculty take into account the data acquired through the wellness screenings and adapt their curriculum accordingly.
"I now work with Dr. Hentis two to four times a week to strengthen my body and rewire my habits with comprehensive exercises and individual support," said Falconer.
Health and wellness resources available to BFA students
In addition to individual physical therapy sessions, BFA students have access to the USC Kaufman Fitness Zone. There, they have use of ice, ice buckets, TheraBands, Kinesiology and Athletic tape, Epsom salt, dance-specific exercise equipment and massage tools. BFA students can also use the Fitness Zone's Pilates Reformers and Gyrotonic machine during their private lessons.
"[These resources] became an integral part of my individual physical therapy routine," said Falconer. "By the end of my first semester at USC Kaufman, the physical therapy program supported me back to jumping—something I hadn't been able to do pain free for over a year. It also provided me with knowledge on how to prevent such issues in the future."
USC Kaufman's physical therapy offerings are uniquely designed to fit the dancers' needs, considering both their training and busy schedules. Monday through Friday, a dance-specific physical therapist is available to meet with students. Additionally, students are given Dr. Hentis' contact information, so they may reach out in case of an emergency, to note progress or ask questions.
"There is an incredible open-door policy. There is also an extreme amount of care from the doctors and in the development of the program itself. This has helped ease the fear of injury, pain and rehabilitation," said Falconer. "But physical therapy isn't just for injuries. Support is always available regardless of severity, so that we can not only get strong but stay strong, able and informed."
Developing USC Kaufman's physical therapy program
The development of USC Kaufman's physical therapy program is of great importance to Dr. Hentis. Since joining the school during the Fall 2019 semester, Hentis added more hours and options for wellness screenings and training sessions. BFA students can now sign up for two types of physical therapy appointments: Wellness Appointments, geared towards those looking to strengthen their abilities in general— or Injury Appointments, for those needing to rehabilitate.
"I individualize every treatment program," said Hentis. "They can be individualized between sets and repetitions, or times of the week. I also individualize based on where the students are in the semester. Often times, they do a lot of strengthening at the beginning of the semester. Then, come performance time, it is more about maintenance."
In the future, she would like to develop a universal program tailored to the general needs of USC Kaufman students.
In that vein, Hentis hopes each addition to the physical therapy program will continue to put the students' needs first. As a faculty member herself, Hentis enjoys being able to base her development of the program off students' experiences in her classroom. She is also taking into consideration the conversations she has with other faculty members.
"I think that with all new programs we're going to have our speed bumps. However, it has been amazing to see that the USC Kaufman faculty also have ideas to include. They are wanting me to come into their classes and see if their warm-up is okay, or if there is anything they need to do to improve from there. That isn't something I typically hear from other faculty or choreographers," she said.
Gaining confidence, knowledge and support
New BFA students are already seeing the value in what health and wellness opportunities are available to them.
"Between my courses with Dr. Hentis and individual physical therapy work, my awareness and confidence to trust my body has exponentially improved," said Falconer. "Things as rudimentary as correctly warming up and cooling down have become habit, because I now know and understand the great effect it has. I feel extremely grateful for this program and the confidence, knowledge and support it has provided me with. It will carry me through classes, performances and beyond."
---