Student Blog: Eli Alford shares highlights from Summer Bridge
August 10, 2021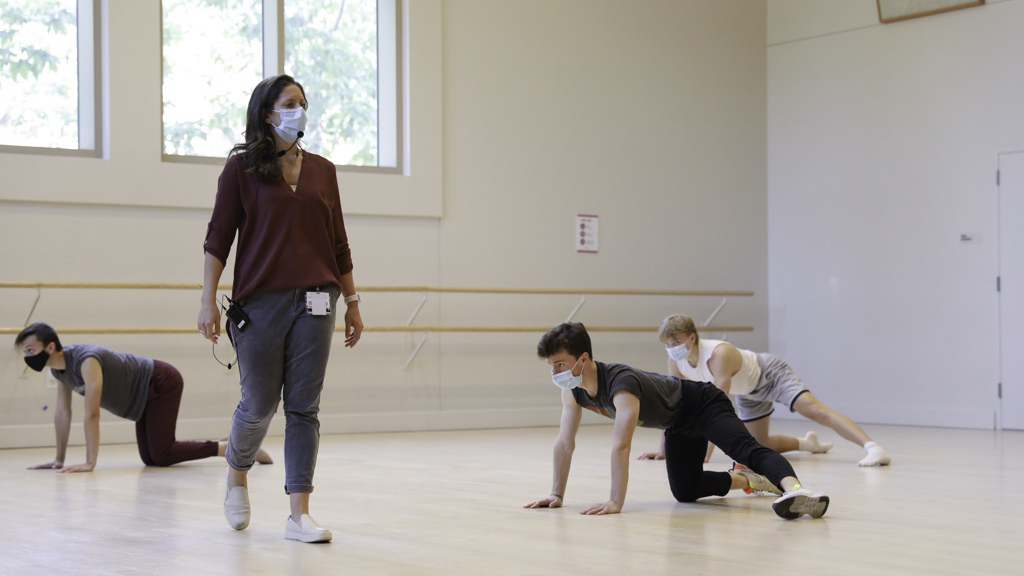 After almost a year and a half of virtual instruction, USC Kaufman was able to reopen its doors to host in-person learning. Kaufman Summer Bridge is a course that was specifically designed to bring BFA students back into the studios. USC Kaufman faculty and staff worked diligently to ensure students could prioritize their safety and dance practices. Keeping in touch with our school's focus on developing hybrid dance artists and scholars, the Kaufman Summer Bridge classes range across many different dance genres. These include ballet, contemporary, hip-hop, Bollywood, Afro-Cuban, jazz and even conditioning. All of these classes have been taught in intimate groups inside the USC Kaufman studios. The classes were also taught online for any students who wished to participate remotely.
As we all prepared for our return, the USC Kaufman Dance Operations team kindly communicated the precautions that both USC Kaufman and the University were taking in order to protect our community and keep us safe. Bi-weekly testing and indoor masking have become a part of our routine just like pre-class warm-ups and roll call.
Overcome with excitement
I remember being overcome with excitement as I walked into the building on our first day of classes. It was my first time to see some of my classmates and professors in over a year! Unlike our typical dance courses during the academic year, our learning groups at the Kaufman Summer Bridge have been a mix of students across classes. This has allowed me to cultivate deeper relationships with some of the younger students in USC Kaufman. Between our two dance classes each day, we have a 30-minute lunch break which most of us spend in the USC Kaufman courtyard. There, we can safely unmask, snack and socialize. Chatting and laughing with my classmates at school is something that I have missed most while we have been away. Nothing compares to being together and catching up in person.
During our first week at the Kaufman Summer Bridge, one of our two classes each day was a conditioning class taught by Marisa Hentis who serves as our school's dance medicine instructor and physical therapist. Dr. Hentis took the time to listen to how we were feeling. She also learned what our goals were for this course. She then catered her classes to our needs making sure to explain how we could utilize and modify each exercise to build up to our desired level of physical fitness/readiness. While challenging, these classes greatly supplemented our learning to ensure a safe and strategic return to more physically demanding challenges that are sure to come our way in the fall semester.
Memorable classroom experience
One of my most memorable classroom experiences so far would have to be Afro-Cuban with Professor Anindo Marshall. Until the Kaufman Summer Bridge, I hadn't had the opportunity to experience this exciting dance form. In class, she and one of our incredible accompanists drum as we create polyrhythms with our bodies and movement. The high energy drumming paired with the expressive movement creates an experience unlike anything that can be felt online. Not only has this course introduced me to a new movement genre, it has also facilitated a rich environment where community and joy are overtly celebrated.
Looking forward to our third and final week at the Kaufman Summer Bridge, I am excited to continue to develop my kinesthetic awareness in ballet as well as learn jazz from Professor Saleemah E. Knight. Professor Knight's career spans both concert and commercial realms. She challenges us to use both body and brain in her classes which encompass multiple facets of jazz dance. As this last week of Kaufman Summer Bridge approaches, I feel more excited than ever to welcome in the upcoming year.
---