New courses support students' return to in-person learning
July 6, 2021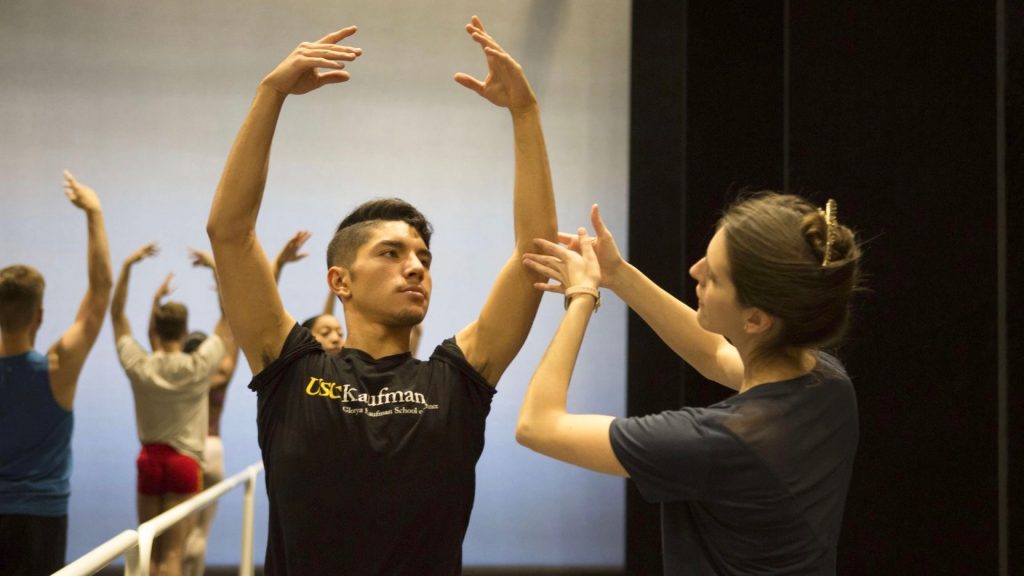 Due to remote learning, BFA students have been unable to dance as rigorously as they normally would. To prepare dancers for in-person activities, the USC Glorya Kaufman School of Dance created DANC 149 Kaufman Summer Bridge and DANC 549 Pre-Professional Dance Techniques. These courses offer in-person dance classes to BFA students enrolled in the 2020-2021 academic year. This included those who graduated in the Class of 2021.
Both courses amount to zero units or no tuition. The goal of both courses is to ease dancers back into daily live practice, according to Jackie Kopcsak, Assistant Dean of Faculty and Associate Professor of Practice at USC Kaufman. The Summer Bridge offers BFA students the chance to prepare for the upcoming fall. Pre-Professional Dance Techniques allows recent graduates to prepare for professional auditions.
"So many of our students had been dancing in their kitchens or their bedrooms for over a year," Kopcsak said. "As soon as the building could open to them, we thought it would be great to offer a summer intensive where students could come back to work in our beautiful studios and not have to dance around their kitchen table or living room furniture anymore."
The USC Kaufman Curriculum Committee and members of the USC Kaufman staff developed both of these courses. Last academic year's Curriculum Committee, chaired by Professor Alison D'Amato, included professors Patrick Corbin, E. Moncell Durden, Shannon Grayson and Dawn Stoppiello. Kopcsak and Anne Aubert-Santelli, Assistant Dean of Admission and Student Services, also worked with the committee to offer these courses.
Kaufman Summer Bridge
The Kaufman Summer Bridge program will run for three weeks from July 26 through August 13. It will include conditioning, technique and creative time. Students not located in Los Angeles during this time will be able to take an online version of the course. Classes will include Hip-Hop with Tiffany Bong, Conditioning and Ballet with Gillian Finley, Conditioning with Marisa Hentis, Jazz with Saleemah E. Knight, Ballet with Jackie Kopcsak, Afro Cuban with Anindo Marshall, Bollywood with Achinta S. McDaniel and Contemporary with Amy O'Neal.
"The Summer Bridge is true to USC Kaufman's New Movement philosophy. It continues our notion of hybrid training in multiple forms," Kopcsak said regarding its schedule of classes. "It's a sampler with a little bit of everything, but with faculty the students know and have worked with before."
Pre-Professional Dance Techniques
Pre-Professional Dance Techniques will give the Class of 2021 a chance to take USC Kaufman upper-level Dance Technique courses in the fall and spring. Students will be able to create an individualized course of study that works with their post-graduation needs. Technique classes open to students in DANC 549 include ballet, jazz, hip-hop, contemporary and Pilates. Additional offerings include the opportunity to take a musical theatre class and Friday workshops featuring guest artists, audition preparation and more.
Susan Zitofsky, mother of alumnus Sasha Zitofsky (BFA '21), encouraged USC Kaufman to pursue an in-person technique course specifically for recent graduates like her son.
"After observing my son, Sasha, facing the challenges of learning to adapt to our living room as his new virtual dance studio, I quickly realized something was missing: the lack of being together in real time with his professors and fellow classmates in the studio," she said. "He was headed into his senior year and the lack of him being in a real studio inspired me to inquire about continuing education dance classes. I wanted to ensure he and his classmates were prepared and ready for all new opportunities once the pandemic lifted."
Back to training in person
Looking toward the start of the summer courses, Kopcsak is excited to work with students during both technique classes and designated creative time. She also noted that the rest of the faculty is eager to reunite with students to teach and dance in-person.
"The chance to be creative and share space together is amazing. The faculty is so looking forward to working with the students in-person," Kopcsak said. "It will be a great transition from having danced on Zoom for over a year. We're all looking forward to getting back in the studios together and figuring it out. It'll help us be ready to go when the fall semester begins in August."